This Thanksgiving side dish recipe will be a hit at your Holiday table. Sausage, spices and cornbread combine to make a delicious recipe.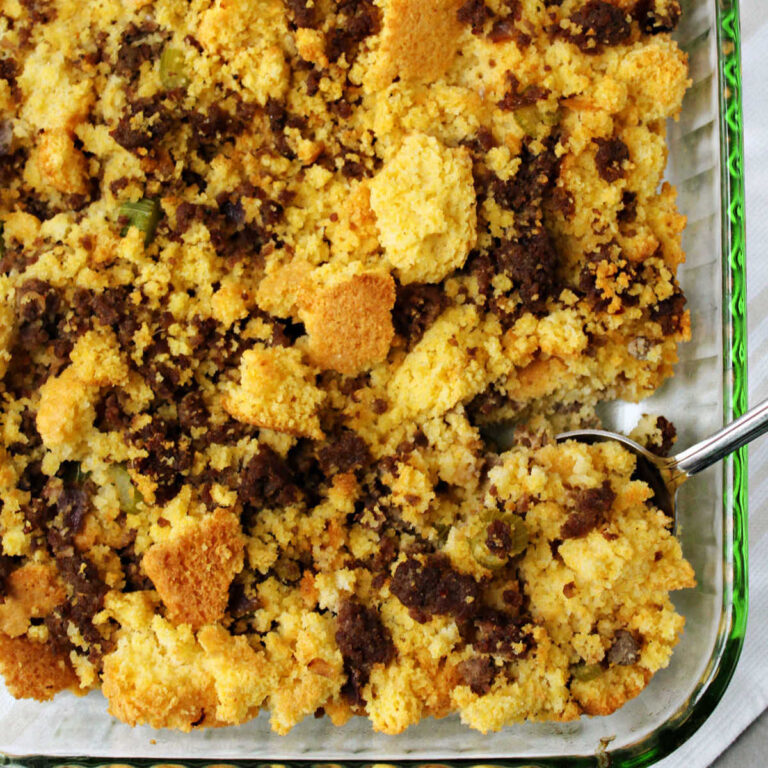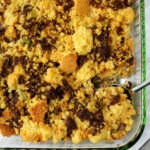 Need a simple dressing recipe for those Holiday dinners? This is the dressing recipe for you! Easy Sausage Cornbread Dressing is a classic recipe easy enough for you to make the day of the big family meal. Spicy sausage, unique spices and warm cornbread--what more can I say?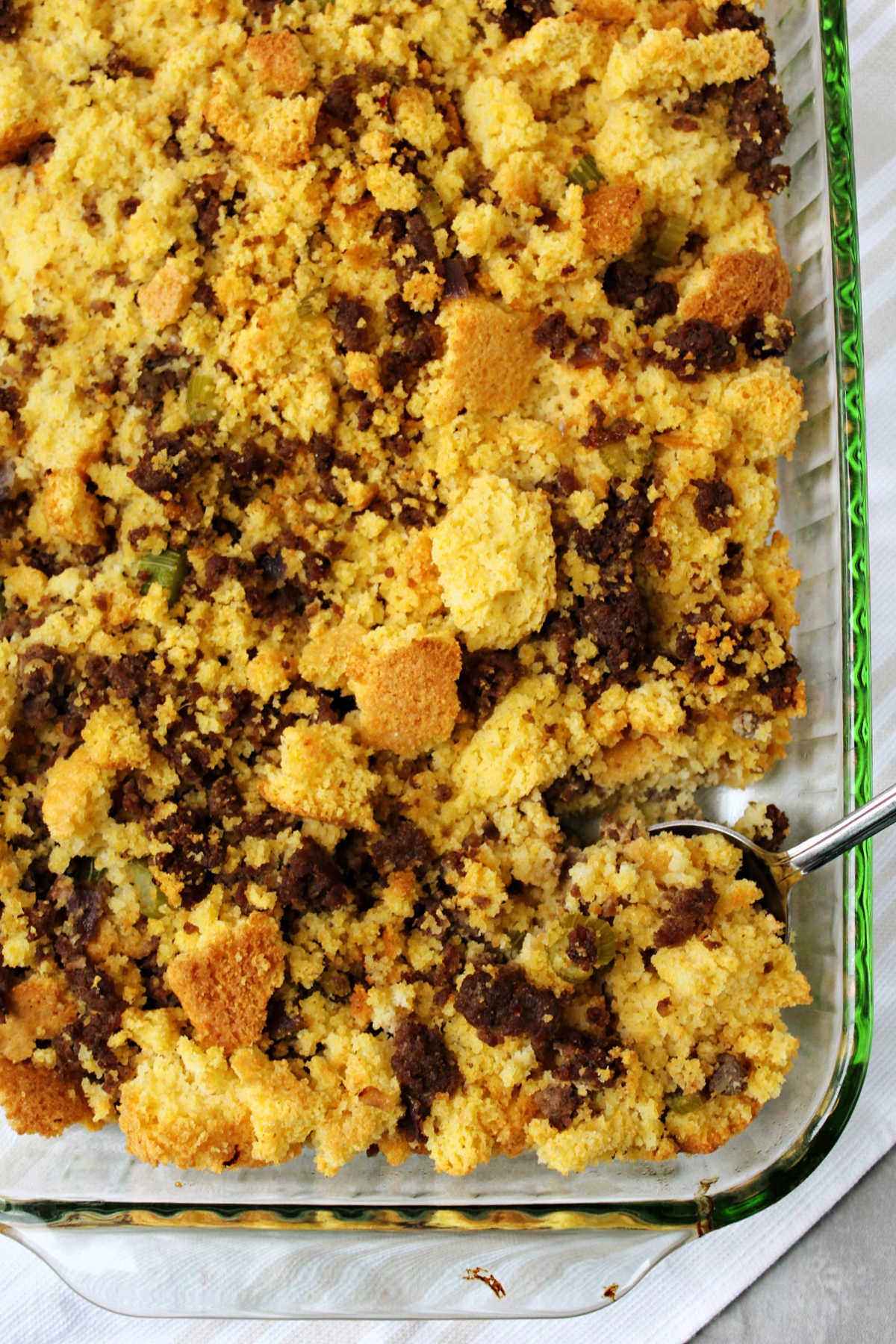 I love a good stuffing recipe. Er, dressing? This recipe is called easy sausage cornbread dressing not stuffing. Why?
Well, that is a good question.
Dressing verses Stuffing
So what is the difference between dressing and stuffing? Well, I never thought of it either.
I believe it depends what you call it based on where you live. I grew up calling it stuffing.
Looking back, my mom did stuff the Thanksgiving turkey with it, sometimes.
The way I understand it, Southerners call it dressing. I am a Midwest girl so stuffing it is.
If we are being technical, if you stuff the bird with it, it would be stuffing. If you are eating it on the side as a side dish, it is dressing. I named this recipe dressing as it is on the side.
Now that we cleared that up...
Homemade or boxed cornbread
Well, the question of the ages. Some like to make their cornbread from scratch and if you do, this cornbread recipe will be perfect for you.
If you want to make it from a box, you can do that too! (I did for this recipe.) The brands you can choose from is Jiffy, Martha White or Krusteaz. The recipe to how to make that particular brand of cornbread will be on the back of the box.
The size you will want to make is enough for a square 8 or 9 inch pan. I found I wanted to use two packages of mix for extra cornbread for the dressing.
Ingredients
Cornbread ingredients for homemade or cornbread mix
Sausage
Parsley
Celery
Purple onion
Ground mustard
Chicken broth (or vegetable broth)
Substitutions
If you don't want to use a purple onion, a yellow one would work just fine. I like purple onions the best (in recipes like this) so that is the one I went with.
Chicken broth or vegetable broth can be used. While I used chicken broth this time, a vegetable broth adds a depth of flavor. It would help accent the celery and onion flavors.
It would be personal preference for the broth decision.
The process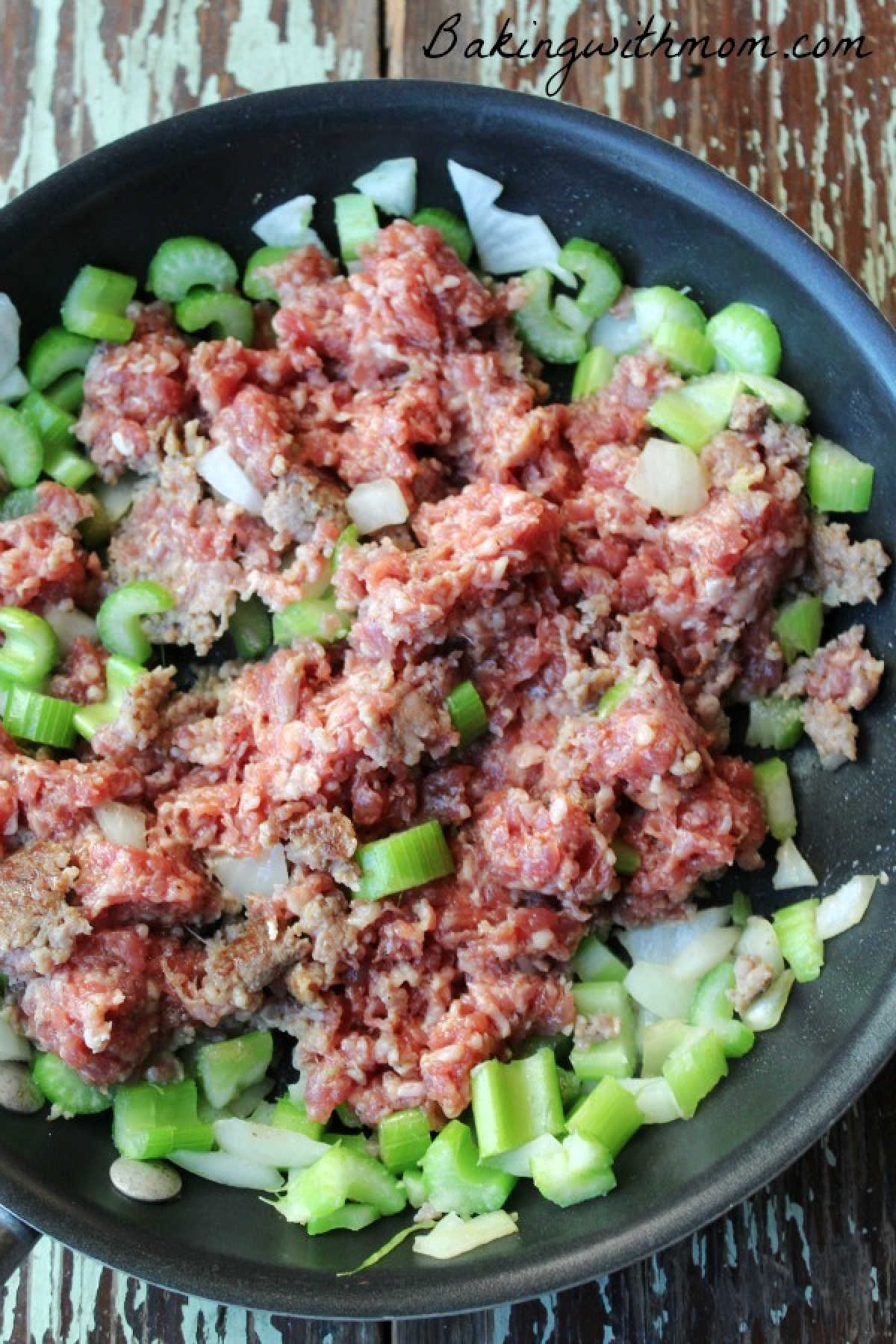 After the cornbread is in the oven, you can start cooking the sausage. The sausage will be cooked until no longer pink in the middle, about 10-15 minutes.
The onions and celery will be cooked with sausage and you will add the spices when cooking the sausage.
Baking the cornbread, again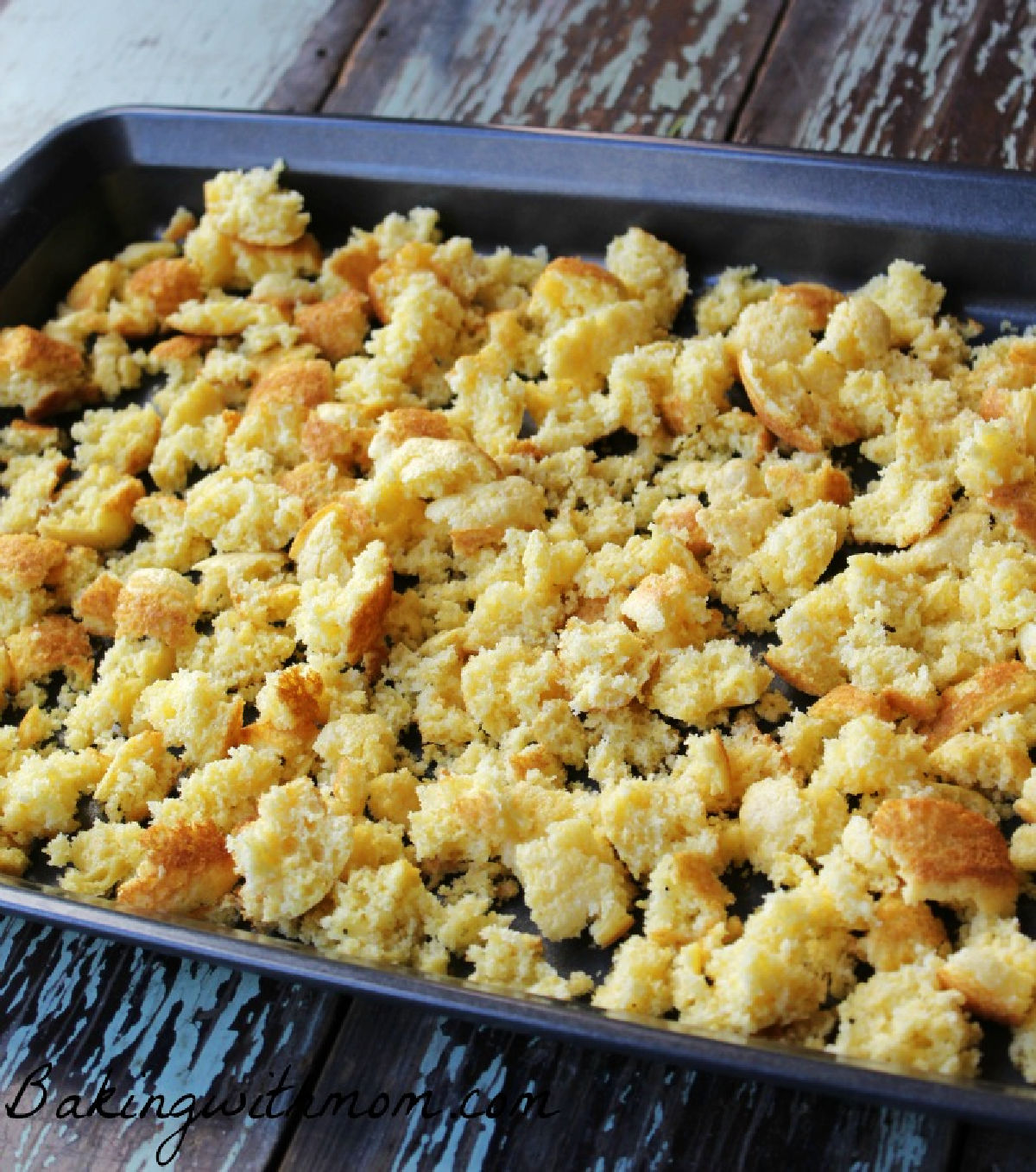 The cornbread will need to be baked in a casserole dish, but then, after it cools for about 15 minutes, it will need to be cut up into chunks and toasted in the oven for 5-8 minutes.
Why?
Well, it will help make the cornbread a little harder, like dried bread crumbs. The cornbread will need to hold broth and sausage well. It will still crumble a little, it is cornbread, but not nearly as much if you toast it.
Mix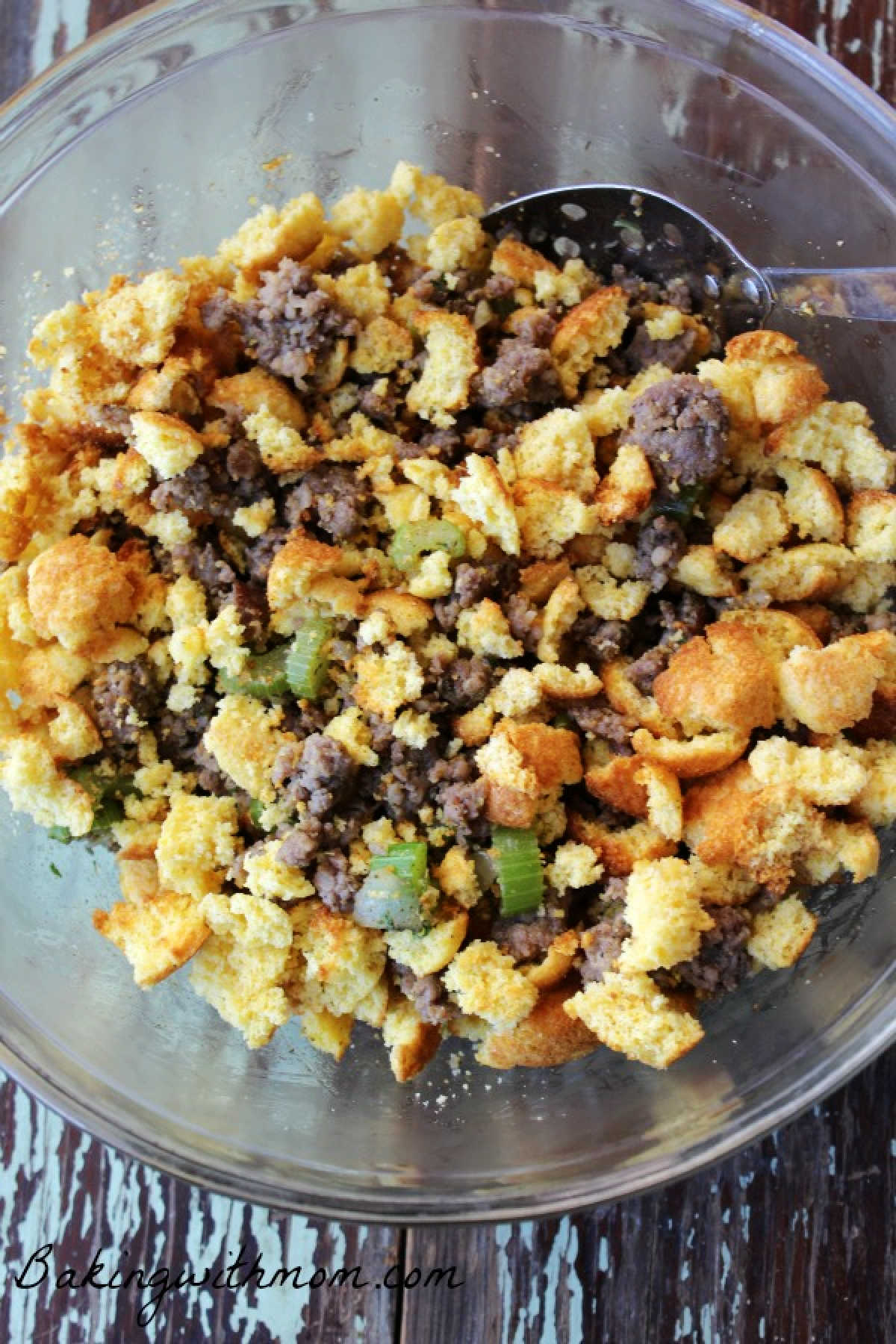 Bake
The cornbread sausage mix will be put in a 3 quart casserole dish and baked at 375* for 20 minutes while covered.
After 20 minutes, I take ½ cup of broth and pour it over the top of the dressing. Then, bake it for another 15 minutes, uncovered.
Storage
Leftovers should be stored in an airtight container in the refrigerator. They can be stored for up to three days.
This favorite thanksgiving dressing (or stuffing) recipe will be a great compliment to your Holiday dinner.
Pin for later!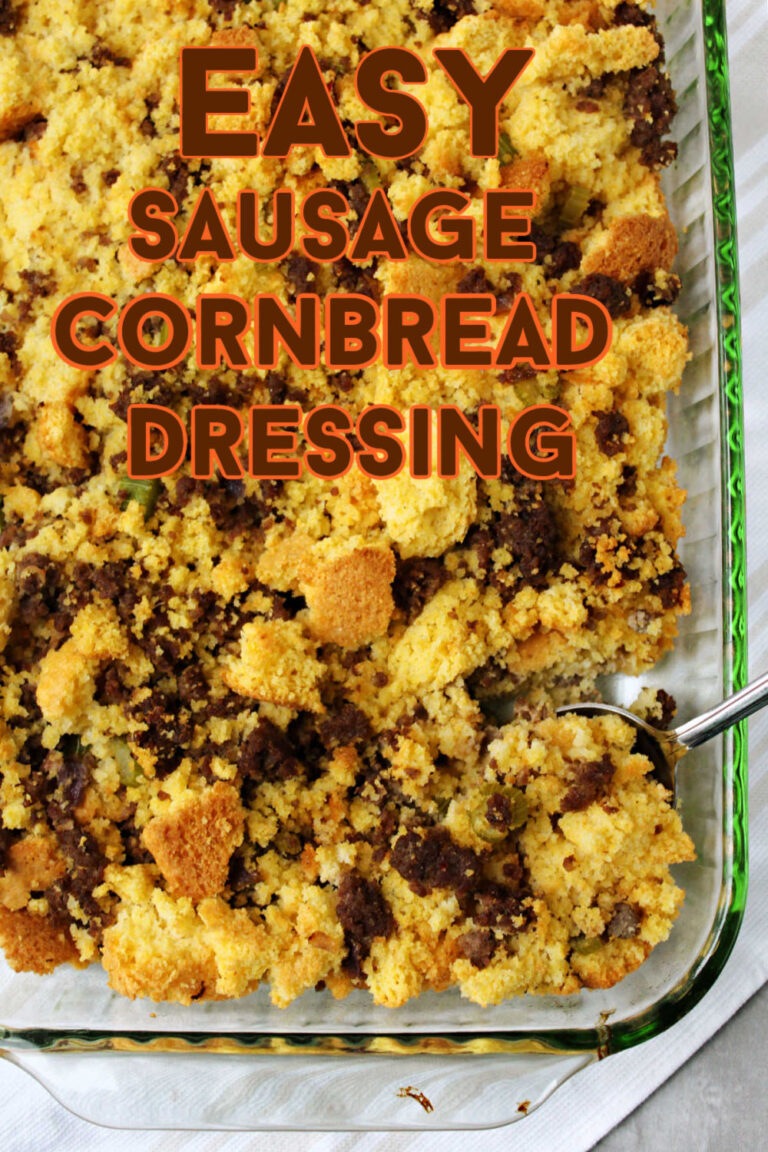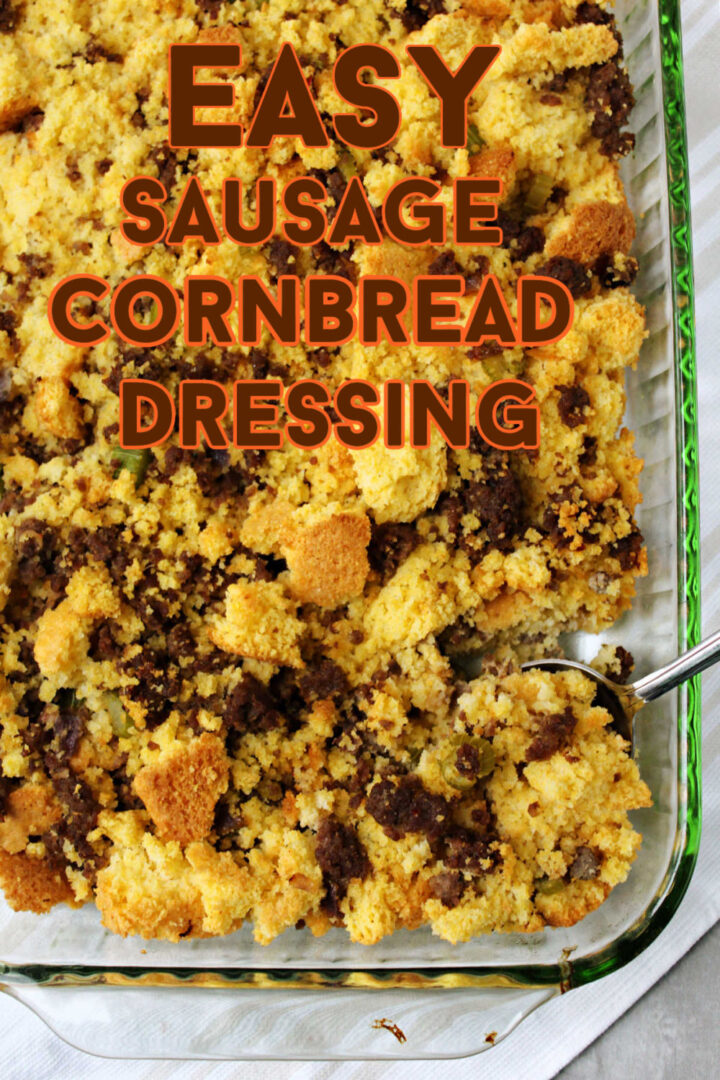 📖 Recipe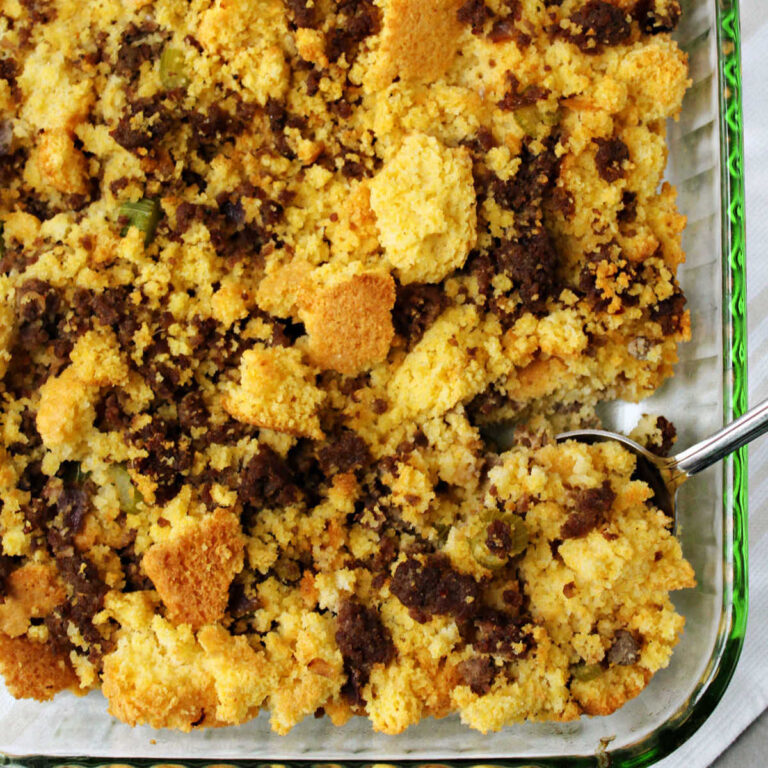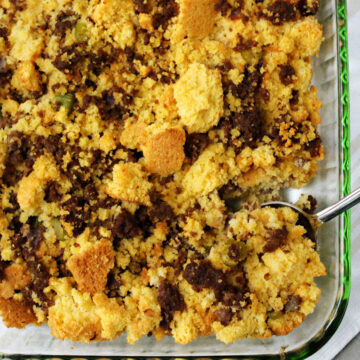 Easy Sausage Cornbread Dressing
This Thanksgiving side dish recipe will be a hit at your Holiday table. Sausage, spices and cornbread combine to make a delicious recipe.
Print
Pin
Rate
Ingredients
17

oz

cornbread mix

plus ingredients on back of package

16

oz

sausage

¾

cup

celery

chopped

¼

cup

onion

chopped

1

teaspoon

parsley

½

teaspoon

ground mustard

2

cups

chicken broth

or vegetable broth
Instructions
Prepare and bake the cornbread according to package directions

While the cornbread is baking, fry sausage with the celery, onion, parsley and ground mustard

When cornbread is done baking, remove from oven and let cool until cool enough to handle. Place on a baking sheet in chunks

Toast cornbread in oven for 5-10 minutes

Place toasted cornbread, cooked sausage mixture and 1 cup chicken broth in a large bowl and stir carefully

In a greased 3 quart baking dish, put the cornbread mixture in and cover with foil

Bake at 375* for 20 minutes

After 20 minutes, carefully remove from oven, remove foil and pour 1 cup of chicken broth over the top

Cook in oven for another 15 minutes

Remove from oven and let cool for 5 minutes
Nutrition
Calories:
345
kcal
|
Carbohydrates:
34
g
|
Protein:
11
g
|
Fat:
18
g
|
Saturated Fat:
6
g
|
Polyunsaturated Fat:
2
g
|
Monounsaturated Fat:
9
g
|
Trans Fat:
1
g
|
Cholesterol:
34
mg
|
Sodium:
860
mg
|
Potassium:
231
mg
|
Fiber:
3
g
|
Sugar:
10
g
|
Vitamin A:
125
IU
|
Vitamin C:
4
mg
|
Calcium:
39
mg
|
Iron:
2
mg
Need Thanksgiving recipes? Try:
Creamy Mashed Potatoes, Sweet Potato Casserole With Pecans and Easy Homemade Cranberry Sauce