Enjoy these EASY Raspberry Cheesecake Squares for dessert with your family. Whip them up in a hurry then let them chill in the fridge. Rich, creamy and deliciously sweet.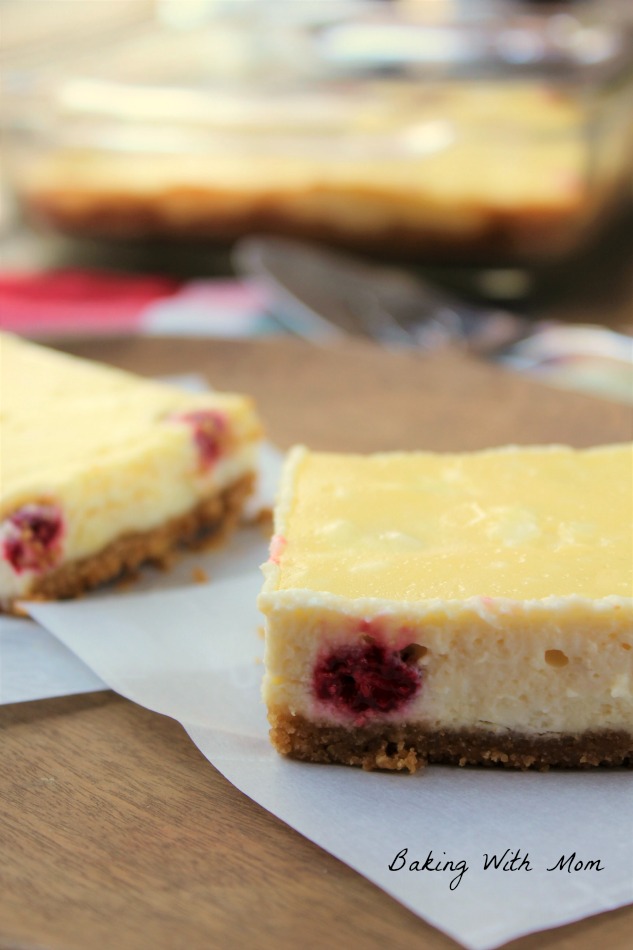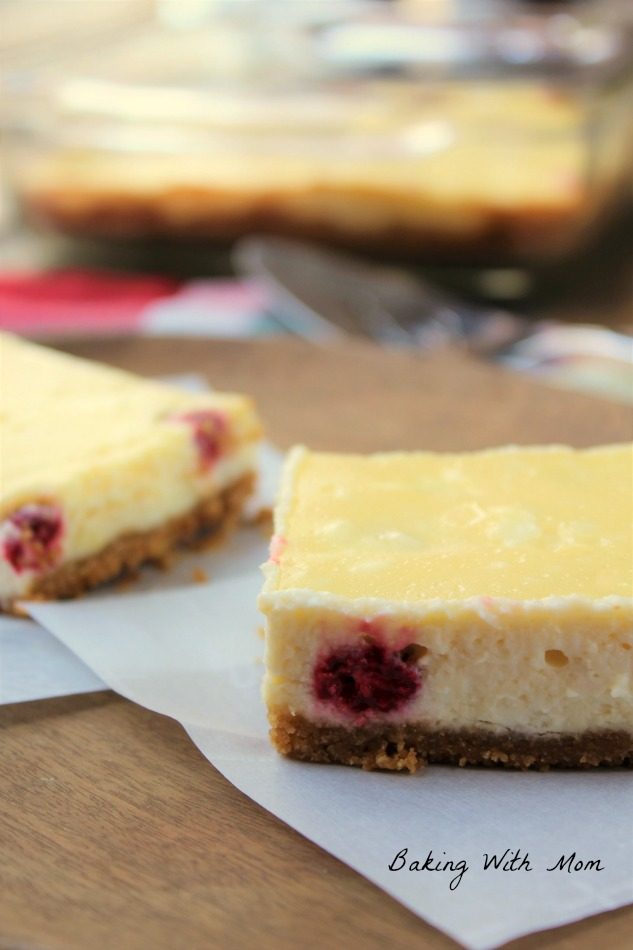 *This post contains affiliate links. If you click on a link and make a purchase, I will receive a small commission at no additional cost to you. 
Who among us could eat graham cracker crumbs with a spoon? Yes, I can too. There is no shame in that, I promise you. The trick is, in order to feed your graham cracker crumb addition, you need to make recipes that call for it.
Such as this EASY Raspberry Cheesecake Squares. This dessert is simple to make and so good.
I made a mistake the other day. Kroger's had the Philadelphia Cream Cheese on sale for $.99 a box and I wanted to buy a bunch to have on hand. I forgot to grab some! We have a lot of cream cheese lovers around these parts and it is good to always have a stock of them.
Especially when our oldest, Ryan, was gone for 8 days. Why does that tie into cream cheese? Well, it makes the reason I made the raspberry cheesecake squares in the first place. To remind my 16 year old that he misses me when he is gone to youth convention.
Yes, this Mama made him easy raspberry cheesecake squares and 3 ingredient shredded roast beef.
He was so happy. Sniff, Sniff. I hope he remembers this when he leaves for college in a few years.
How To Make Easy Raspberry Cheesecake Squares
First, you need to start with the crust. All good desserts starts with the crust. It needs to be thick enough to hold together yet not so thick you can't cut into it and you break a plastic spoon cutting it. Yes, you know what I mean.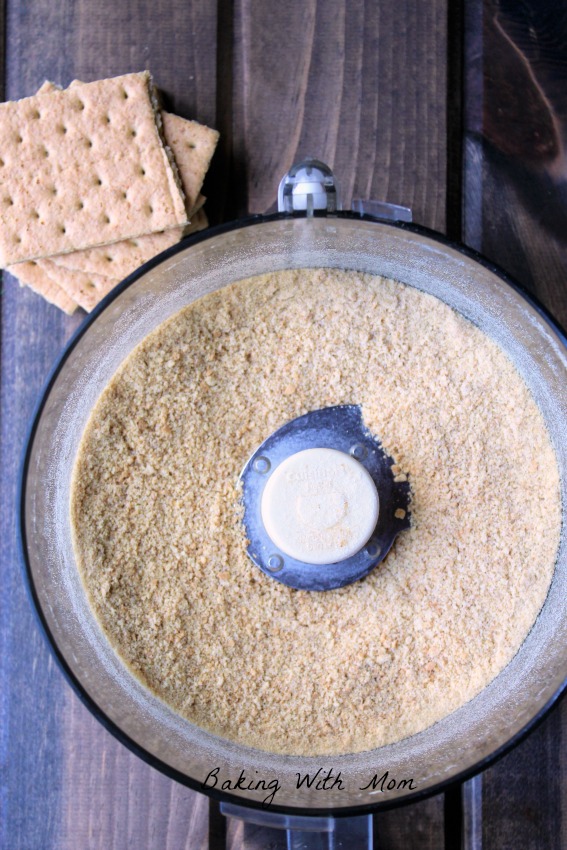 I recommend having a food processor for recipes like these. They are so handy to have and can make short work of the graham cracker crumbs.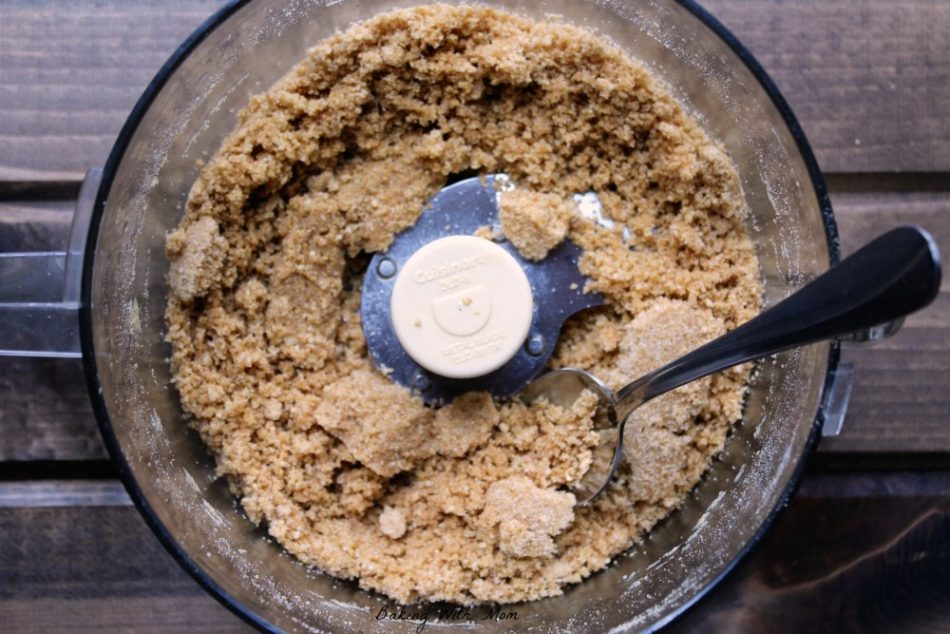 You only need a package of graham crackers for this size dish (9 inch square). After you add the butter to the graham crackers and hit that pulse button, you get a brown sugar like texture and color that makes your mouth water.
Go ahead. Grab a spoon and take a bite. Trust me.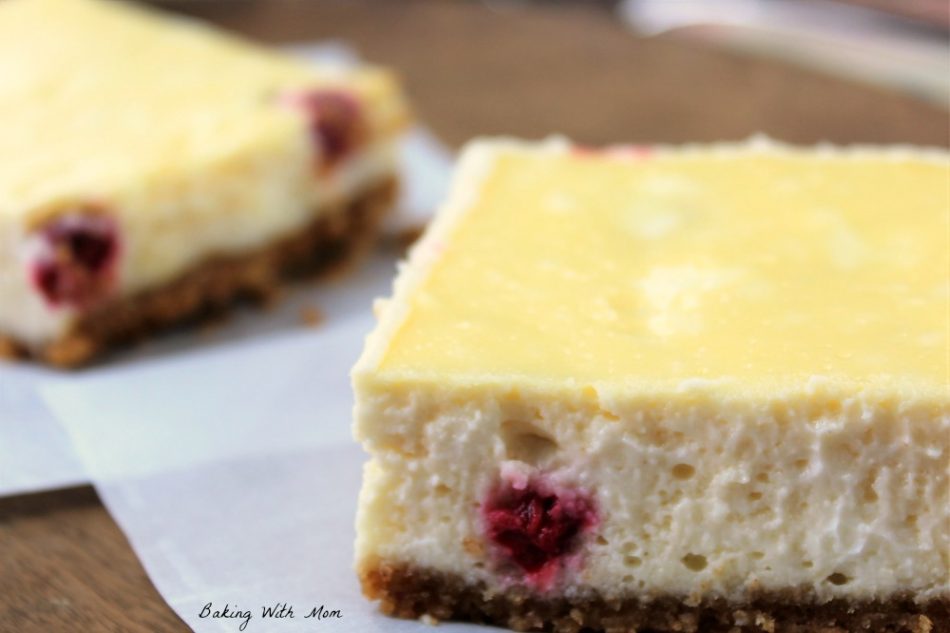 The mixing process of the cheesecake is easy and has surprisingly little ingredients.
Ingredients for Easy Raspberry Cheesecake Squares
All you need is cream cheese, raspberries (fresh or frozen), sour cream, vanilla, sugar and eggs. If you have a Kitchen Aid Mixer, I recommend using that to mix it up. If you don't, then a hand held mixer is ideal.
📖 Recipe
Easy Raspberry Cheesecake Squares
Easy recipe with these easy raspberry cheesecake squares. Creamy, flavorful and deliciously sweet.
Ingredients
2

8 oz

cream cheese blocks

½

cup

white sugar

¾

cup

sour cream

1

teaspoon

vanilla

2

eggs

1

package

graham crackers (about 8)

½

cup

white sugar

¼

cup

melted butter

1

cup

raspberries
Instructions
Mix together graham crackers, white sugar in a food processor until there are crumbs. Add in melted butter until it resembles brown sugar

Pat down crumbs in a greased 9 inch baking dish

In a large bowl, mix together softened cream cheese and sugar

Add eggs, one at a time, mixing only until incorporated into the cream cheese (about 20 seconds)

Add in sour cream and vanilla, mixing only until incorporated

Pour over crumbs and bake in a preheated 350* oven for 40-45 minutes or until top is almost set

Let cool on counter top for 10 minutes then place in fridge for at least 3 hours to firm
Nutrition
Calories:
383
kcal
|
Carbohydrates:
59
g
|
Protein:
5
g
|
Fat:
14
g
|
Saturated Fat:
6
g
|
Cholesterol:
60
mg
|
Sodium:
374
mg
|
Potassium:
140
mg
|
Fiber:
2
g
|
Sugar:
33
g
|
Vitamin A:
330
IU
|
Vitamin C:
3.6
mg
|
Calcium:
67
mg
|
Iron:
2.2
mg