EASY No Bake Peanut Butter Bars are NOT calorie free. In fact, I daresay they are loaded in calories. They are loaded in goodness and peanut butter while sitting under delicious, rich chocolate. They are, in fact, simply yummy.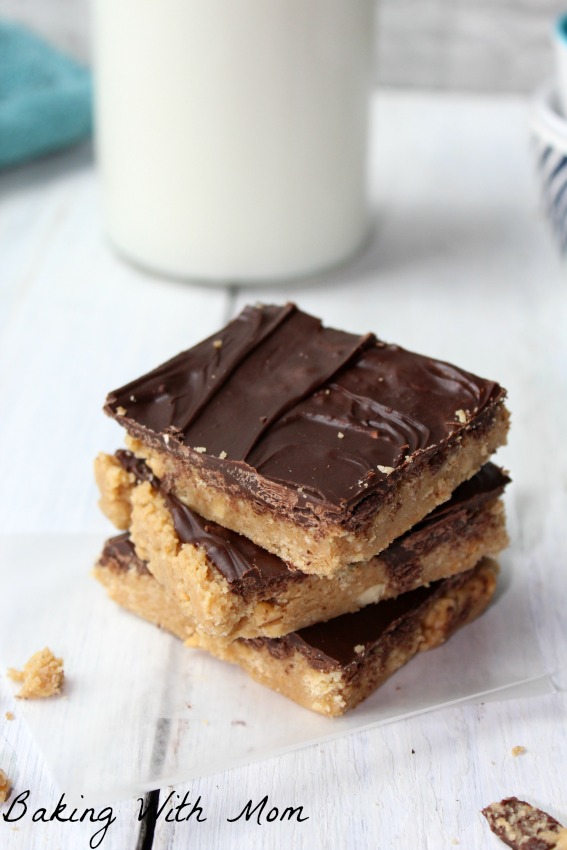 I ate a few of these Easy No Bake Peanut Butter Bars. I may have eaten, ahem, a few too many.
These dessert bars were quite addicting. But don't let that stop you.
Actually, it should be quite encouraging to you. Why, you ask? Well, if you are looking for the perfect dessert recipe your family will eat or you can take to a potluck and everyone raves over, these bars would be the clincher.
They are only a handful of ingredients, they are made with ingredients you likely have in your pantry already and you don't even have to turn on the oven to make them. How wonderful is that during the summer time??
Have you ever tried my peanut butter treats? They were one of the first recipes on the blog so forgive the, ah, newbie pictures and wording, but the principle of the recipe is the same. Peanut Butter Candy as in peanut butter in candy form. That about sums it up. ;-)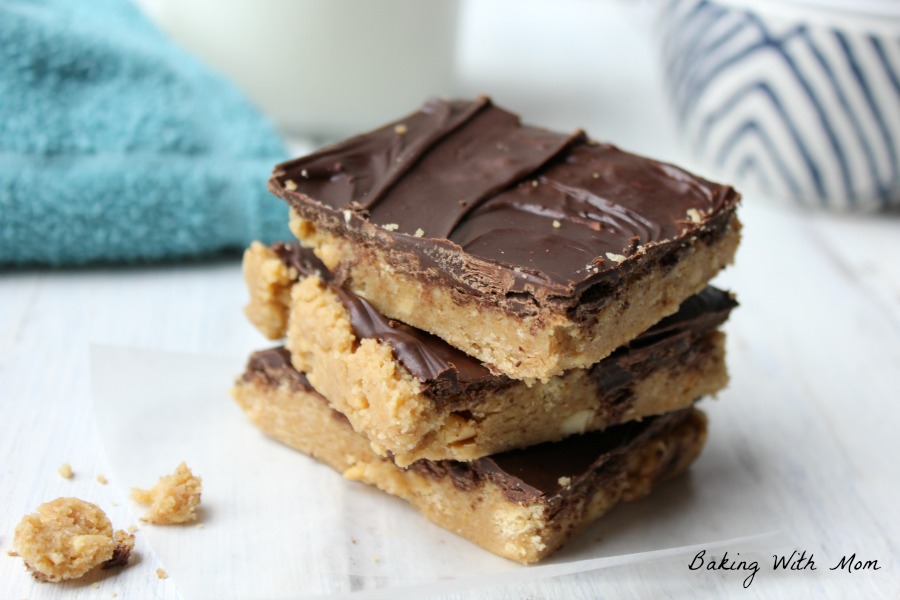 Where to buy the ingredients?
The recipe is quite simple: mix and put into a 9x13 pan. Can't get much easier than that. You can also get all the ingredients at ALDI's so the cost is quite reasonable. Of course, Kroger's will usually have Peanut Butter on sale so be sure to check there as well.
Can I use generic peanut butter?
The question everyone is asking is will generic peanut butter taste as good in this recipe as JIF? Well, I guess it depends how picky your family is. I used Kroger brand peanut butter and I feel they were fabulous. If I did a blind taste test with my hubby would he be able to tell the difference in the desserts if one had JIF and the other had Kroger? Probably. He is just that kind of a guy.
Standing alone with nothing to compare it to, I don't think anyone would notice the difference if you used store brand peanut butter. The Easy No Bake Peanut Butter Bars are still delicious. I promise.
How to store the peanut butter bars
After you make these bars and let them cool, they will need to be stored. (If they last that long!) You can keep them in the pan you made them in and cover tightly with plastic wrap or foil. I would also keep them chilled in the refrigerator. That will help the chocolate to stay hard if it is a warm day out.
You can also remove the bars from the pan and store in an air tight container in the fridge.
📖 Recipe
EASY No Bake Peanut Butter Bars
Simple no bake dessert recipe for a quick on the go dessert or a for a relaxing movie night treat. Enjoy the taste of peanut butter and chocolate!
Ingredients
1

cup

butter

melted

1 ½

cups

peanut butter

crunchy or creamy

2 ½

cups

graham crackers

crushed

2

cups

powdered sugar

2

cups

milk chocolate or semi sweet chocolate chips
Instructions
Mix together butter, peanut butter, graham crackers and powdered sugar in a large bowl

Spread on the bottom of a lightly greased 9x13 cake pan

Melt chocolate chips in a microwave safe bowl for 30 seconds. Stir. Heat 20 seconds. Stir. Repeat in 20 seconds intervals until melted. Do not overheat.

Pour on top of peanut butter bars. Spread evenly.

Chill in fridge for 2 hours. Serve.
Nutrition
Calories:
437
kcal
|
Carbohydrates:
37
g
|
Protein:
7
g
|
Fat:
29
g
|
Saturated Fat:
13
g
|
Cholesterol:
28
mg
|
Sodium:
273
mg
|
Potassium:
278
mg
|
Fiber:
3
g
|
Sugar:
25
g
|
Vitamin A:
325
IU
|
Calcium:
35
mg
|
Iron:
2.2
mg