Easy Double Chocolate Chip Muffins with cocoa, mini chocolate chips and chocolate deliciousness. Whip up these muffins in a hurry - great for school lunches, breakfast or snack!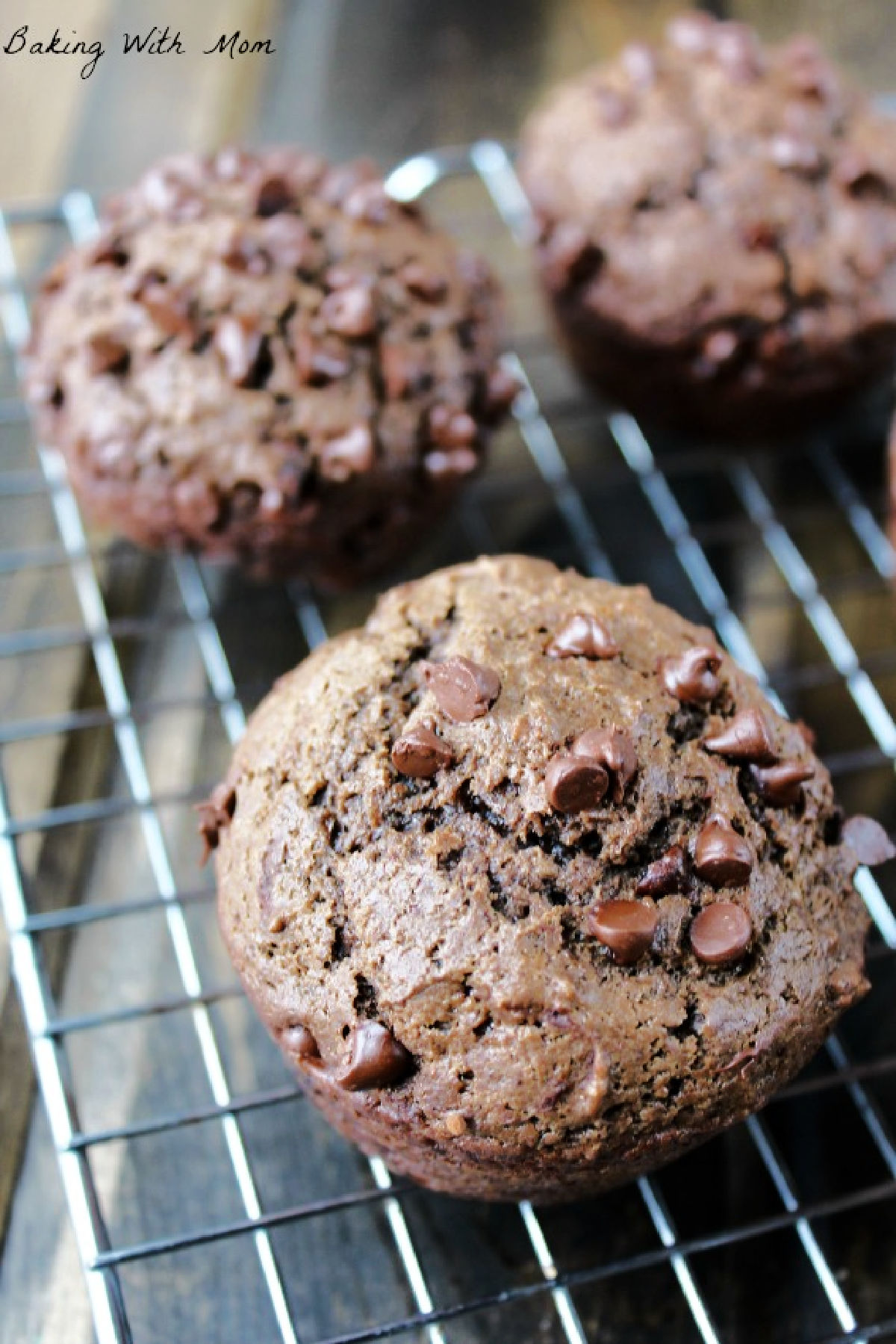 So after a very cold spring break the kids returned to school and Caleb and I had time together. The first thing he wanted to do? Bake in the kitchen with mom.
So... what would we make? Easy Double Chocolate Chip Muffins because there is chocolate. There are chocolate chips. And they are great for snacks, lunches and hungry children.
When Caleb helped me to make the muffins, he loves to help with the eggs. I have learned to duck and run because eggs have somehow hurled themselves across the room and on me. True story. :-)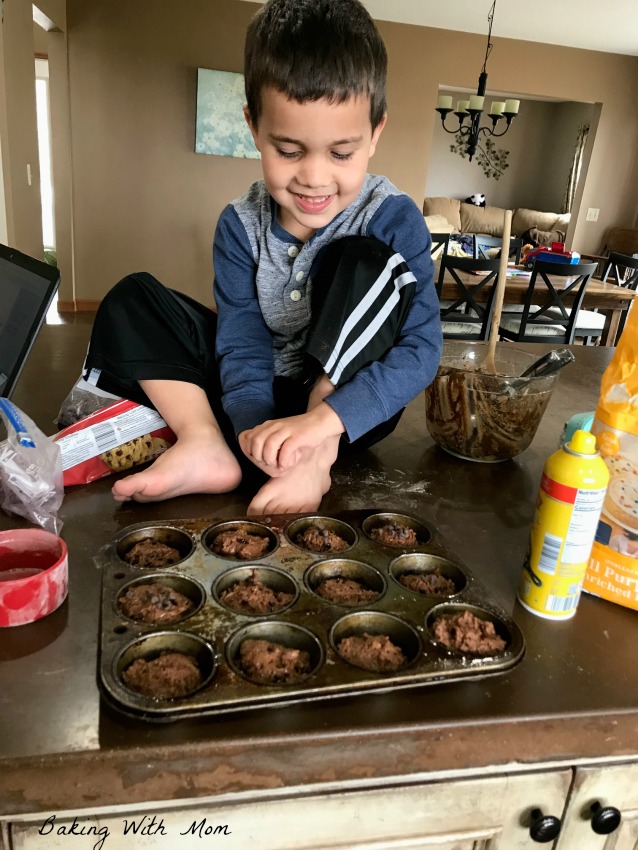 As my older children point out, I never, NEVER let them sit on the counter. Times change, I suppose. ;-)
What type of muffins are for you?
When choosing what muffins to make for your family, there are a lot of options. I know some families use Keto recipes or some are gluten free. Others like raspberry muffins, blueberry muffins or banana muffins and really don't want to try any other kind.
The Strawn family loves a variety of muffins and some of our favorite include the applesauce puffs (which are a hit here, over 150,000 shares!). The thing is, these easy double chocolate chip muffins are not vegan or dairy free. They are loaded with chocolate goodness. That makes up for it, right?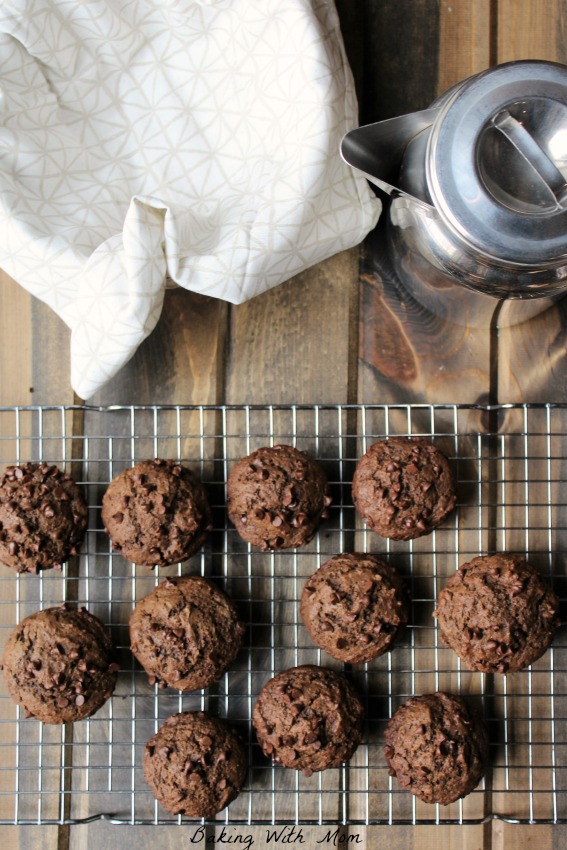 You can change the recipe around if you want and use almond milk (like I did) instead of regular milk or a different kind of sugar.
The only thing would be to be sure to add the extra special ingredient. The secret, if you will, of the chocolate muffins success. Sour cream.
I am not a fan of using sour cream in my baking but I must say, it does make the muffins moist and delicious.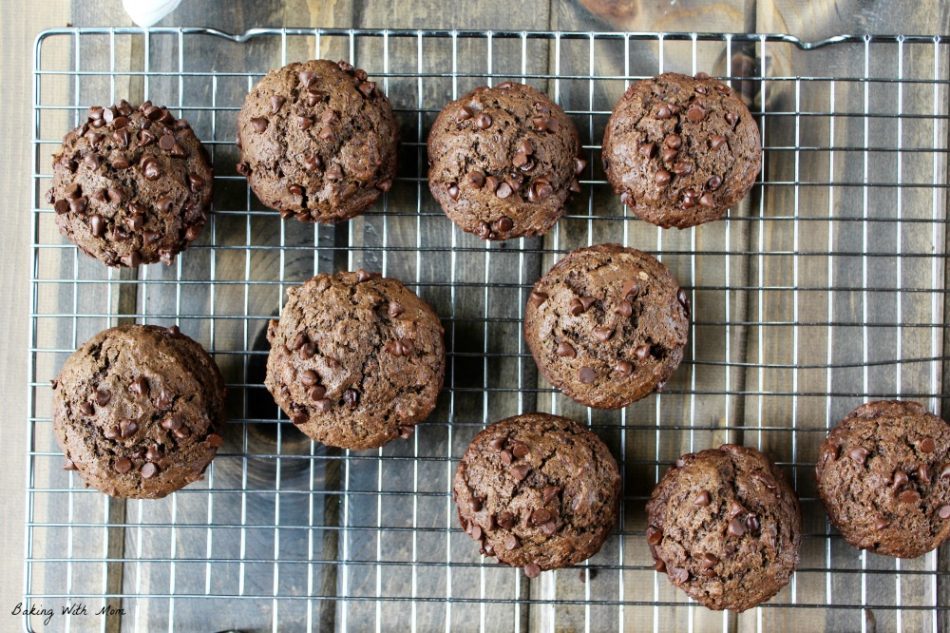 Quick Baking Tip
I would recommend using mini chocolate chips in this muffin recipe because I feel mini chips works with the texture of the muffins better than regular sized muffins.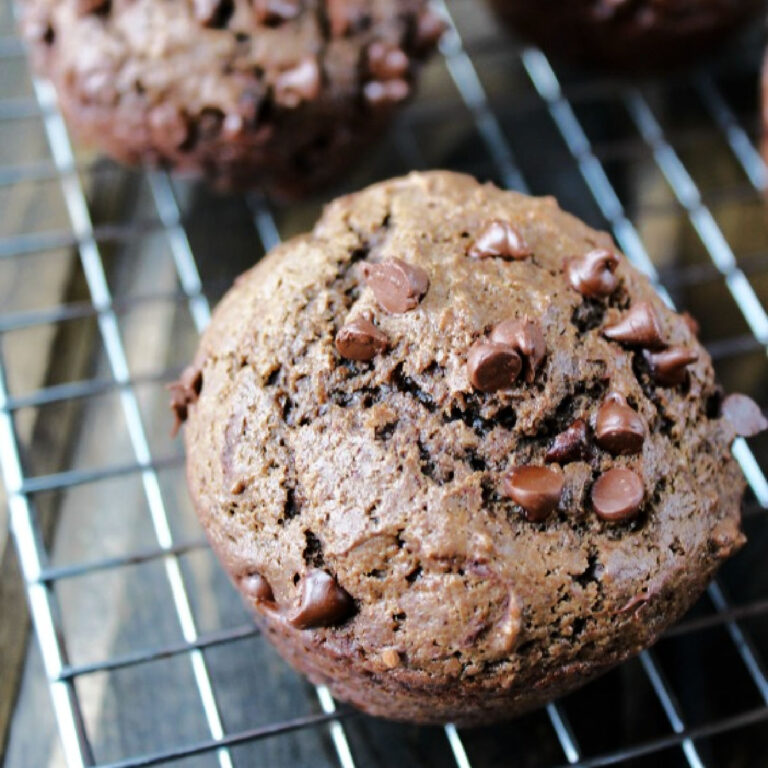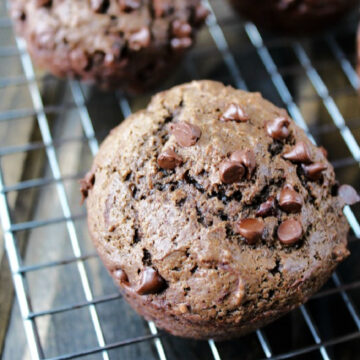 Easy Double Chocolate Chip Muffins
These easy double chocolate chip muffins are great for kiddos and adults alike. Enjoy the moist chocolate muffins.
Ingredients
2

cups

all purpose (I used unbleached) flour

¾

cup

white sugar

½

cup

unsweetened cocoa

1

teaspoon

baking soda

1

egg

1

cup

sour cream

½

cup

milk

1

teaspoon

vanilla

½

cup

vegetable oil

1 ½

cup

mini chocolate chips
Instructions
Mix together flour, sugar, cocoa and baking soda in a medium bowl

Add in egg, sour cream, milk, vanilla and oil and mix well

Place mixture in greased muffin tins. Sprinkle a few mini chocolate chips on top of batter, if desired (purely for looks, but hey, what is another few chocolate chips?)

Bake at 375* for 15 minutes or until toothpick inserted in middle tests done

Remove from oven when done and let cool for 10 minutes. Remove from pan and place on cooling rack
Nutrition
Calories:
373
kcal
Carbohydrates:
46
g
Protein:
5
g
Fat:
19
g
Saturated Fat:
13
g
Cholesterol:
27
mg
Sodium:
146
mg
Potassium:
122
mg
Fiber:
2
g
Sugar:
27
g
Vitamin A:
205
IU
Vitamin C:
0.3
mg
Calcium:
68
mg
Iron:
1.8
mg