Do you know the Muffin Man? If so, he may just deliver these Brown Sugar Blueberry Muffins to your door. You will be glad he did!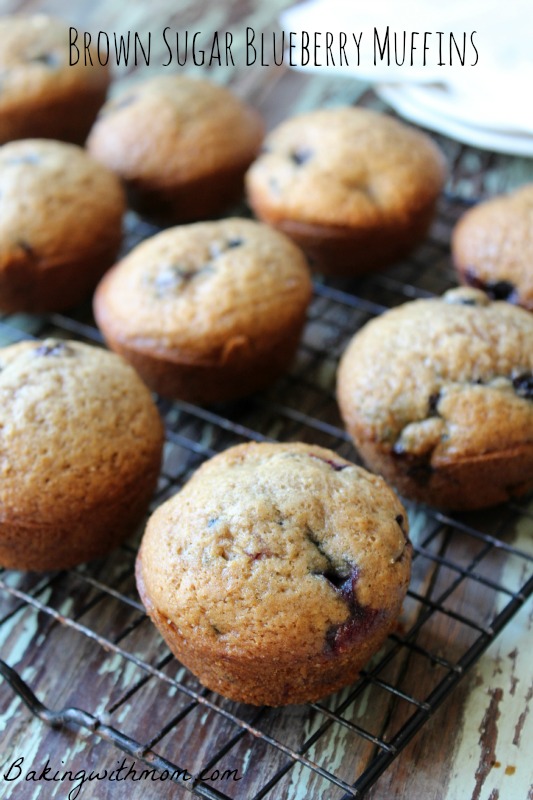 *This post contains affiliate links. You can read our disclosure here. 
Caleb calls muffins "Muffin Mans".
Love that. 🙂
"Mommy, can I have a muffin man?"
I mean really, how does one say no to that? When the Little People Muffin Man song comes on the cd in the car, he breaks out in a lovely tune of the song. And he wants a muffin.
Since one of the many, many books we own is If You Give A Moose A Muffin, muffins are rather appreciated at our house.
I like them because they are healthy, great for lunch boxes or a quick breakfast and taste rather good. Our children like them because they taste rather good. We all win. 😉 I have a standard blueberry muffin recipe that I enjoy making. I have been making it for some time now and everyone likes it.  Being I enjoy a change in my life every once in a while, I thought I would switch up the standard and bring in the new.
Brown Sugar Blueberry Muffins
Got a ring to it, wouldn't you say?  Anything with brown sugar in it must be yummy. Anything. Well, except oatmeal. Children love oatmeal. I do not. Sorry.
Anyway, back to the muffin mans. I had my wonderful helper Caleb helping me. For those of you who are parents, how is this for a 180* turn around:
I do not like my children sitting on the counter or table. Chairs are for sitting. Final. I had three kids follow that principle, then came along child number four. Also came along a really big island in the kitchen. Guess where Caleb sits to help me make food in the kitchen? Yes, on the island. It has to be a fourth child thing because honestly, I never, ever would have allowed a child of mine to do that a few years ago. Ever. *Disclaimer: I never leave him alone, he is in the center of the island, don't put your child on the island.*
The recipe for brown sugar blueberry muffins are easy, simple to whip up and will make your family very happy. Give them a try.
Brown Sugar Blueberry Muffins
Brown sugar blueberry muffins are enjoyable and great for lunch boxes or quick breakfasts.
Ingredients
2 1/2

c

flour

1

c

brown sugar

1

tsp

salt

1

tsp

baking soda

1

tsp

cinnamon

1

egg

1

c

milk

1/2

c

oil

1 1/2

tsp

vanilla

1 1/2

c

blueberries

(frozen or fresh)
Instructions
Mix dry ingredients and set aside

Mix egg, milk, oil and vanilla

Stir into dry ingredients

Fold in blueberries

Grease muffin tins and pour batter in, filling 1/2-3/4 full

Bake at 375* for 15-17 minutes
All nutrition facts seen here are estimates. You can read more on our nutrition page.
Do you want more great "Muffin Man" recipes?