Caramel Chocolate Chip Skillet Cookie with drizzled caramel on top. I really don't know how to add to that introduction. It pretty much speaks for itself.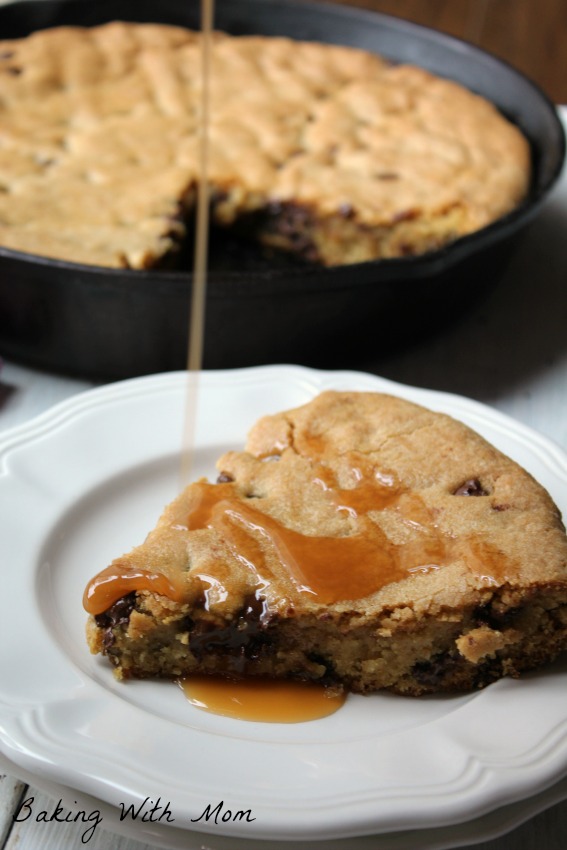 *This post contains affiliate links. If you click on a link and make a purchase, I will receive a small commission. You can read our disclosure here.
Do you ever go to a restaurant with good intentions of getting the dessert after meal but by the time you eat your meal, you are full. That happens to us a lot. I want to get cookie desserts like this Caramel Chocolate Chip Skillet Cookie, but after the meal of chicken (usually) I am full.
Right? Well, never fear, you can make restaurant quality desserts at home. Cheaper too.
Last night, Cora and I went out on a mom/daughter date because the guys in our family were at a Wild Beast Feast. What is a Wild Beast Feast, you ask. Let's just say it involves meat. And deer heads. And, well, meat. You can read more about it here.
Ladies can come to the feast, but quite honestly, we really don't want to. We would rather spend our gift cards at Hobby Lobby and shop at Kohl's (check out some great clearance deals here, we sure did!). We would also rather go to Cracker Barrel. Oh, yum.
Well, when we first sat down, I was hungry. There was thoughts of dessert in my mind. After the meal of chicken strips (told ya 🙂 ), french fries, fried apples, corn bread and biscuits, we were quite full.
Thankfully, we can make this caramel chocolate chip skillet cookie easily and with ingredients you probably already have at home.
Caramel Chocolate Chip Skillet Cookie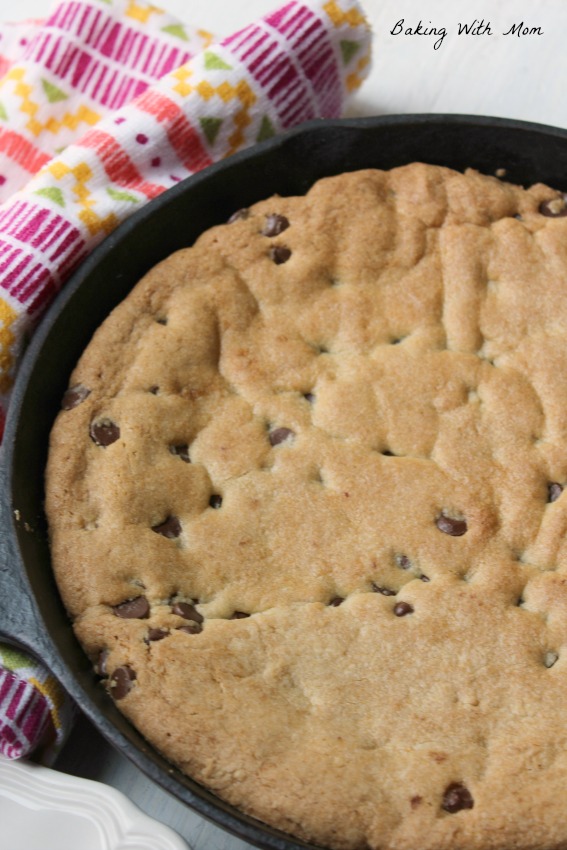 If you don't have cast iron skillets, you can make this cookie in another type of pan. I do, however, recommend you getting at least one cast iron skillet (like this one) sometime in your life. They are just nice to use for cooking.
To make this cookie, I greased the pan lightly. I know most of the time for cookies, the pan stays ungreased, but this cookie in the skillet does call for a little extra help to keep from sticking. Semi-sweet chocolate chips were preferred for the chip verses milk chocolate but either would work.
The caramel topping is simply an ice cream topping.  It is nice to have around the house for uses like this.
Caramel Chocolate Chip Skillet Cookie
Caramel Chocolate Chip Skillet Cookie with caramel ice cream topping drizzled on top. Soft, chewy and delicious.
Ingredients
1

cup

butter

softened

3/4

cup

brown sugar

3/4

cup

white sugar

1

egg

2 1/4

cup

flour

1

tsp

baking soda

1

tsp

salt

1 1/2

cup

chocolate chips

caramel ice cream topping
Instructions
Mix butter, sugars and egg together until blended well

Add flour, baking soda and salt and mix

Spread in a greased 10-13 inch cast iron skillet

Bake at 375* for 25 minutes or until top is lightly golden

Let cool for 10 minutes then slice and drizzle caramel topping on top as desired
Nutrition
Calories:
659
kcal
|
Carbohydrates:
88
g
|
Protein:
6
g
|
Fat:
31
g
|
Saturated Fat:
19
g
|
Cholesterol:
86
mg
|
Sodium:
688
mg
|
Potassium:
79
mg
|
Fiber:
1
g
|
Sugar:
59
g
|
Vitamin A:
815
IU
|
Vitamin C:
0.2
mg
|
Calcium:
71
mg
|
Iron:
2.3
mg
All nutrition facts seen here are estimates. You can read more on our nutrition page.