These Caramel Cheerios Bars have all of the ingredients in them to make a child light up when given one. Only a handful of ingredients, these dessert bars have Cheerios, caramel, marshmallows and M&M's. Such a quick dessert recipe everyone will enjoy.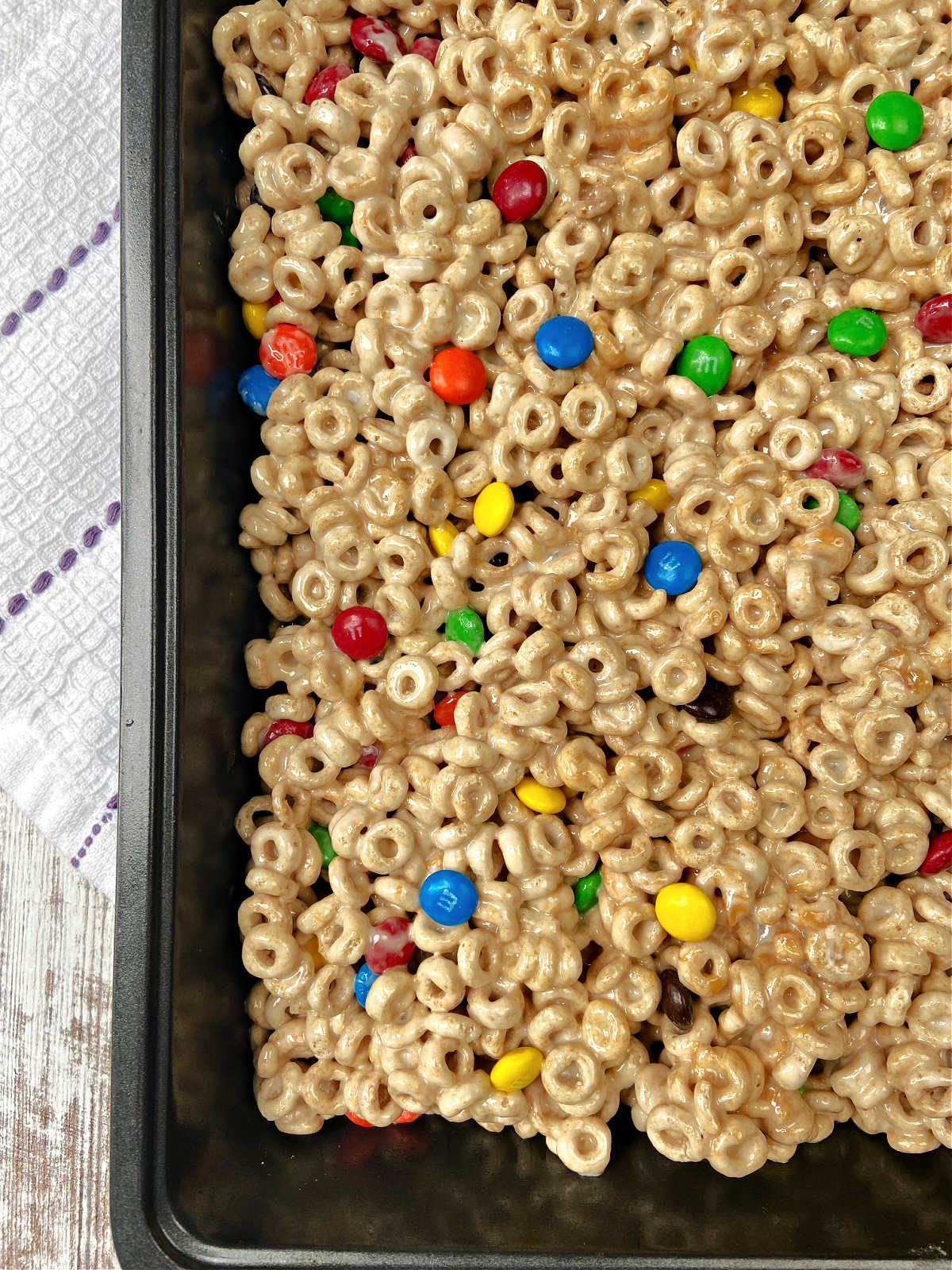 These Caramel Cheerios Bars mix the crunchy and sweet. They also mix the creamy with the classic favorite. I mean, really, Cheerios with M&M's adding in caramel?
It is a total winner. The kids can take these dessert Cheerios bars with them to school for lunches or for that snack they signed up you for last minute.
That happens to all of us.
Ingredients
Cheerios (original is prefered)
M&M candies
Marshmallows
Butter or margarine
Only five ingredients for these bars. With such simple ingredients this recipe only takes about 10 minutes to make.
Caramel
The type of caramel I used was the Kraft Caramel Bits. The regular Kraft Caramel squares can be used, but the bits are perfect for this as there is no unwrapping involved. They are also easier to measure.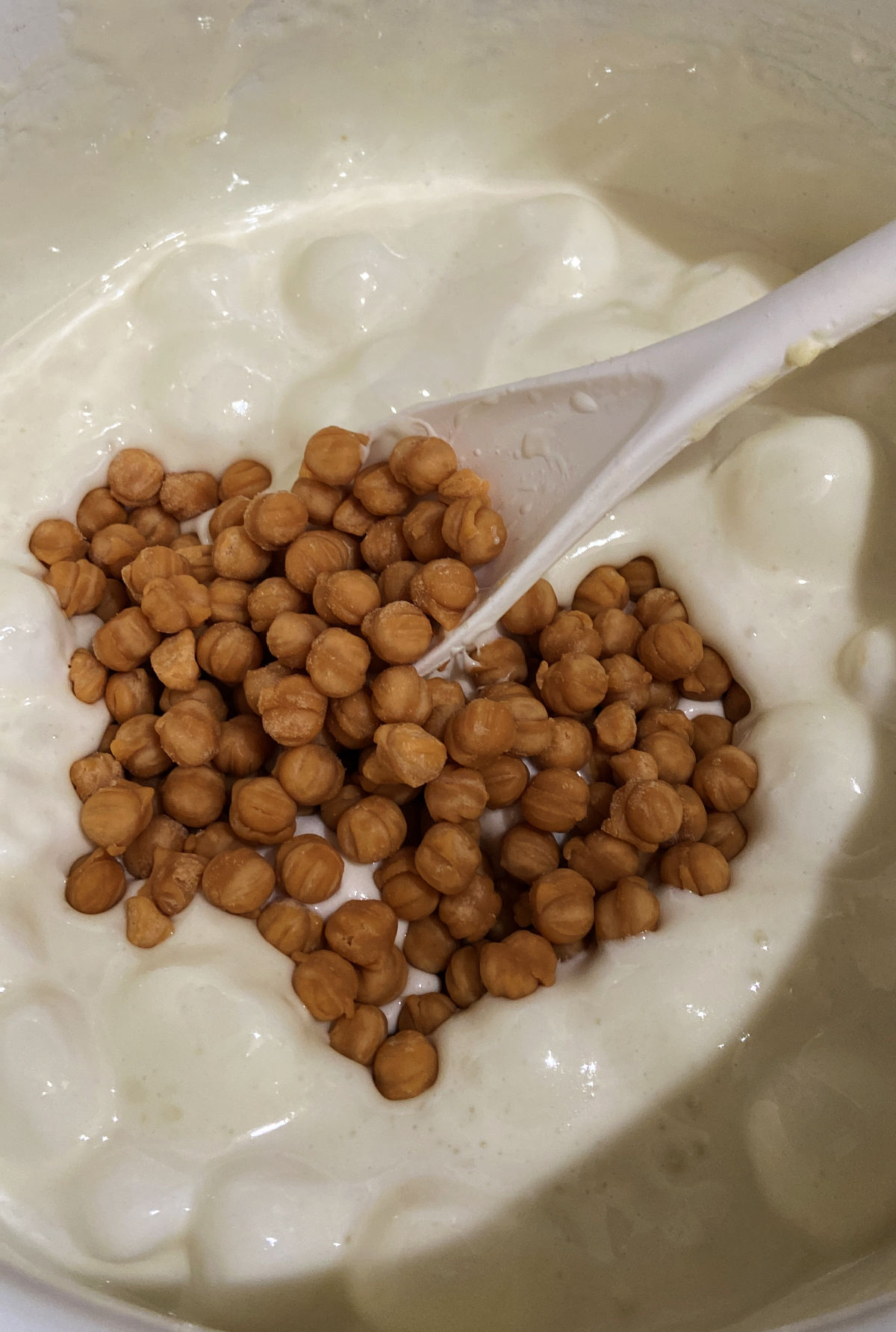 Generic marshmallows verses name brand
A common question is whether or not a generic brand can withstand the test of baking as a name brand. I would recommend only using Kraft caramels as they seem to melt better and have a more distinct taste.
I really think so. Of course, you can certainly use whatever brand you prefer.
Don't forget to stir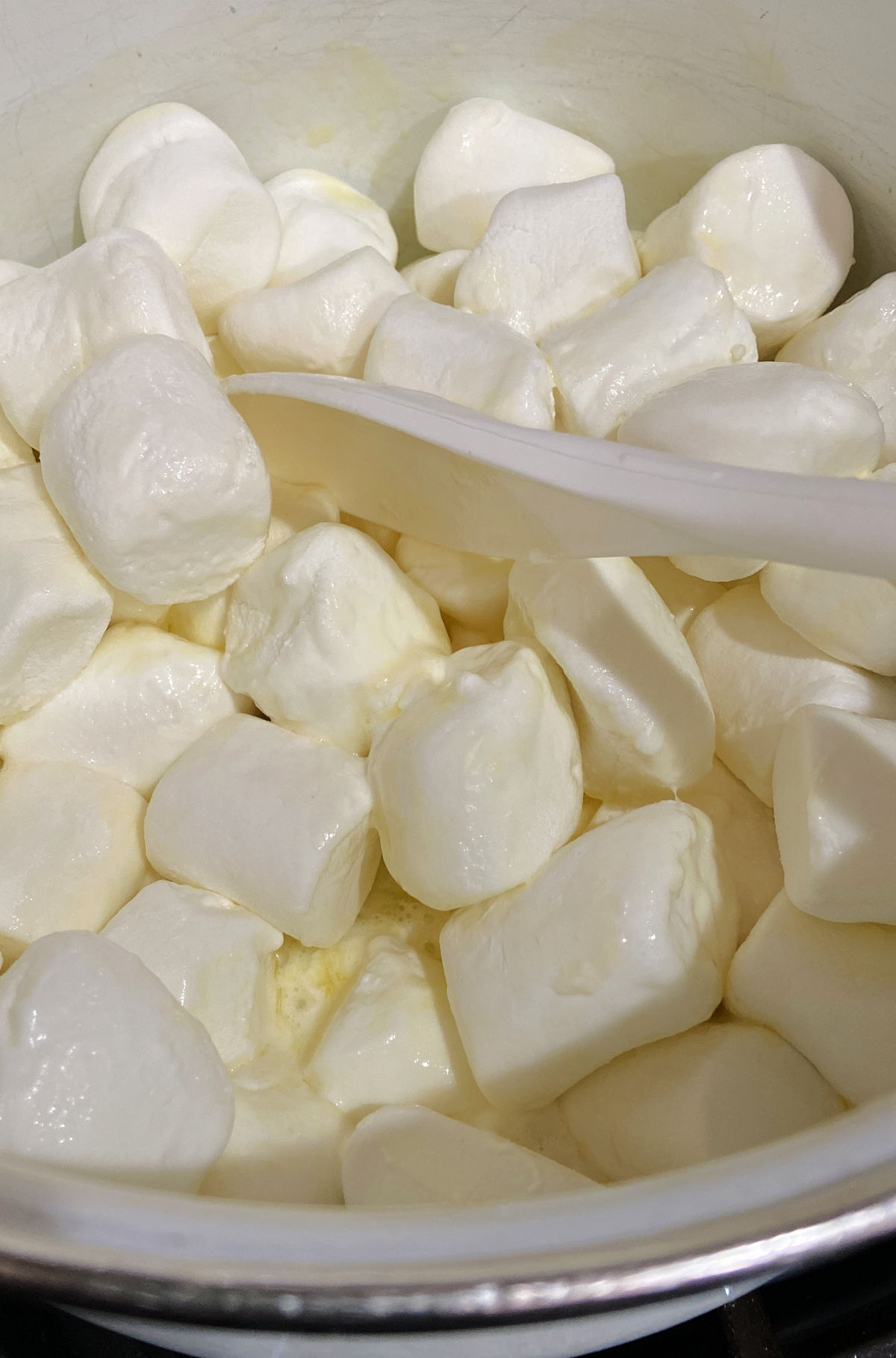 A very important tip is to make sure to stir the butter while it is melting. It needs to cook at a low temperature and be stirred while it is melting.
When the marshmallows are added, keep on stirring. The marshmallows and butter will burn easily, but if you keep the temperature on low heat and stir frequently it shouldn't burn.
Mixing the ingredients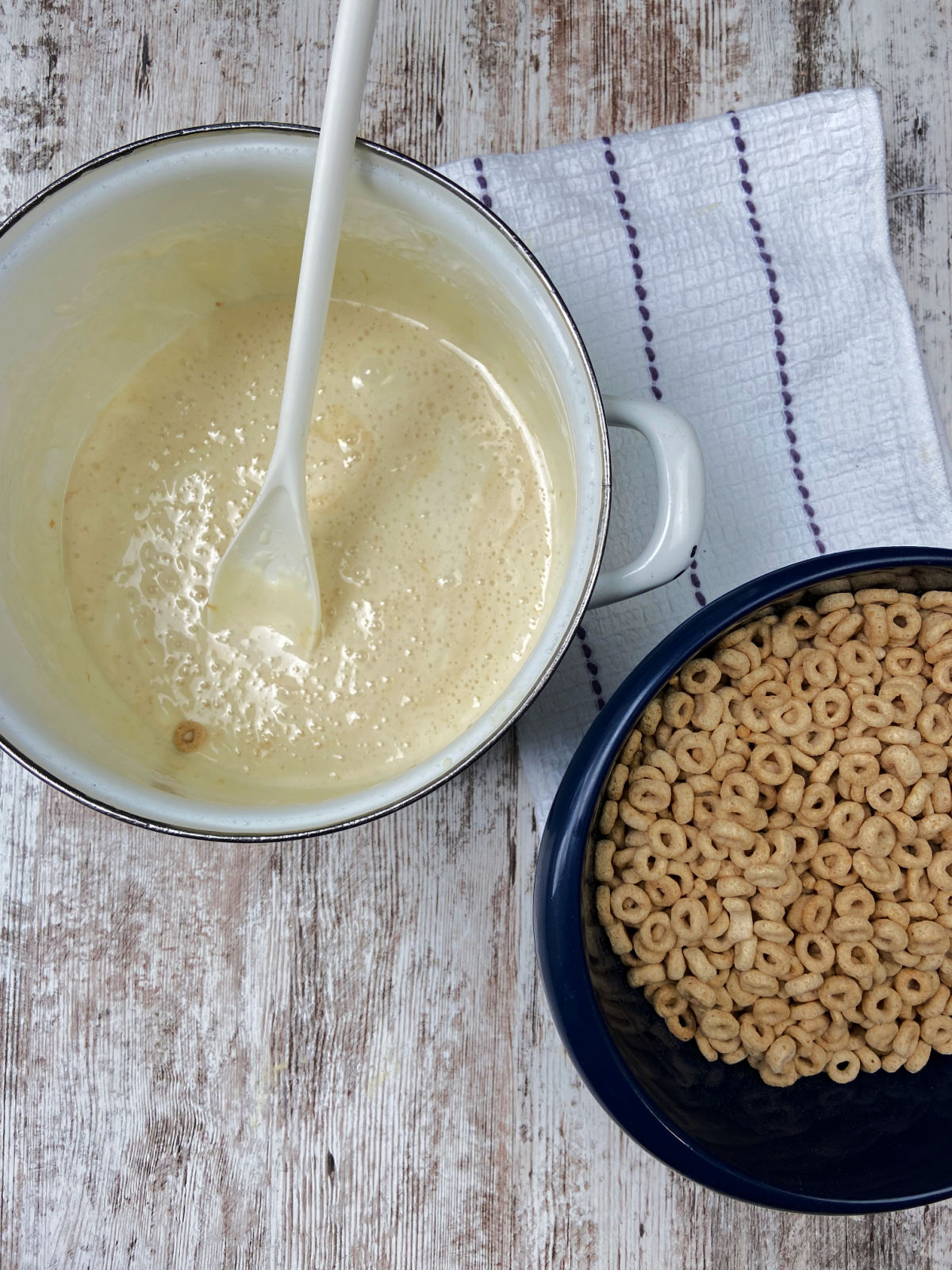 The caramels are added to the marshmallow/butter mixture at this stage. Keeping the heat on low, pour the caramels into the marshmallow mixture and stir. The caramels will melt quickly.
The best way to add the Cheerios is to have them premeasured in a separate bowl so you can pour it into the marshmallow mixture that is in the large pot. I find that is easier to mix together than pouring the marshmallow mixture into the mixing bowl.
It is probably a personal preference.
Like marshmallow treats? Try: Apple Cider Treats
M&M's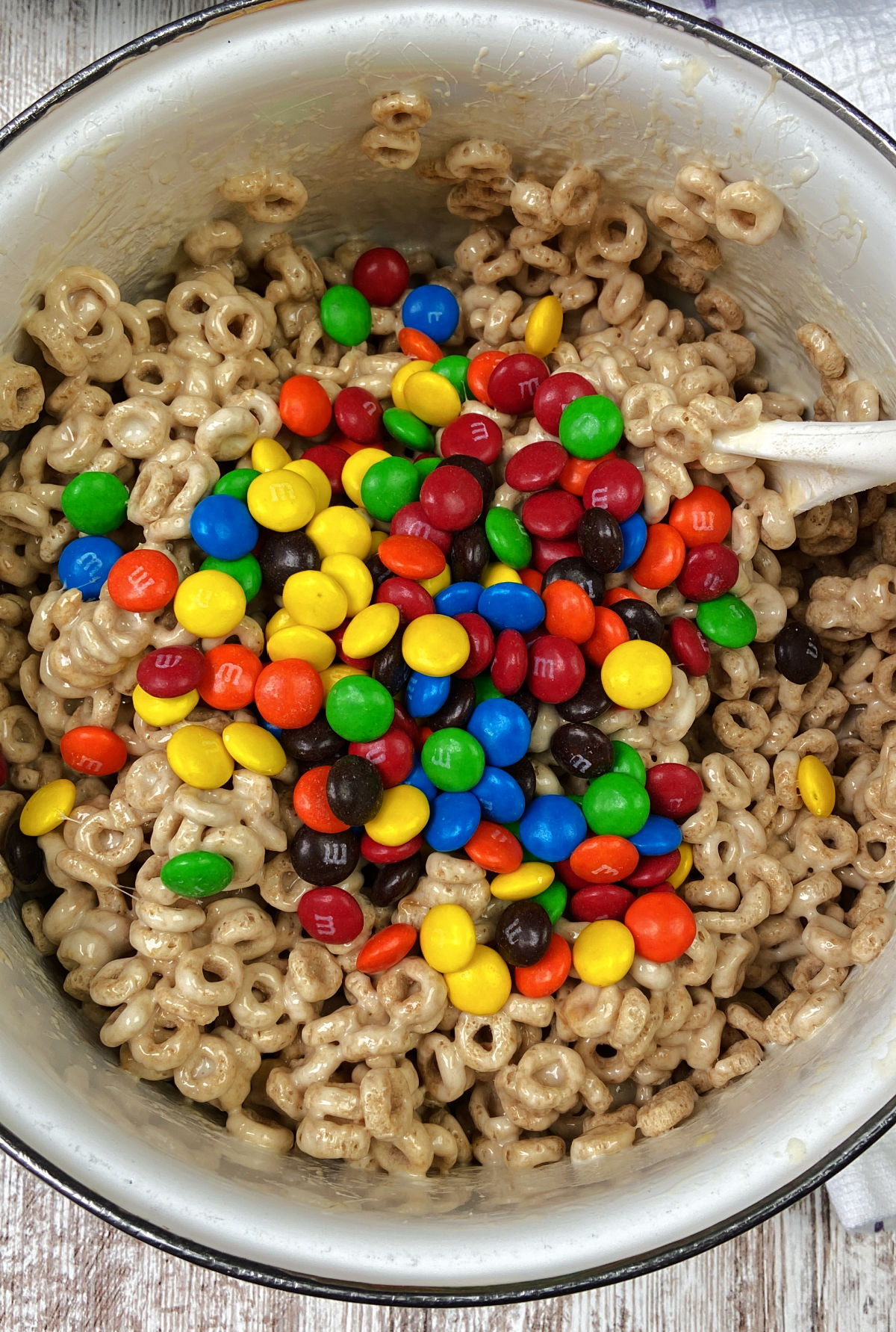 The M&M's will be added to the mixture after the Cheerios have been stirred into the marshmallows. Then just fold in the M&M's. You don't want the M&M's to melt or get too soft so that is why we add them at this stage.
Setting up the Caramel Cheerios Bars
The Caramel Cheerios Bars will need to be mixed well and poured into a greased 9x13 cake pan.
These bars don't need to be baked, but do need to have time to set up. I recommend 1-2 hours. If you are in a time crunch, less time will work, but they may fall apart on you.
FAQ
Do I have to grease the pan?
Oh please do. If you don't, you may not get the bars out of the pan without a fight. It depends on your type of pan.
Can I add other ingredients like chocolate chips?
Yes you can! The chocolate chips will melt quicker than the M&M's so it may be a bit more chocolatey.
Pin for later!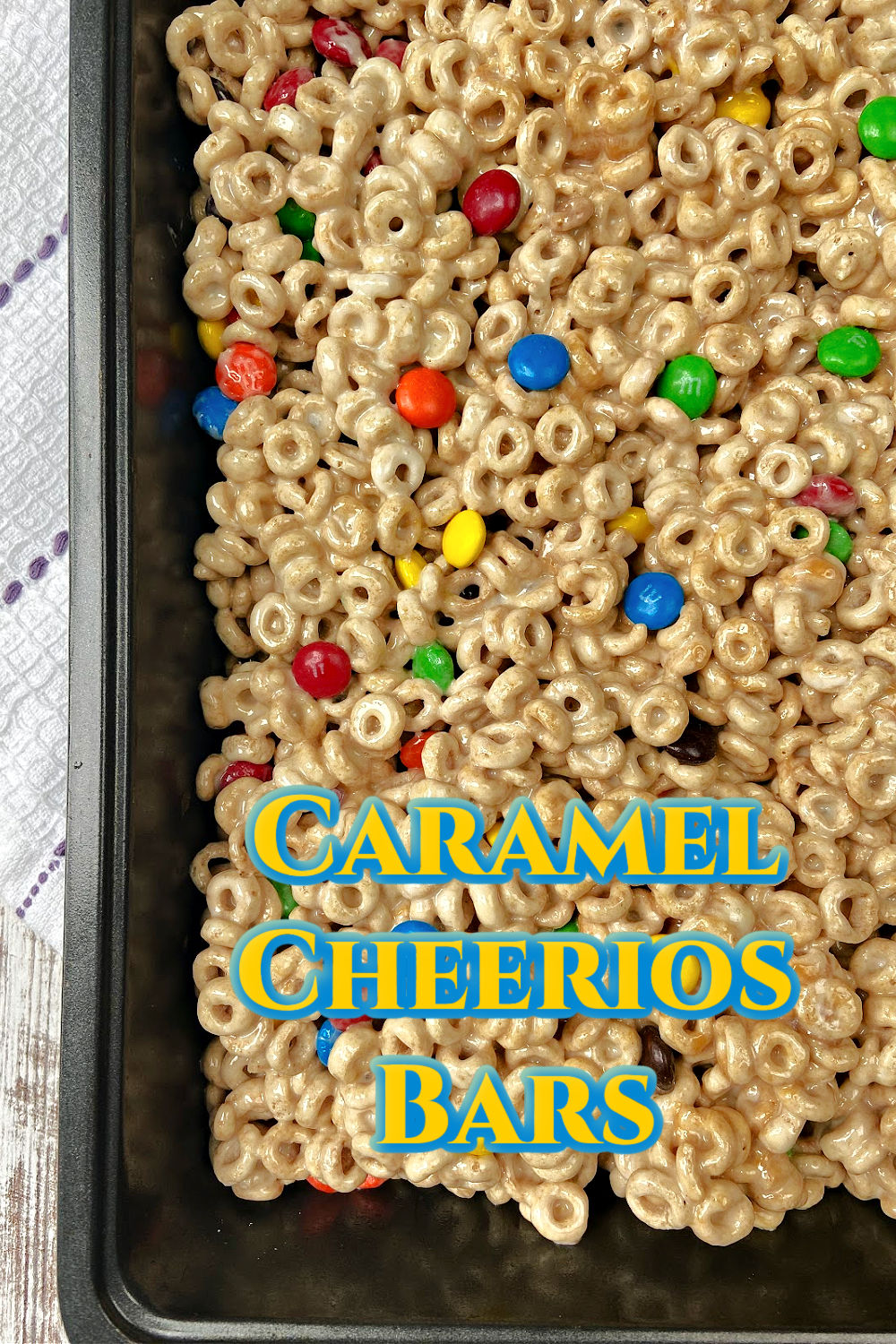 📖 Recipe
Caramel Cheerios Bars
Caramel Cheerios Bars have a caramel flavor and a gooey marshmallow texture. Flavored with caramel and M&M's these bars will be a perfect snack.
Ingredients
6

cups

cheerios

¼

cup

butter

or margarine

12

oz

marshmallows

I used the large marshmallows

½

cup

Caramel Bits

¾

cup

M&M's
Instructions
Melt butter in a large saucepan on low heat

Stir in 1 bag marshmallows.

Stir until marshmallows are melted then add caramel bits.

Stir until caramel is completely incorporated.

Remove from heat and stir in Cheerios until well coated.

Grease a 9x13 cake pan with cooking spray.

Let cool and set up about 1-2 hours.
Nutrition
Calories:
266
kcal
|
Carbohydrates:
47
g
|
Protein:
3
g
|
Fat:
8
g
|
Saturated Fat:
5
g
|
Polyunsaturated Fat:
1
g
|
Monounsaturated Fat:
1
g
|
Trans Fat:
0.2
g
|
Cholesterol:
13
mg
|
Sodium:
138
mg
|
Potassium:
90
mg
|
Fiber:
1
g
|
Sugar:
31
g
|
Vitamin A:
498
IU
|
Vitamin C:
2
mg
|
Calcium:
68
mg
|
Iron:
3
mg