These Caramel Cheerios Bars have all of the ingredients in them to make a kids friendly favorite. Caramel marshmallows, Kraft Caramels and M&M's make up these yummy bars.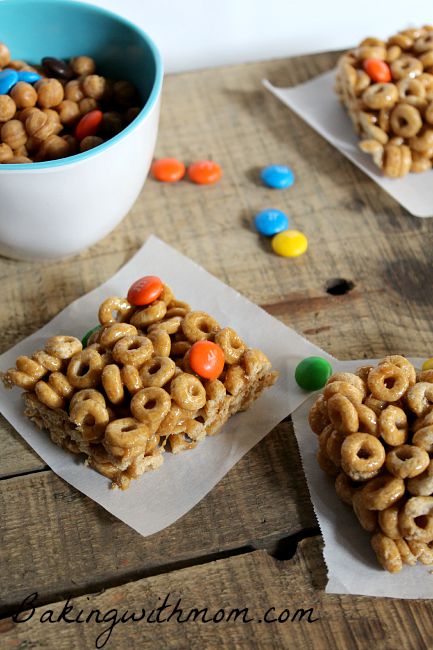 Shopping with a three year old can end with unexpected items in your cart.
As we were walking through Walmart, well, speeding through Walmart, Caleb happened to catch the marshmallow section out of the corner of his eye. As he was proclaiming we needed some marshmallows and I was saying, no we don't need marshmallows, I saw some new marshmallows I haven't seen before.
Caramel and Vanilla Marshmallows by Kraft.
Well, I must say, that struck my interest.
As I enjoy all things Fall, anything with the title caramel right now catches my eye. Caramel ties in with apples and apples tie in with fall.  (Are you following me here?)
I figured I could come up with something to make with these new found goodies so I bought them. Caleb was delighted. ;-)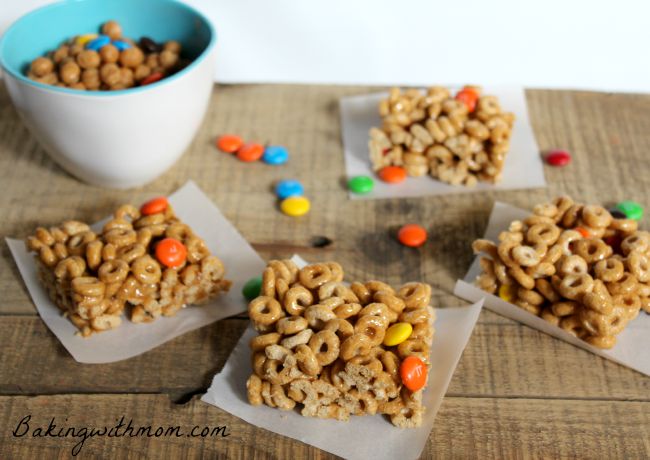 I like cereal bars like Rice Krispie Treats. I think it is the marshmallow gooey-ness I enjoy.  I have made other cheerios bars before with peanut butter so I thought I would give Caramel Cheerios Bars a try. For extra caramel, I figured I would add in the Kraft Caramel Bits to the mix.
Have you ever made anything with those Kraft Bits before? They are caramels, but the size of chocolate chips. No unwrapping needed! They melted perfectly in the marshmallow mixture.
The caramel cheerios bars were easy to make and tasted great. I suppose we didn't need to add the M&M's in, but really, what doesn't taste better with chocolate? ;-)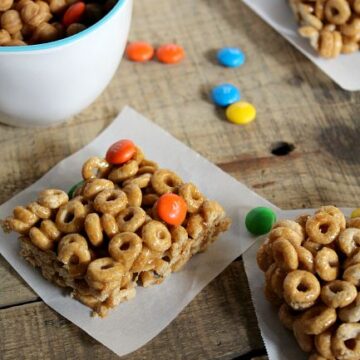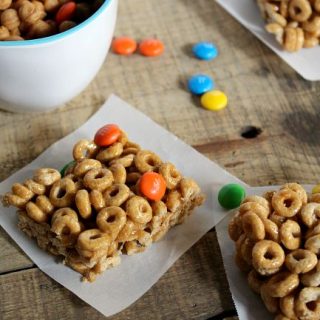 Caramel Cheerios Bars
Caramel Cheerios Bars have a caramel flavor and a gooey marshmallow texture. Flavored with Kraft caramel and M&M's these bars will be a perfect snack.
Ingredients
6

cups

cheerios

½

stick butter

1

bag of large Caramel and Vanilla Marshmallows

½

cup

Kraft Caramel Bits

¾

cup

M&M's
Instructions
Melt butter in a large saucepan on low heat

Stir in 1 bag marshmallows

Stir until melted then add caramel bits

Stir

Remove from heat and stir in Cheerios until well coated

Add M&M's and mix well

Spray a 9x13 cake pan with cooking spray

Spread in pan evenly

Let cool and set up about 1 hour
Are you following Baking With Mom on Twitter? You can do so here if you would like to!I tweet, retweet and like so many great recipes-see what I am sharing!