Caramel Brownie Lasagna with brownie, caramel, whipped cream and chocolate pudding for a layered dessert that will feed a crowd, or your hungry children!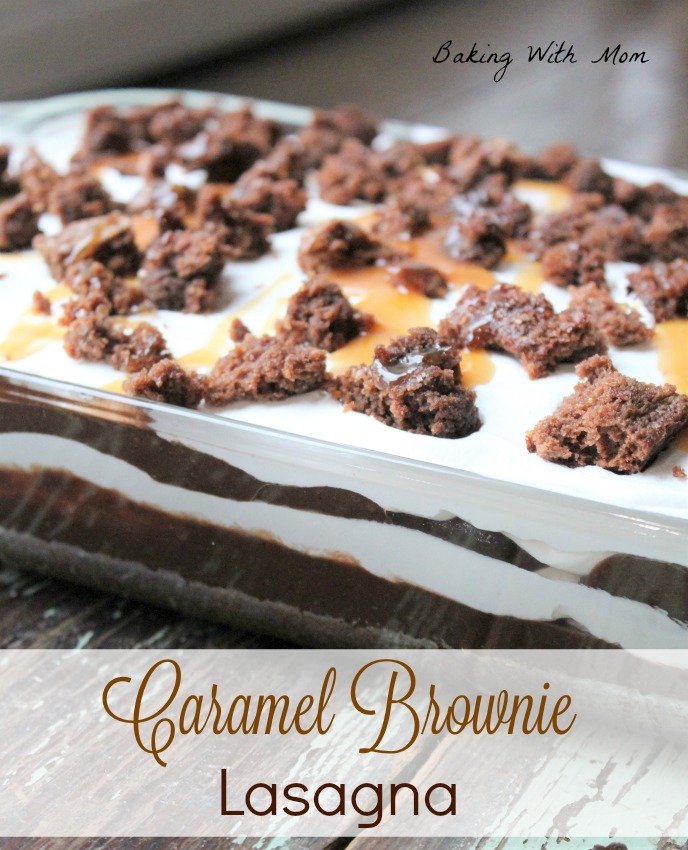 Caramel Brownie Lasagna is about as delicious and fabulous as it sounds. In fact, it is rather additive and has pretty much all the ingredients to be one of the best desserts ever.
I'm sorry, but it does.
Why do I say sorry, well, if you make it, chances are people are going to ask for the recipe. If you make it, people will flock to you in droves wondering how this recipe comes together. You may be responsible for people hiding in the dark at 2:00 am eating this out of the refrigerator with or without a spoon. If you can live with that, read on. Apparently those consequences didn't bother me any because I made it. And yes, it is delightful.
I needed to make a large dessert for a luncheon I was attending at church. As the wife of an elder, we attend many gatherings, most that require food. :-) Being that I like to make different recipes than my usual ones, and the fact it doesn't hurt to kill two birds with one blogging stone, I wanted to come up with something new for this luncheon.
How To Make Caramel Brownie Lasagna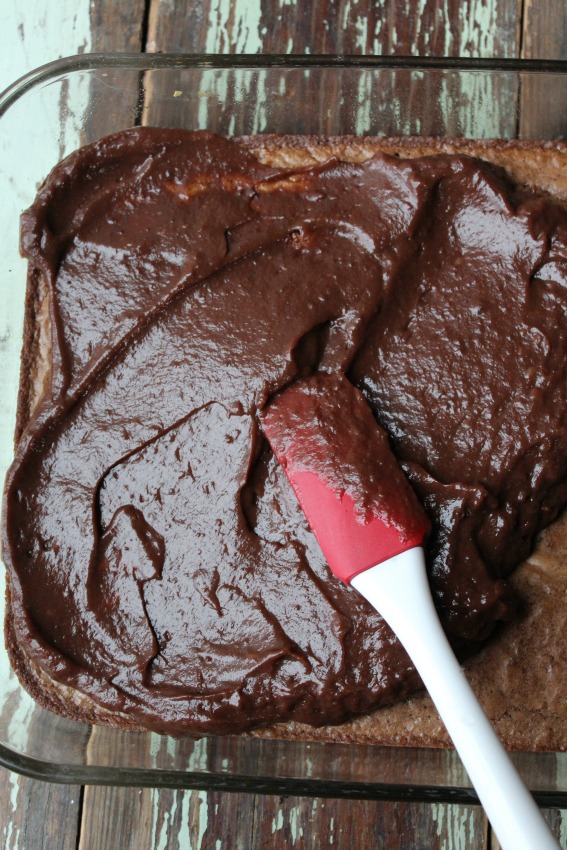 A brownie mix was bought the last time I went "Krogering" and I had an idea in mind. Instead of a trifle, what about a dessert with repeated layers in a casserole dish. Kind of like a lasagna. It would serve many people, you know, food for a crowd, and the flavors would blend so every bite would have chocolate brownie, chocolate pudding, whipped cream, caramel and more brownie on top.
It would also sit in the fridge overnight so not only the flavors in the caramel brownie lasagna would blend, but I would have to make anything on a Sunday morning while trying to usher 6 people out the door.
Can I get an "Amen"?
I didn't spend much time or money on this dessert. I would say the total cost was about $6. You can spend a little less if you buy all ingredients on sale. The biggest cost was the Cool Whip, which was not on sale. I had bought about 8 Cool Whip containers over Christmas when they were about $.77 each. I don't know where they all went. I'm sure to good use. ;-)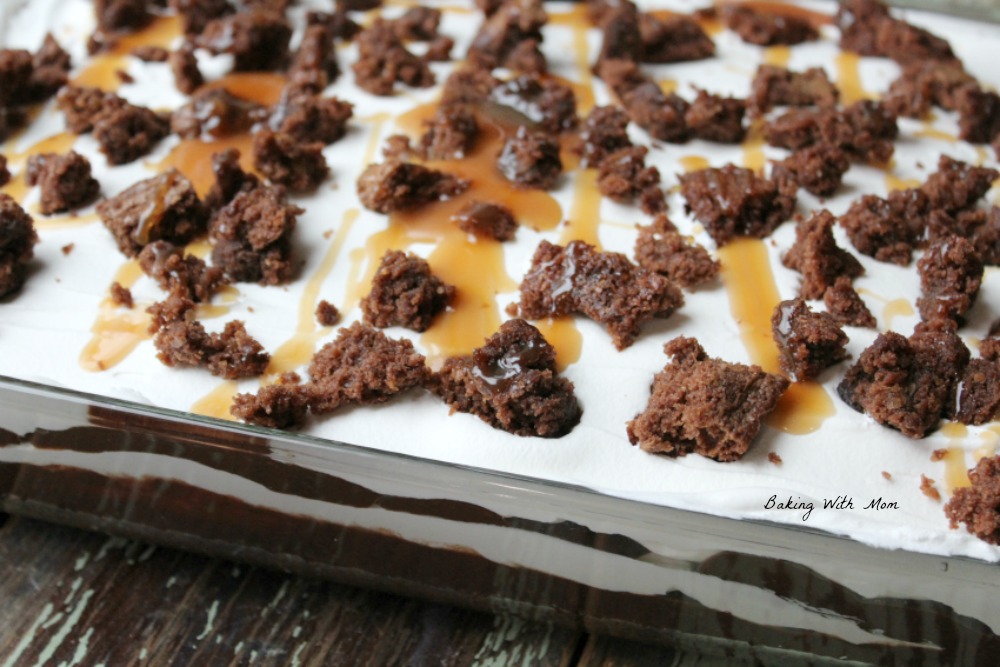 📖 Recipe
Caramel Brownie Lasagna
Caramel Brownie Lasagna with layers of chocolate, caramel and whipped cream is a great dessert to feed a crowd and delicious enough to want seconds.
Ingredients
2

boxes brownie mix

, plus ingredients on back of box

2

(8 oz) tubs whipped cream

½

cup

caramel topping

2

boxes

(3 oz) EACH of chocolate pudding

3 ½

cups

milk
Instructions
Make brownie mix according to instructions on back of box. Use two different pans, do not combine into one pan

Bake and let cool

Mix together pudding mix and milk

Let sit until set up

On one pan of brownies, spread ½ of the chocolate pudding

Next, spread one tub whipped cream

On top of whipped cream, sprinkle 1 cup brownie crumbs, made from other pan of brownies

Drizzle with 2 Tablespoons (or more to your liking) of caramel

Spread rest of chocolate pudding on top

Layer rest of whipped cream

cup of brownie crumbs/chunks

tablespoons of caramel drizzled on top

Refrigerate, covered,overnight or at least 4 hours

Serve
Mint Chocolate Chip Brownie Sandwiches