This Blueberry Streusel Bread is delicious treat which is great for breakfasts, lunches or anytime!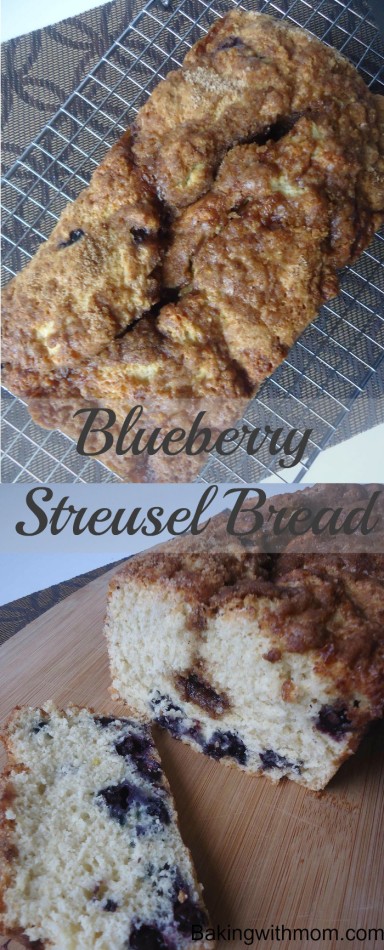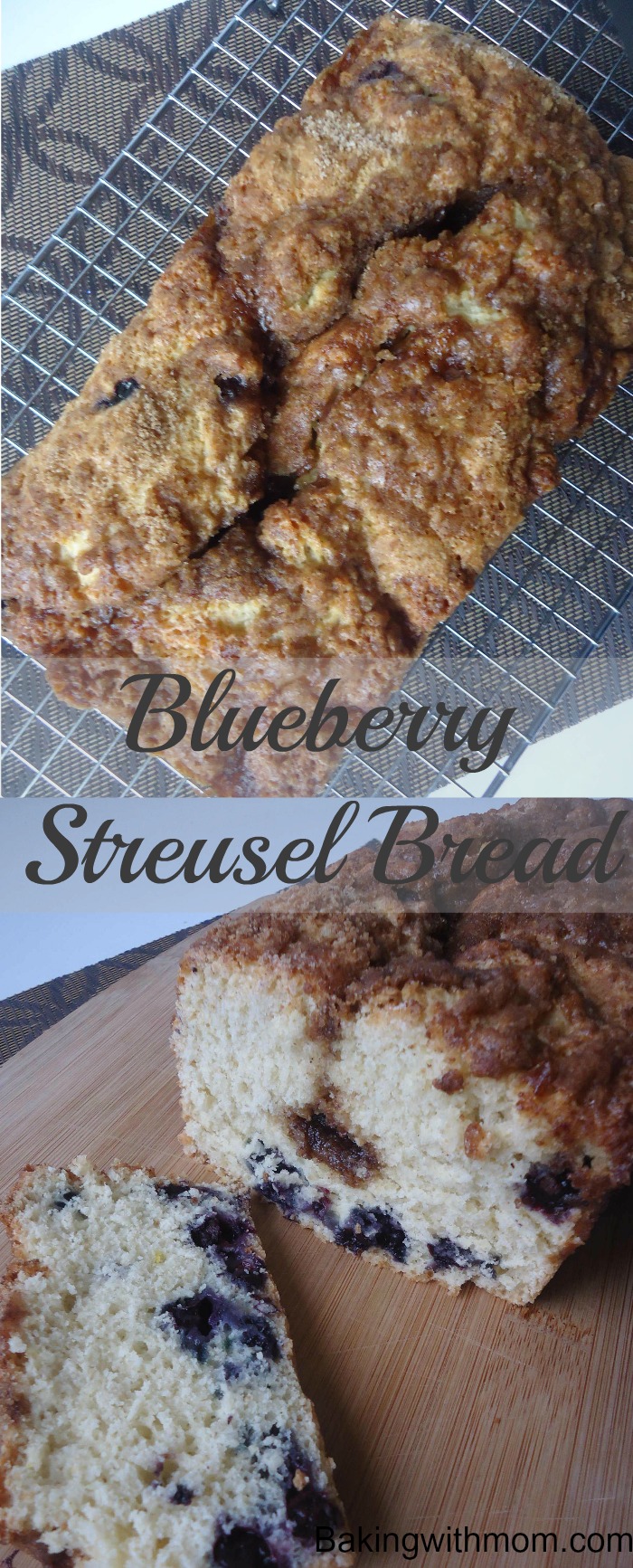 Last week, I wrote a post on a new recipe challenge.  I enjoy trying new recipes and making new foods, but sometimes we get into a food rut.  I want accountability to try new foods, whether they are made for a family dinner or a side dish or a dessert.
Or in this case, a bread.  A really, really, yummy bread. 
I have many bread recipes and muffin recipes, but this one was different.  This was a very thick, very flavorful bread.  The Blueberry Streusel Bread was eaten quickly with many requests for breakfast.  It would be great for breakfast or in school lunches with or without jelly or peanut butter on it.
I would advise cutting it into slices and freezing it right away.  Otherwise if your family is anything like mine:
It will disappear right under your nose.
Blueberry Streusel Bread
My family can eat a loaf a bread like no other.  At a speed like no other.  Unfortunately, only the older ones who could see over the counter could contribute to the disappearing blueberry streusel bread.  The younger one who can't quite make it to counter top level asked me for "bread Mommy?"  "I have bread?"
It was heartbreaking to share the truth with him; that his siblings ate it all.  The life of the fourth child. 😉
**Please Note** I updated the recipe on June 21, 2016 to place the bread into two greased loaf pans. I had some readers say it spilled over into their oven in one loaf pan. You can place the batter into to greased pans or if you like a taller, thicker bread, you can fill the loaf pan up about 2/3 full, then take the rest of the batter and place in greased muffin tins for muffins. You can prevent accidental spill over that way.
Blueberry Streusel Bread
Blueberry Streusel Bread with cinnamon and brown sugar. Delicious bread for snack or breakfast.
Ingredients
1

egg

3/4

cup

sugar

1

cup

milk

1/4

cup

vegetable oil

1

tsp

vanilla

3

cups

all-purpose flour

1

teaspoon

salt

4

teaspoons

baking powder

1 1/2

cup

fresh blueberries
For the Streusel Topping
1/4

cup

flour

1/2

cup

brown sugar

2

T

butter

(softened)

1

tsp

cinnamon
Instructions
Mix the egg and sugar together.

Add milk, oil and vanilla. Mix well.

Stir in the flour, salt, baking powder. Fold in the blueberries.

Spread in two greased loaf pans. Set aside.
For The Topping
Mix the flour, brown sugar, butter and cinnamon together.

Sprinkle over the blueberry batter.

Bake in a 350* oven for 60 minutes or until toothpick inserted into the center comes out clean.
Like homemade bread recipes?  Try this recipe for Cinnamon Swirl Bread or Chocolate Chip Banana Bread.
So what did you make?  Did you make a new recipe this past week?  I want to hear about it.  Let me know about it in the comments.