Easy supper of shredded crock pot chicken tacos for a quick and delicious meal.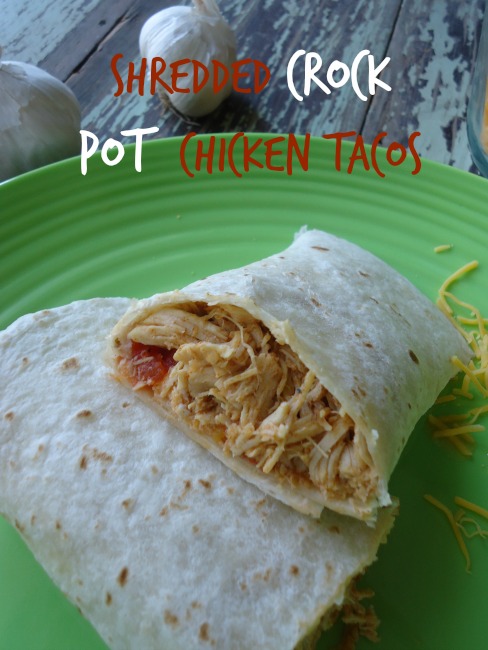 Every mom loves a crock pot meal.  After running from scholastic bowl to basketball to church activities to piano, coming home to a meal in the crock pot is much appreciated and enjoyed.
Especially one that is only a few ingredients.  These shredded crock pot chicken tacos are easy and flavorful.  It also has the word "taco" in it.  Enough said, right?
I have mentioned before, chicken is much cheaper right now than red meat.  As we are incorporating more and more chicken in our meals, I am trying to substitute it for hamburger.  How is the family handling it?  Quite well.  Even the red meat guy. :-)
How Make Shredded Crock Pot Chicken Tacos
To the shredded crock pot chicken tacos, I added cloves of garlic with the chicken while it was cooking.  I usually break off a few pieces and let the garlic just sit in the the crock pot with the chicken.  The flavor of garlic without the chewy chunks.  Flavor, not crunches. ;-)
When making food for your family, don't think the food needs to be complicated.  Most of the food I make has only few ingredients.  It doesn't need a fancy name or long list of ingredients to make it good.  A crock pot, some chicken and taco seasoning does just fine for us quick and busy families.  Use your crock pot and use it often.  Put a meat in it and add a seasoning.  You have yourself a great meal.
📖 Recipe
Shredded Crock Pot Chicken Tacos
These shredded crock pot chicken tacos are easy to make and a family favorite from the first bite. Flavored with seasoning and garlic, these tacos cook while you are away for a quick supper.
Ingredients
3

uncooked chicken breasts

1-2

tablespoons

taco seasoning

garlic to taste

½

cup

chicken broth
Instructions
Place chicken breasts in crock pot.

Add chicken broth, garlic and taco seasoning.

Cook on low for 5 hours.

After cooking, shred chicken.

Place on taco shells with tomatoes, cheese, sour cream.