Pumpkin Pancakes are a delicious fall treat. Cinnamon and nutmeg combine to make these pancakes taste delicious and your home smell wonderful!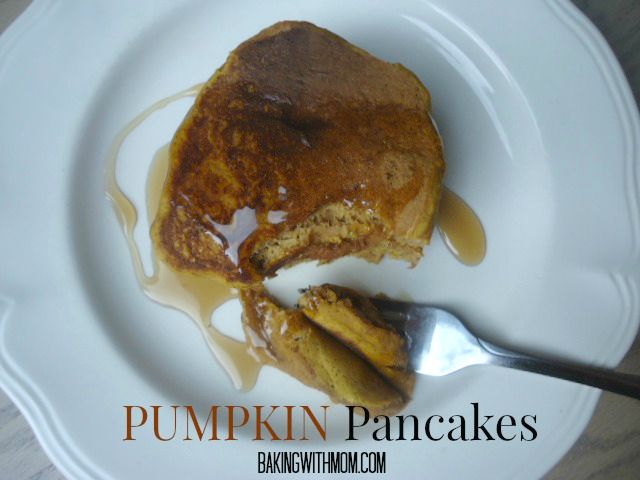 Pumpkin season is here!
Almost.
It is here at our house.  I planned ahead last year.  We bought A LOT of canned pumpkin last year and HAPPEN to have some left.  We enjoy it so much, we didn't want to be without during the year.  Sure, you can still get it in the store in August, but not at ALDI.  And, of course, ALDI has great canned pumpkin prices.  Why pay more, ya know?
Anytime, A.N.Y.T.I.M.E I put something pumpkin in front of my husband, I immediately get a "Oh, yum".  The other night as he was walking through our kitchen on the way downstairs I got the typical question, "What's for supper?".  (Keep in mind he didn't stop walking.)  I answered with "pumpkin pancakes".  He paused slightly and said, "oh, yum".
Never fails.
Maybe he would enjoy a pumpkin, spinach, asparagus, hummus bake.  Maybe not. ;-)
When you make these pancakes, you house will smell like pumpkin and cinnamon. I mean really, how can you go wrong? If you are really wanting a treat, you can throw chocolate chips into the batter.
Mom of the year award, right there.
Don't let all the ingredients in these pancakes scare you.  They come together as easily as regular pancakes.  The only thing you need to watch for is that they are thicker than normal pancakes.  Make sure you spread the batter on the griddle otherwise:
Not circle shape pancakes, does it really matter, please tell me it doesn't, my family didn't care, maybe you will be a better circle pancake maker than I am.
Okay?
📖 Recipe
Pumpkin Pancakes
Pumpkin pancakes are perfect for fall. Pair these with a cup of warm cider and you have a delicious breakfast.
Ingredients
1

can pumpkin

1

egg

2 ½

T

oil

2

T

vinegar

1

cup

milk

½

cup

water

2

cup

flour

4

T

brown sugar

2

teaspoon

cinnamon

½

t

ginger

1

t

allspice

½

teaspoon

salt

2

teaspoon

baking powder

1

teaspoon

baking soda
Instructions
Mix wet ingredients together

Stir well

Mix dry ingredients in a small bowl

Add dry ingredients to wet ingredients

Stir well

Heat an electric griddle

Spray lightly with cooking spray

Pour pancake batter (½) cup on griddle

Cook for 3 minutes or until small bubbles form in batter

Flip pancake over

Cook 3 minutes or until done