A quick to make dessert recipe, this No Bake Strawberry Chocolate Pie is packed full of flavor and is so simple to make. The creamy texture of the pie with the combination of strawberry and chocolate will become a favorite recipe at your house for your family and guests.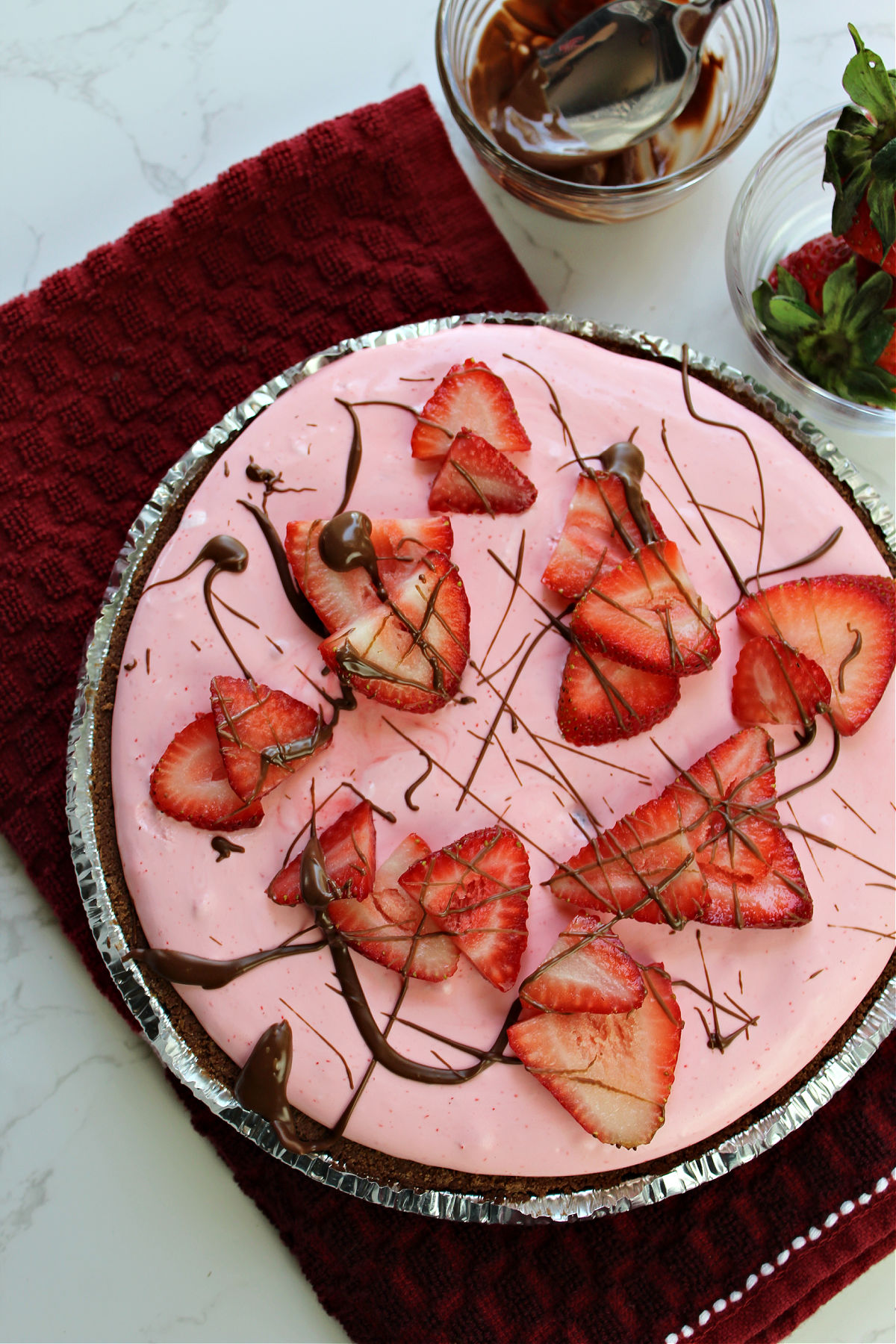 This no bake strawberry chocolate pie recipe is a great dessert to bring to gatherings and let me tell you, a great way to make new friends. Everybody will be coming up to you asking if you are the one who made that delicious pie.
You can decide if you want to tell them how easy it is. This no bake strawberry pie even uses a bought chocolate crust. There are only 4 ingredients if you don't count the water and ice cubes that are used.
Ingredients
Strawberry Jello
Strawberries
Water
Ice cubes
Cool whip
Chocolate pie crust
I normally try to swap out name brand items for generic in certain recipes if the results would be the same. I try to get a little cost savings in. In this case, it is best to stick with the name brand Jell-O and Cool Whip.
The generic gelatin doesn't dissolve as well in my opinion for this recipe. The non-name brand whipped topping seems to not hold it's shape as well.
The gelatin
To make this pie, first, you start with the strawberry gelatin and the hot water, however you don't use as much as the package says.
The point of this pie filling is thicken quickly so it will hold its shape. You also don't want it to be like Jell-O, you will want the pie to have a more creamy texture.
You will add the cold water and ice cubes immediately after dissolving the strawberry gelatin. By the way, if you want to use Wild Strawberry verses the Strawberry Jell-O, you certainly can. Both have great flavor.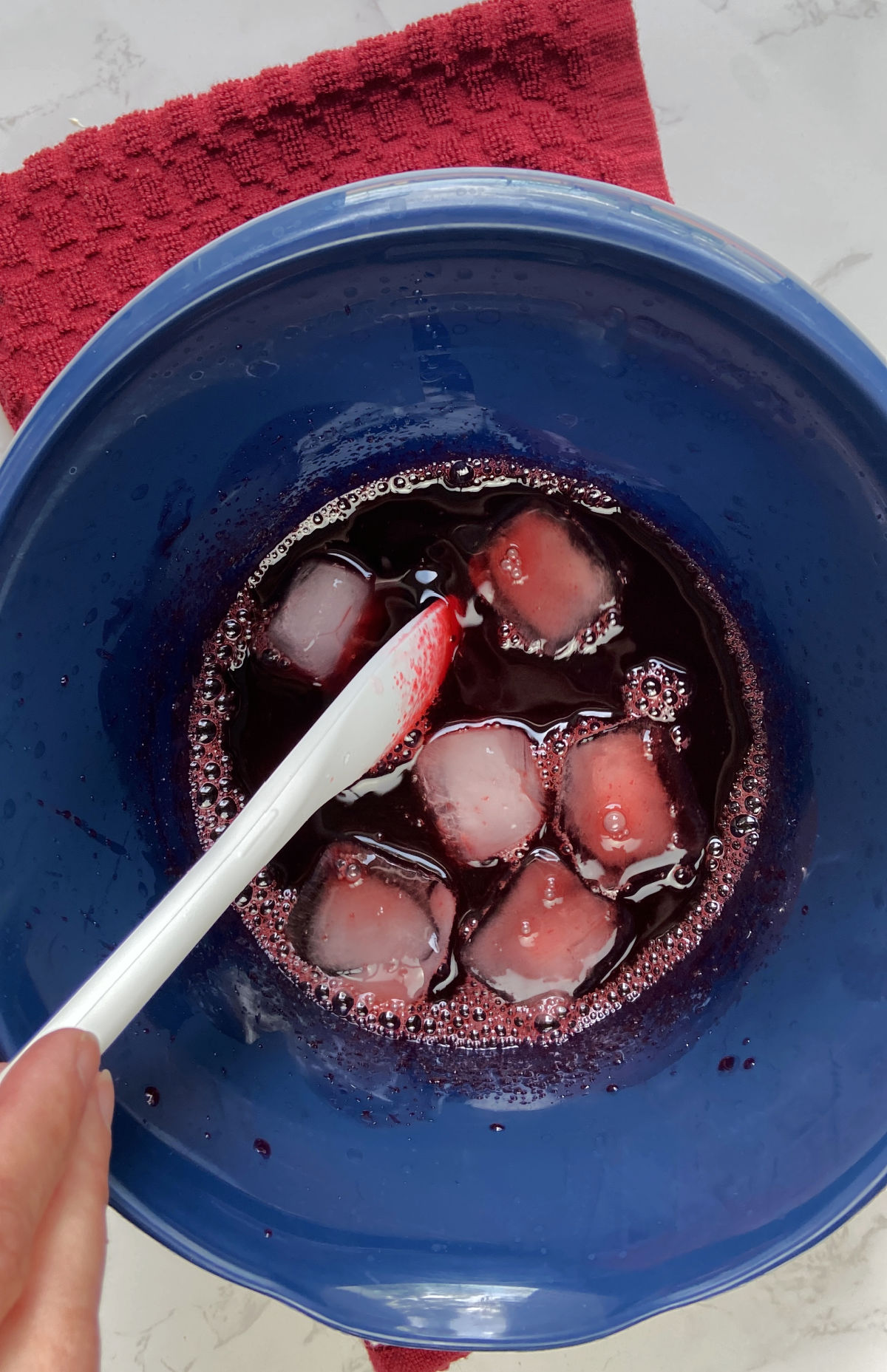 Next, stir in the ice cubes and keep stirring until they melt. The mixture will thicken as you stir.
Once the ice has melted, are going to want to let the mixture sit for a bit before you add the Cool Whip. It will help the mixture thicken up a bit more and if you go too soon, the pie won't set up properly.
I would give it about 4 minutes to thicken.
Adding the whipped cream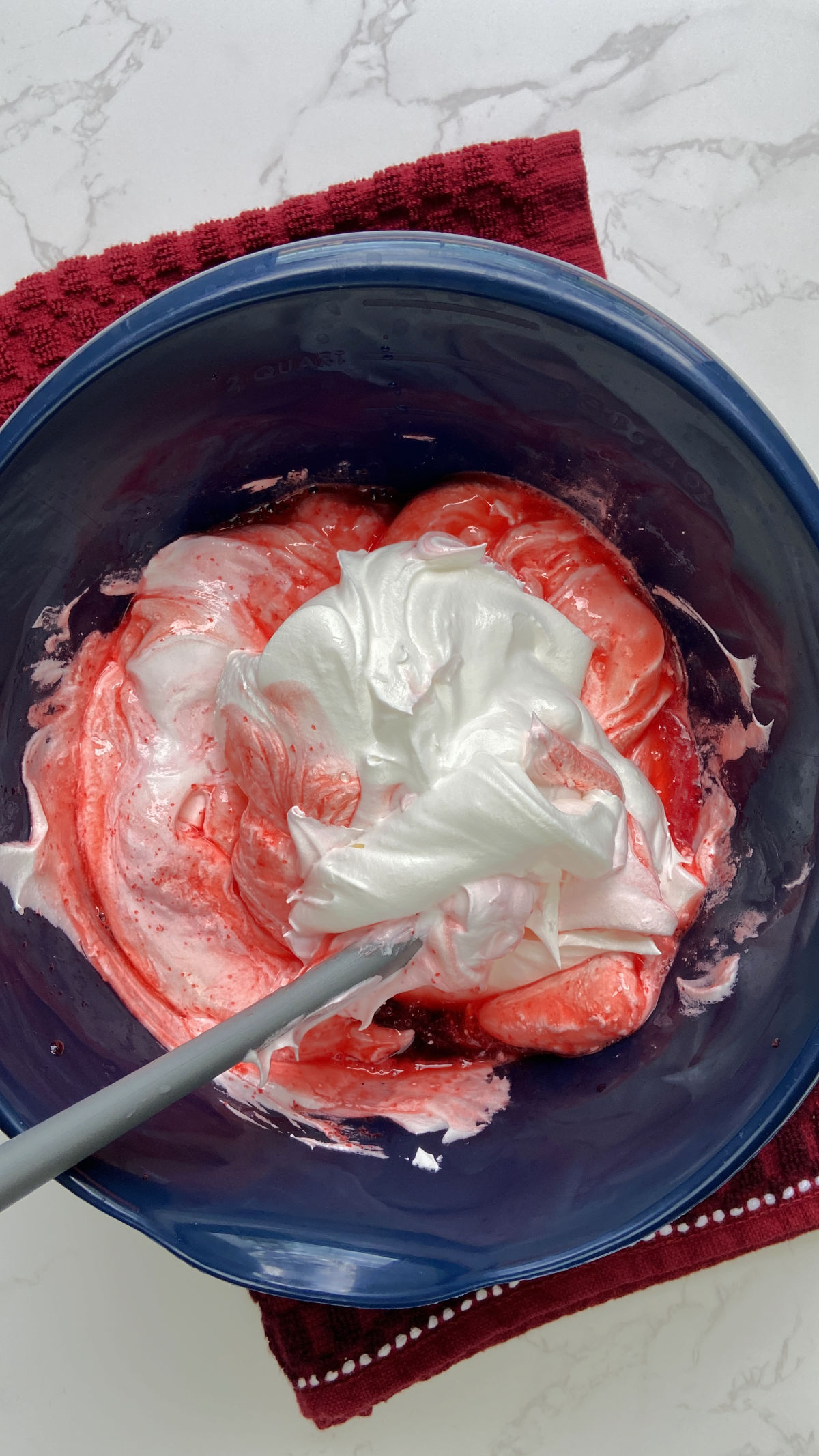 When the mixture has thickened, you need to fold the Cool Whip in. If you stir it in, the Cool Whip will break down too much. By folding it in, it helps keep the shape of the Jell-O AND the Cool Whip. The two ingredients won't be fighting for top spot, if you will. They want to work together, not against each other.
Strawberries
The strawberries will be added after folding in the whipped cream. Again, folding in the strawberries will be best as not to disrupt the ingredients.
You will want to add a few strawberries to the top of the pie for decoration. It doesn't really matter how many or what pattern, just whatever suits you.
Chocolate pie crust
Part of what makes this pie so good, and allows it to take the name of strawberry chocolate pie is the pie crust. I had a chocolate pie crust that I had bought. It certainly works. If you prefer, you can use chocolate OREO crumbs or chocolate graham cracker crumbs and follow the instructions here to make a homemade graham cracker crust.
You can use a springform pan or a basic 9 inch pie pan. Because the store bought crust is a little smaller than a 9 inch, I had some strawberry filling left. I made some strawberry mousse cups with the extra.
That was well received from the family, let me tell you.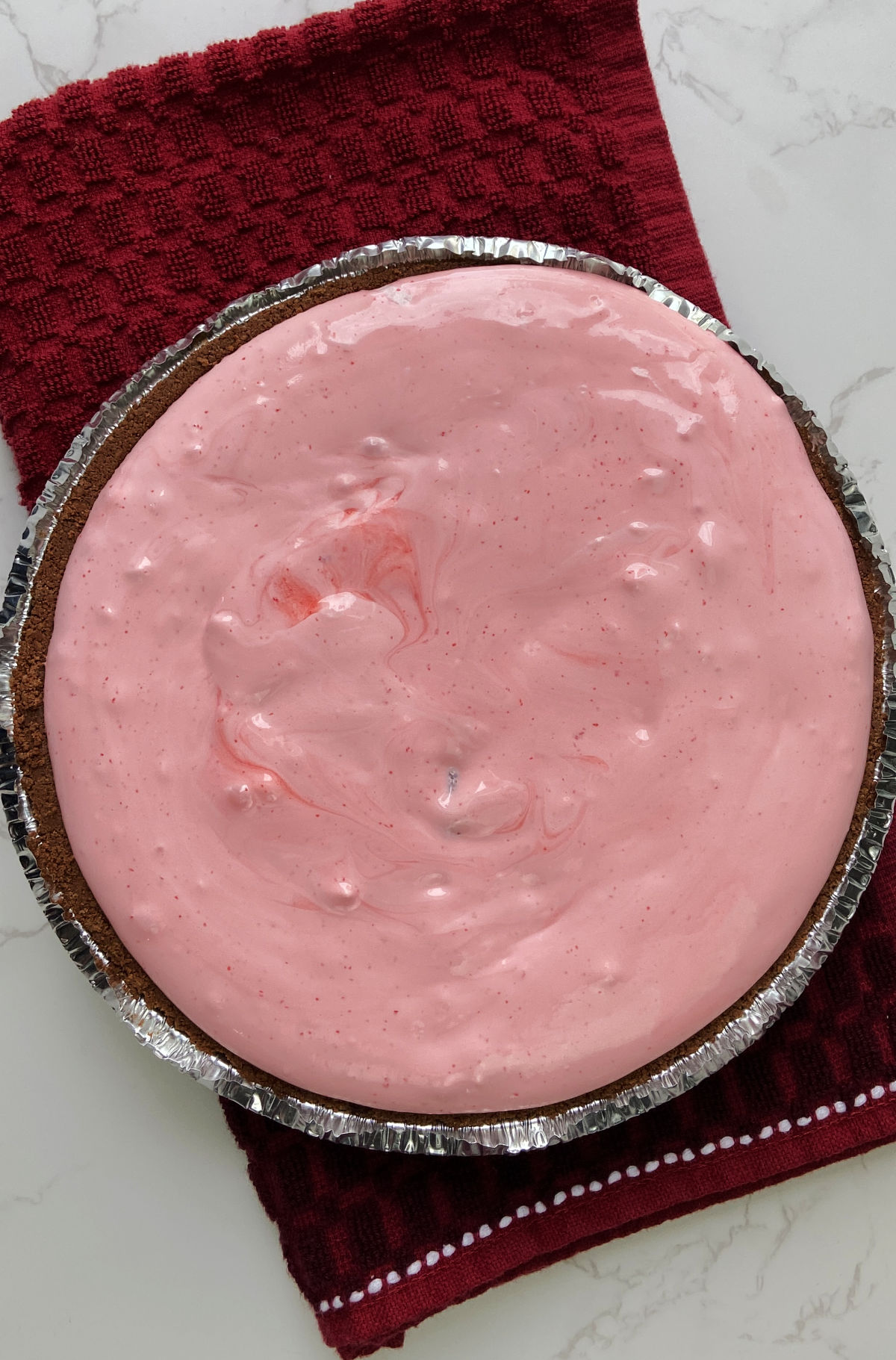 Refrigerate
The refrigeration process pretty crucial to this pie. In order for it to set up right and to be able to take the chocolate drizzle, you have to let the no bake strawberry chocolate pie sit in the fridge for about 3 hours before applying the additional strawberries and chocolate drizzle.
Chocolate drizzle
There are different types of chocolate you can use for this topping. I used some Hershey's milk chocolate and simply melted it down in the microwave.
You could also use milk chocolate chocolate chips or semi sweet chocolate chips. Then just drizzle it over the top of the strawberry pie.
After drizzling the chocolate on top of the pie, let the pie sit the fridge for another 1 hours. Then it will be read to eat.
Storage
If you have any slices of pie left, wrap it up with plastic wrap and place it in the refrigerator. The pie will last up to 48 hours.
Pin for later!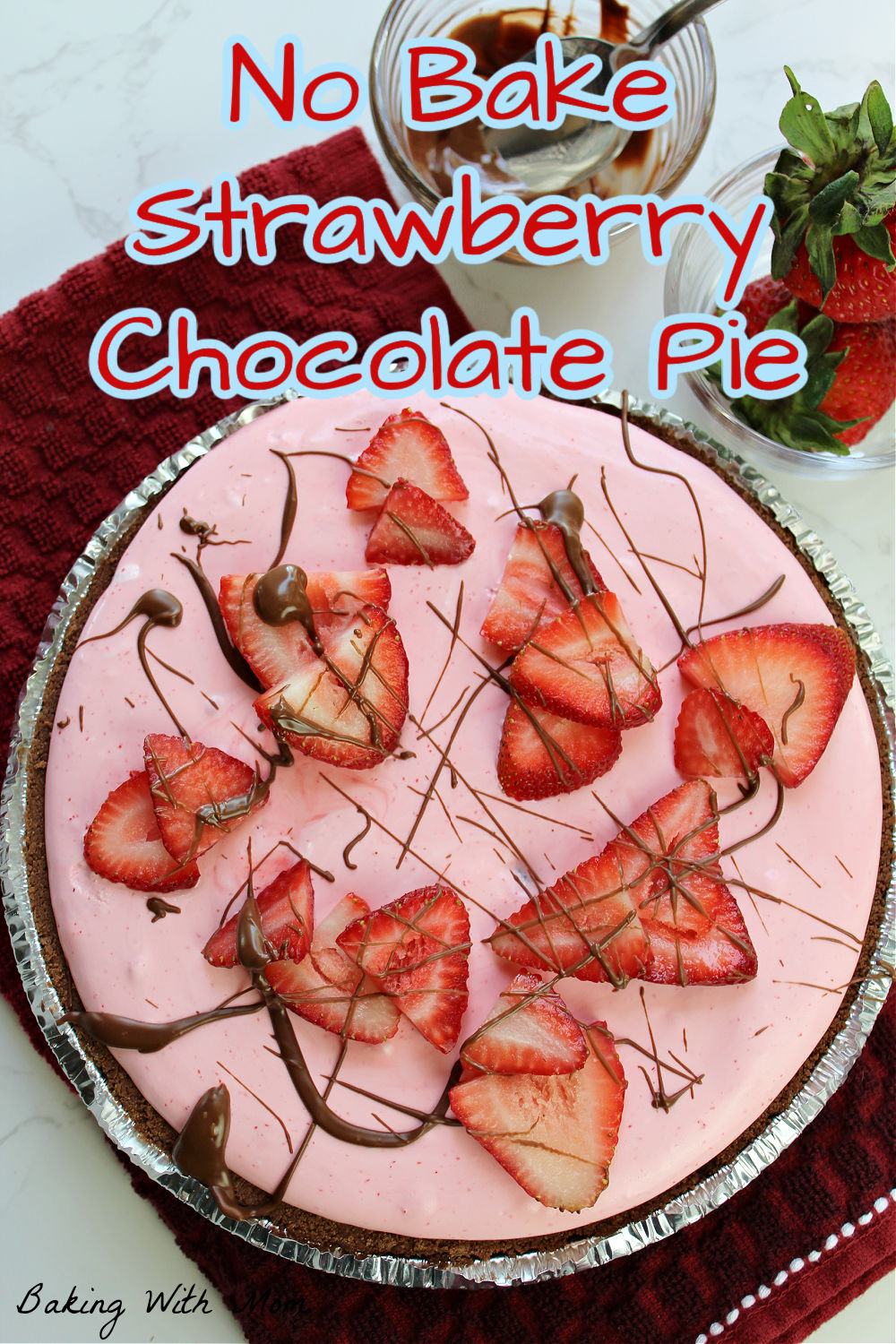 📖 Recipe
No Bake Strawberry Chocolate Pie
No bake dessert recipe where strawberry and chocolate flavors combine. Easy to make and so delicious!
Ingredients
3

oz

strawberry jello

⅔

cup

boiling water

½

cup

cold water

½

cup

ice cubes

8

oz

Cool Whip

2

tablespoon

melted chocolate

1

chocolate graham cracker pie crust

12

strawberries

stems removed and sliced
Instructions
In a large bowl, mix boiling water and strawberry jello until jello is dissolved.

Add in cold water and ice cubes and stir until ice cubes have melted and jello has thickened slightly.

Fold in Cool Whip to jello and make sure it is incorporated well. Fold in the strawberries.

Pour into prepared crust and place in refrigerator for 3 hours.

Microwave chocolate in a microwave safe bowl for 30 seconds, then stirring well.

Place in fridge for 1 hour longer.
Notes
Tip: Let the gelatin mixture sit for about 4 minutes after the ice cubes have melted to allow it to thicken up slightly. Then add the Cool Whip.
Nutrition
Calories:
214
kcal
|
Carbohydrates:
34
g
|
Protein:
3
g
|
Fat:
8
g
|
Saturated Fat:
3
g
|
Polyunsaturated Fat:
1
g
|
Monounsaturated Fat:
4
g
|
Cholesterol:
5
mg
|
Sodium:
172
mg
|
Potassium:
94
mg
|
Fiber:
1
g
|
Sugar:
20
g
|
Vitamin A:
52
IU
|
Vitamin C:
11
mg
|
Calcium:
41
mg
|
Iron:
1
mg