These mini banana muffins are the perfect bite snack snack. The cinnamon and banana mixed together leaves you wanting more!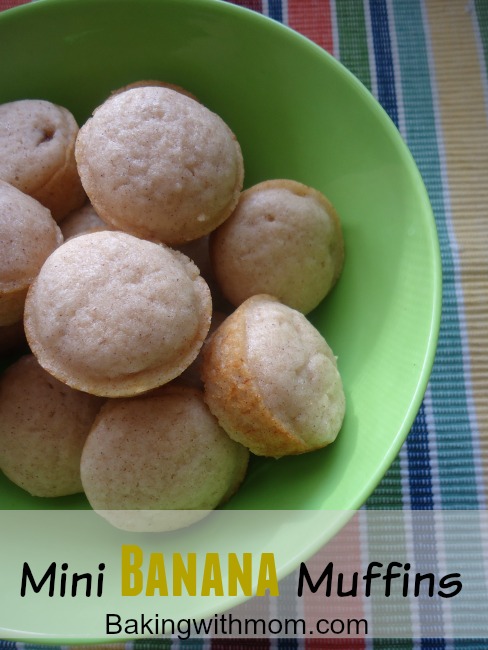 It was a surprise to me.  A complete and total surprise, one that was pleasantly discovered in the back of my freezer.
What was you ask?
How about the muffin mix I had froze during a freezer meal session and was discovered hiding behind a green rabbit and some french fries. Total and complete excitement to discover a ready to make homemade mix to make up these mini banana muffins. I would guess the purpose of freezer cooking would be to remember what you have made so you can use it later.
Ahem.
Oh well, it was now found. I have also remembered why I need to freezer cook, why mixes like this is handy and why I shouldn't put the bunny ice pack before foodstuffs in the freezer.
Lesson learned.
We are at the end of the grocery shopping cycle and my almost 13 year old has devoured much of our food. I wanted to make some homemade goodies for snacks. The ripened bananas were calling me to use them and the children put in a banana muffin request.
I personally like making mini muffins. They are perfect snack sized treat for my younger children. If an older child wants to take some, they just put in a few more in their lunch. Do you have a mini muffin pan? The one I use is like this one.
The recipe I am going to share with you is the freezer friendly version. You can make the mix ahead of time then pull it out when you need a quick snack. Word to the wise, however. Don't put the bunny freezer pack in front of the mix. ;-)
📖 Recipe
Mini Banana Muffins
Delicious Muffins perfect for snack or breakfast. Pack in a lunch or take with you on a trip!
Ingredients
4

cups

flour

1 ½

T

baking powder

1

teaspoon

salt

1 ½

cups

sugar

2

teaspoon

cinnamon
Wet Ingredients
1

egg

½

cup

milk

½

cup

water

½

cup

melted butter

1

mashed ripe bananas
Instructions
Mix all dry ingredients in a large bowl.

Put 2 ¾ cups mix in quart size bags and label.

Freeze
To Make Banana Muffins
Pour dry mix into large bowl.

In a small bowl, mix together the egg, melted butter, milk and water. Add 1 mashed banana.

Mix wet ingredients into dry ingredients.

Scoop batter into a greased mini muffin pan, each cup ¾ full.

Bake at 350* for 12-15 minutes.
Like muffins? Try these as well: