Homemade salad dressing is so full of flavor, you won't want to go back to store bought dressing! Homemade Italian Dressing with spices and seasonings will be a delight to put on your salads.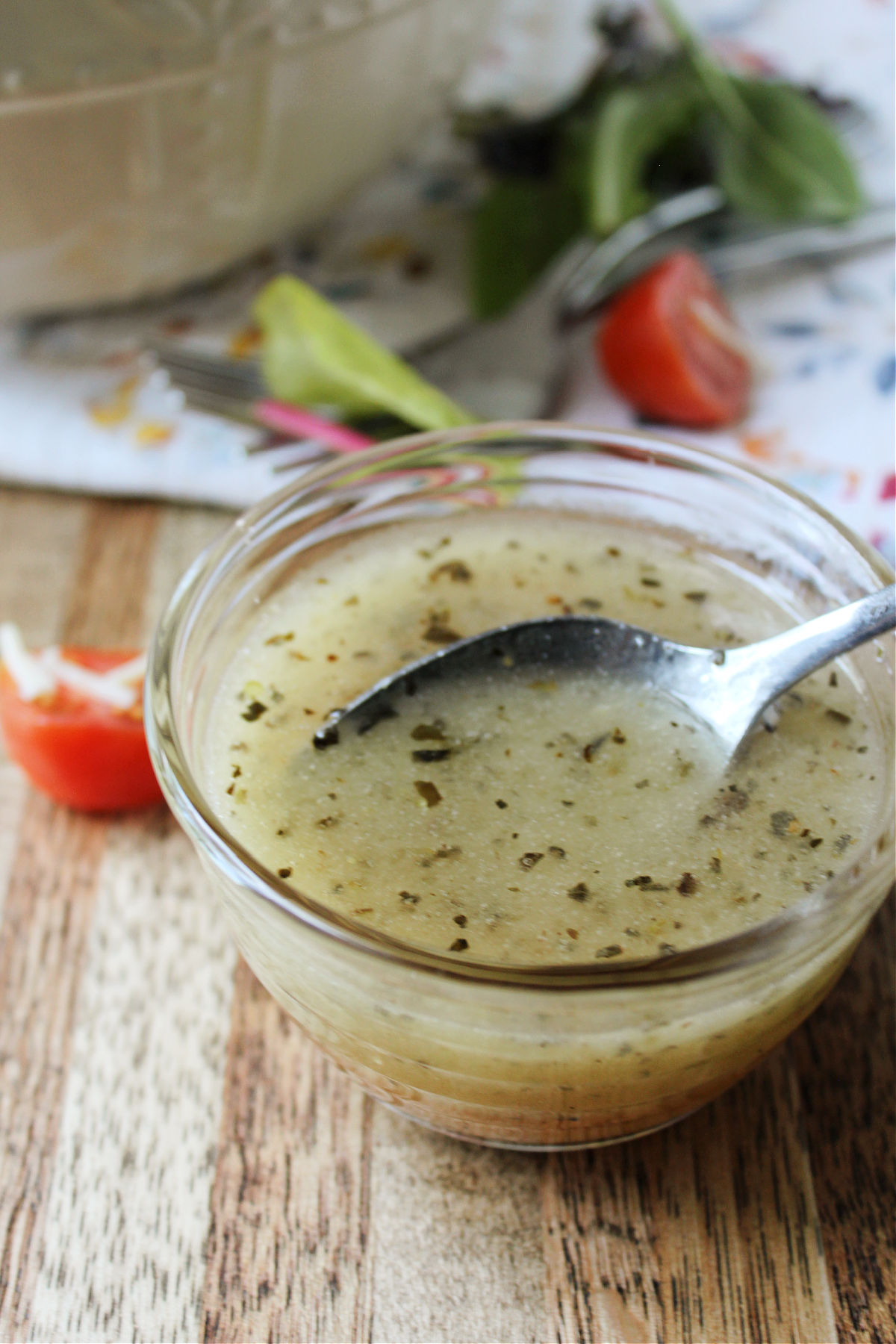 A salad dressing made from scratch is just what your salad is wanting. There are many salad dressings I buy from the store that I enjoy, but there is also something about a homemade dressing that takes it up a notch.
Especially when it is so easy to make. This Homemade Italian Dressing is so flavorful and it is mixed up in a canning jar! (Or any container you have!)
Use this homemade dressing on your Italian pasta salads too like this Italian Tortellini Salad.
Jump to:
Ingredients
Extra virgin olive oil - do not use vegetable oil
Red wine vinegar
Water
Honey - you can use sugar instead
Lemon pepper
Garlic powder
Dried parsley
Dried basil
Dried oregano
Red pepper flakes - only a pinch is needed
Salt/pepper - use caution when sprinkling in extra pepper as the lemon pepper above may take care of all your pepper needs.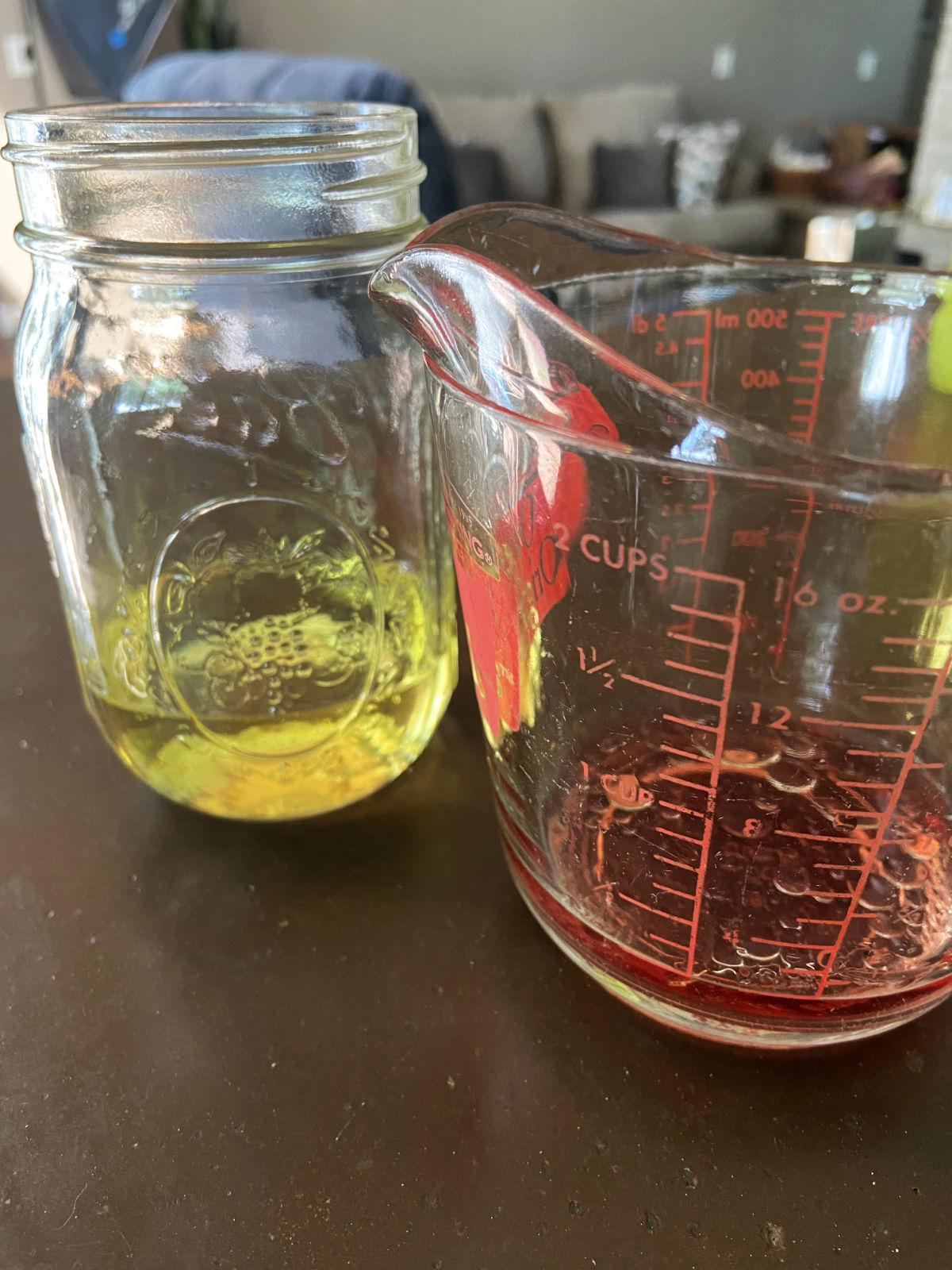 Fresh or dried herbs
To make this Italian dressing, I like using dried herbs, parsley, basil and oregano. Fresh can be used in certain dressings, however in this recipe, the dried herbs work the best.
Using sugar or honey
As we have our own honey bees, honey is almost always our first choice verses sugar in recipes such as these. Sugar can most definitely be used, however there are some differences to take note.
Sugar may not dissolve completely when the dressing is being shaken or stirred, which would leave the salad dressing a little grainy.
Honey is best when it is fresh from a local bee farmer. It can be sweeter than sugar so maybe use a little less if you are sensitive to sweet recipes.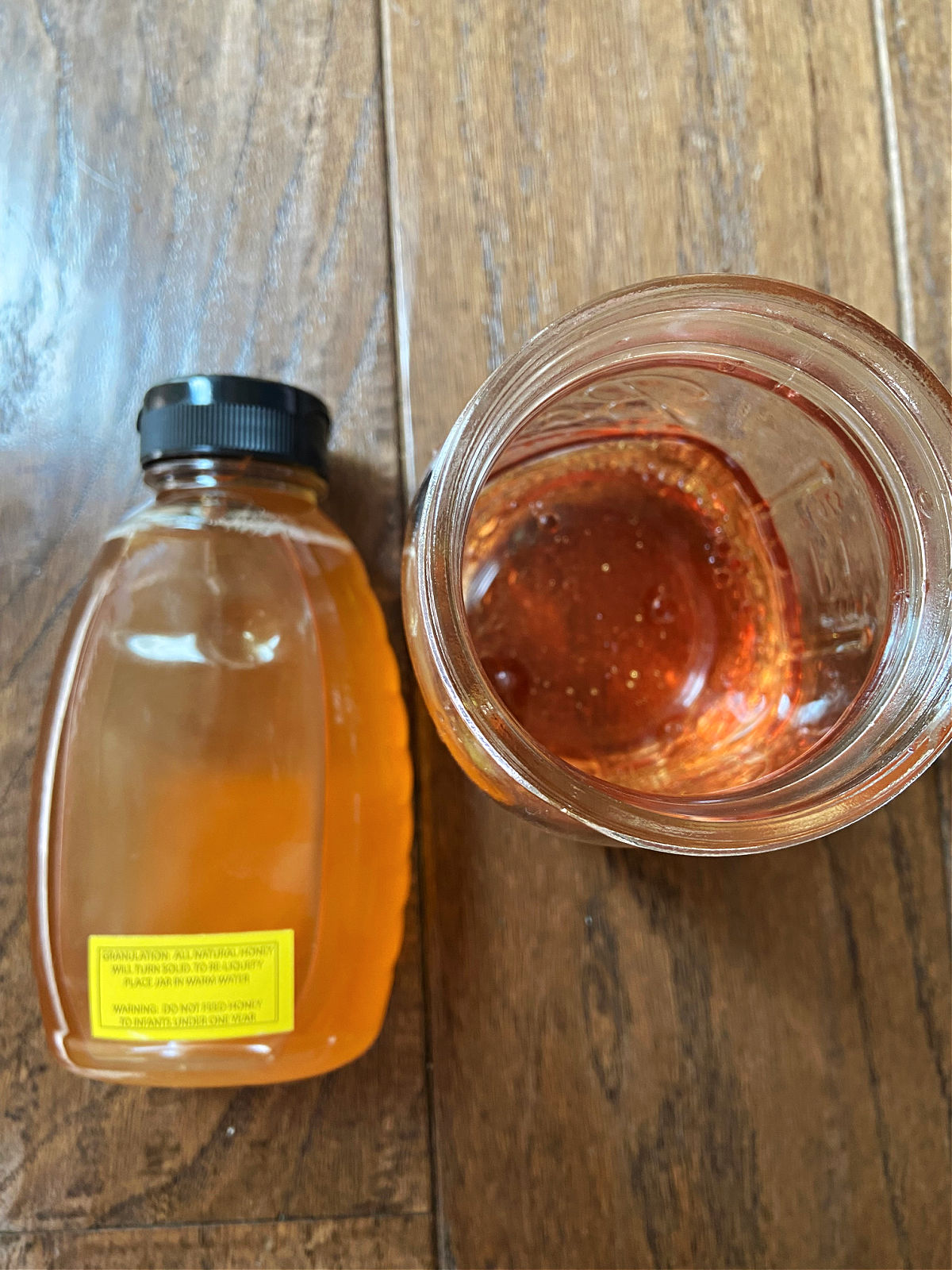 How to make Homemade Italian Dressing
This dressing is so easy to make as all ingredients are added together. I use a canning jar to mix and store the dressing but another type of container works well.
A blender can be used to mix the dressing but a good shake in a container with a secure lid works great too!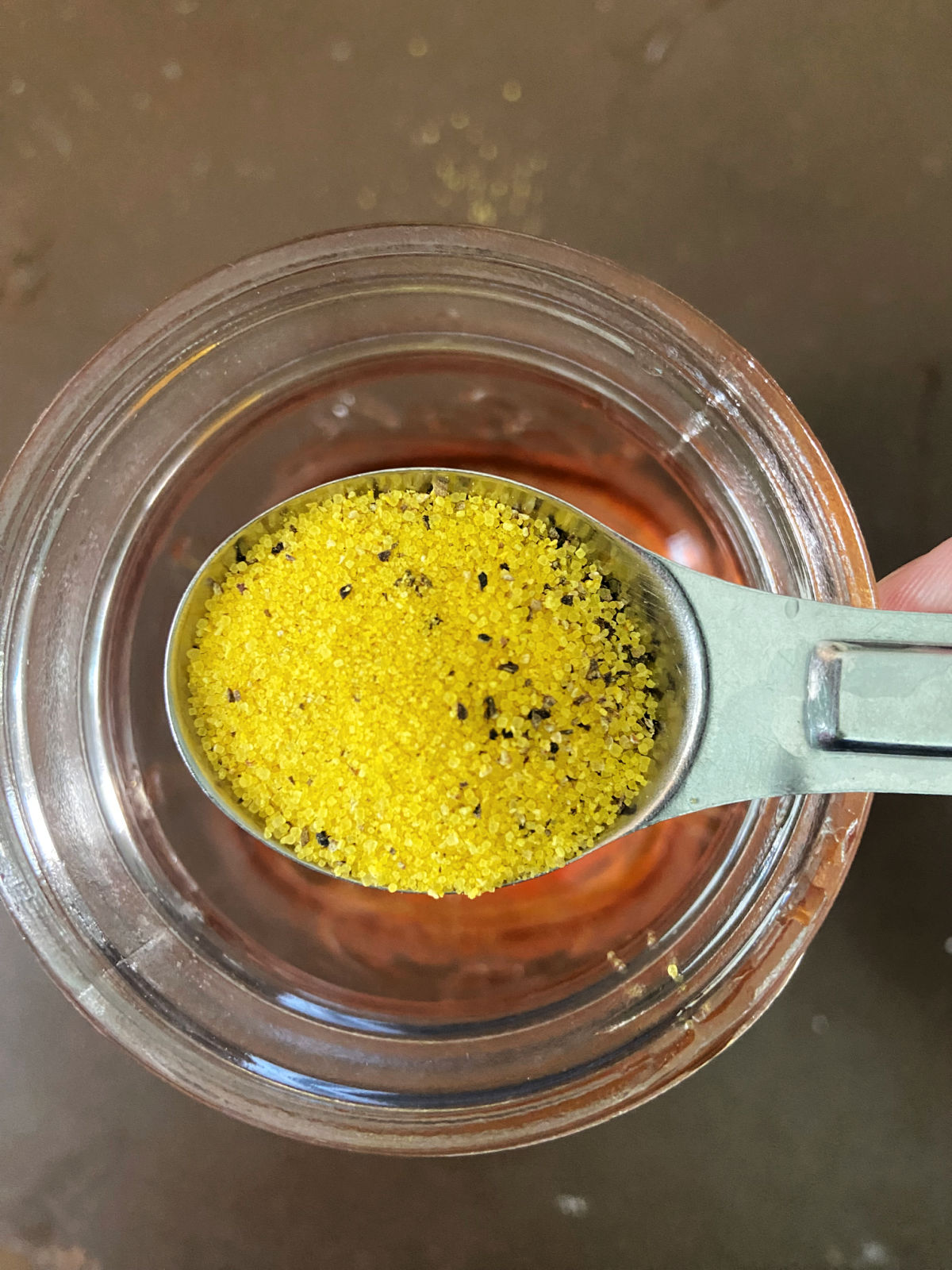 Be sure to shake the dressing for a least a minute to get the oil to blend well and to help the spices/herbs to mix in well.
Refrigerate
This dressing is best if kept in the refrigerator for up to a week. If you use fresh herbs, it will be best for up to three days. Be sure to give the dressing a good shake before you use it.
FAQ
Should I pour this dressing on the lettuce salad or serve it on the side?
Either will work!
Can I use regular vinegar?
I recommend only red wine vinegar for this recipe.
Are the pepper flakes necessary?
No, anything can be omitted. But, it really adds to the flavor and it is only a pinch.
This easy to make Italian Salad Dressing is perfect on salads like Grilled Chicken Salad or other lettuce salads. Enjoy!
📖 Recipe
Homemade Italian Dressing
This homemade Italian dressing is flavorful, so full of herbs and spices. Great addition to your lettuce or pasta salad!
Ingredients
½

cup

Extra Virgin Olive Oil

¼

cup

red wine vinegar

2

Tablespoon

water

1

Tablespoon

honey

1

teaspoon

lemon pepper

¾

teaspoon

garlic powder

¾

teaspoon

dried parsley

¾

teaspoon

dried basil

⅛

teaspoon

dried oregano

pinch

red pepper flakes

salt/pepper to taste

start with a pinch
Instructions
Add all ingredients to a canning jar, container or a blender.

Put a lid on the container and shake (or blend) for at least one minute.

Place in the refrigerator for at least an hour.

Pour over salad and serve.
Notes
The dressing can be used immediately after making, however it is better to let the flavors blend together for a while before serving. 
Nutrition
Calories:
261
kcal
|
Carbohydrates:
5
g
|
Protein:
0.2
g
|
Fat:
27
g
|
Saturated Fat:
4
g
|
Polyunsaturated Fat:
3
g
|
Monounsaturated Fat:
20
g
|
Sodium:
3
mg
|
Potassium:
28
mg
|
Fiber:
0.3
g
|
Sugar:
4
g
|
Vitamin A:
6
IU
|
Vitamin C:
0.1
mg
|
Calcium:
10
mg
|
Iron:
1
mg