Easy to make and a great beginning course for any meal, this Chilled Strawberry Soup is full of flavor. Easy ingredients with just the right amount of sweet, your family and guests will enjoy this sweet treat.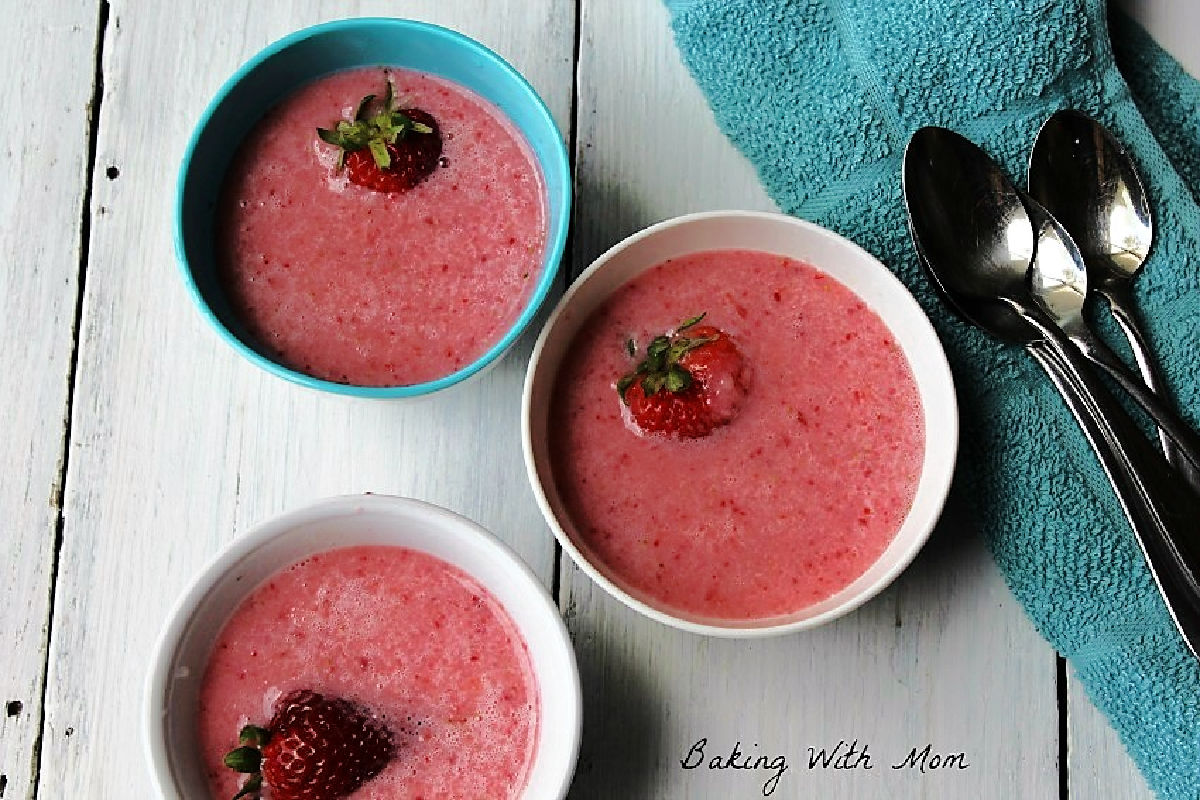 This chilled strawberry soup was a much anticipated event at my house.  I had told the children I was going to try making it and they asked me almost every night if "tonight was the night".
Of course, our daughter insisted we not make it while she was at basketball camp. She was afraid all her brothers would eat it all and leave her none. I did make it while she was at basketball camp, though we did save her some.
I'm kind that way.
Chilled soup
I had heard of chilled strawberry soup before and being 100% transparent, I did not think I would like it. I mean, cold soup? Strawberry and soup in the same sentence? Really?
After looking around at some different recipes, I realized it may not be that bad.  Anything with Ginger Ale in the recipe, must be pretty tasty.  
Chilled soups like Summery Squash Soup can be quite popular.
The difference in a soup like a squash soup or cucumber soup is it is a vegetable based soup. The strawberry soup is fruit based so it is sweeter. It is more for an appetizer or the beginning of a dinner, the first course, if you will.
Sour cream? Eh.
If you are like me, the thought of having sour cream in the soup didn't thrill me much.
So I went looking for an alternative and found yogurt.
The calories were reduced using yogurt instead of sour cream and we all LOVED the key lime flavor of the yogurt I used.
Dairy free options
Yes! This strawberry soup can absolutely be dairy free. This recipe calls for milk and yogurt.
If you have a dairy free family member, you can use almond or soy milk in place of the cow's milk. If you use almond milk with vanilla, it will add even more flavor.
There are alternatives to yogurt made with dairy as well. Almond milk yogurt comes in a variety of flavors as does coconut yogurt. Personally, Key Lime Coconut yogurt is my favorite. It is so flavorful and you can hardly tell it is dairy free.
The coconut yogurt would be the best alternative to the regular yogurt. This yogurt is vanilla, but it will help you get an idea of the brand I am talking about.
Ingredients
strawberries
milk
ginger ale
sugar
vanilla
Key Lime Yogurt
Process
It really helps to have a food processor for this to blend up the strawberries really well. If you don't, a blender will work.
You will process the strawberries until blended, then you will add the rest of the ingredients to the food processor/blender, except for the yogurt.
The yogurt will be whisked into the mixture to help thicken up the soup.
Then chill. Then you will have a delicious chilled strawberry soup ready for your family or guests!
📖 Recipe
Chilled Strawberry Soup
This chilled strawberry soup is a flavorful appetizer with ginger ale, milk and key lime yogurt!
Ingredients
1

qt

strawberries

washed, stems removed

½

cup

milk

2% or almond milk

¾

cup

ginger ale

½

cup

sugar

1

teaspoon

vanilla

6

oz

Key Lime Yogurt
Instructions
Blend strawberries in a food processor until smooth

Add milk, ginger ale, sugar and vanilla and pulse 5-6 times

Pour strawberry mixture into a bowl and whisk in yogurt

Chill for 1-2 hours before serving
Nutrition
Calories:
164
kcal
|
Carbohydrates:
38
g
|
Protein:
3
g
|
Fat:
1
g
|
Saturated Fat:
1
g
|
Polyunsaturated Fat:
1
g
|
Monounsaturated Fat:
1
g
|
Cholesterol:
4
mg
|
Sodium:
27
mg
|
Potassium:
324
mg
|
Fiber:
3
g
|
Sugar:
33
g
|
Vitamin A:
66
IU
|
Vitamin C:
93
mg
|
Calcium:
82
mg
|
Iron:
1
mg