Ultimate Chocolate Caramel Cookie Bars with M&M's, Caramel and Chocolate Chips for a sweet, delicious and EASY dessert recipe. Completely Yum!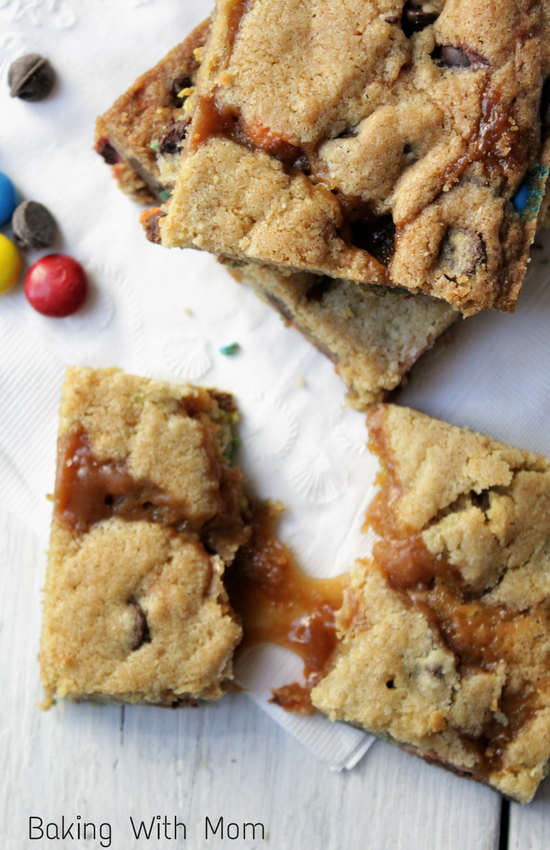 The caramel called to me from it's place in the pantry. The M&M's sat sweetly beside the caramel. The semi-sweet chocolate chips beckoned from it's squashed up place shoved in the back of the Lazy Susan. Well, you get the idea. From the calls and beckons and sweets came the ultimate chocolate caramel cookie bars.
I'm a sucker for cookie bars. And chocolate. And caramel.
It's a fact. 
I have a cookie bar recipe that surpasses all cookie bar recipes. It really, truly does. You can add just about anything to it and it still is easy to make and simply delicious. I had the caramels sitting in the pantry for a while now just waiting to do something with them. It's fall and fall means caramel. Christmas means homemade caramel which I am pleased to say I conquered last year.
See Also: White Velvet Cookies (An Oh Yum cookie recipe)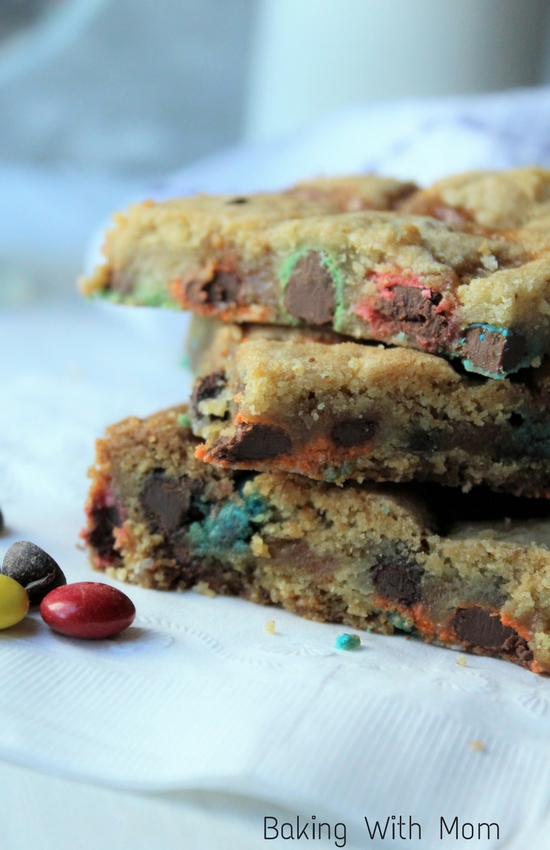 Ultimate Chocolate Caramel Cookie Bars
Can you imagine making these bars with other ingredients as well? I mean, throw in some OREOS, some peanut butter M&M's or imagine what caramel M&M's with the caramel swirl cookie?? Oh, yes, I have a new recipe. You try different ingredients and let me know, okay? Email me at bakingwithmom6@gmail.com.
As for these ultimate chocolate caramel cookie bars, simply add the M&M's in the batter, chocolate chips (can use semi-sweet or milk chocolate), and melted caramel. Be sure to melt the caramels and spread it on the batter instead of just sprinkling the caramels on top and hoping for the best. You will get better cookies with pre-melted caramels. It doesn't take long to melt them on the stove.
Also, you will want to bake the bottom layer of cookie for at least a few minutes so it will hold the caramel well. Only about 5 minutes. You can bake it while you melt the caramel. Hand in hand, you know. 😉 Multi-tasking at it's finest.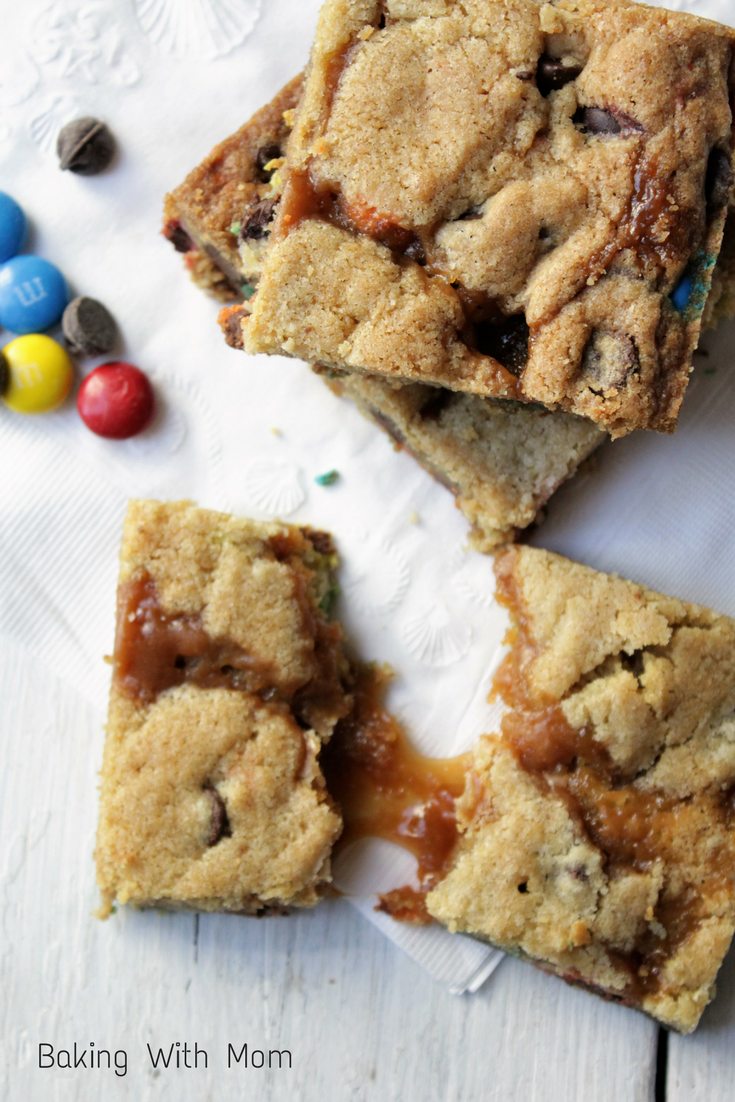 Ultimate Chocolate Caramel Cookie Bars
Deliciously simple dessert recipe with M&M's, chocolate chips, caramel in cookie bar shape.
Ingredients
1

cup

butter or margarine, softened

3/4

cup

white sugar

3/4

cup

brown sugar

2 1/4

cup

flour (I use unbleached)

1

tsp

baking soda

1/2

tsp

salt

1

cup

M&M's, plain

1

cup

chocolate chips

1 1/2

cup

caramel
Instructions
Mix together butter, sugars and egg

Add in flour, baking soda, salt. Blend

Fold in M&M's and chocolate chips

Place 2/3 batter in a lightly greased 9x13 pan. Bake at 375* for 5 minutes

Meanwhile, in a medium saucepan, melt caramels and 3 Tablespoons water. Stir constantly

Remove pan from oven and pour caramel on top of cookie bar batter

Spread over bars. Using remaining cookie batter, sprinkle over top of caramel

Bake for another 14-17 minutes, or until toothpick tests done and bars are golden brown
Nutrition
Calories:
388
kcal
|
Carbohydrates:
54
g
|
Protein:
3
g
|
Fat:
17
g
|
Saturated Fat:
10
g
|
Cholesterol:
34
mg
|
Sodium:
288
mg
|
Potassium:
50
mg
|
Fiber:
1
g
|
Sugar:
38
g
|
Vitamin A:
410
IU
|
Vitamin C:
0.2
mg
|
Calcium:
52
mg
|
Iron:
1.2
mg
All nutrition facts seen here are estimates. You can read more on our nutrition page.