Red White And Blue Jello Salad great for Memorial Day or 4th of July. That perfect recipe for a quick "I forgot to make something" picnic. ;-)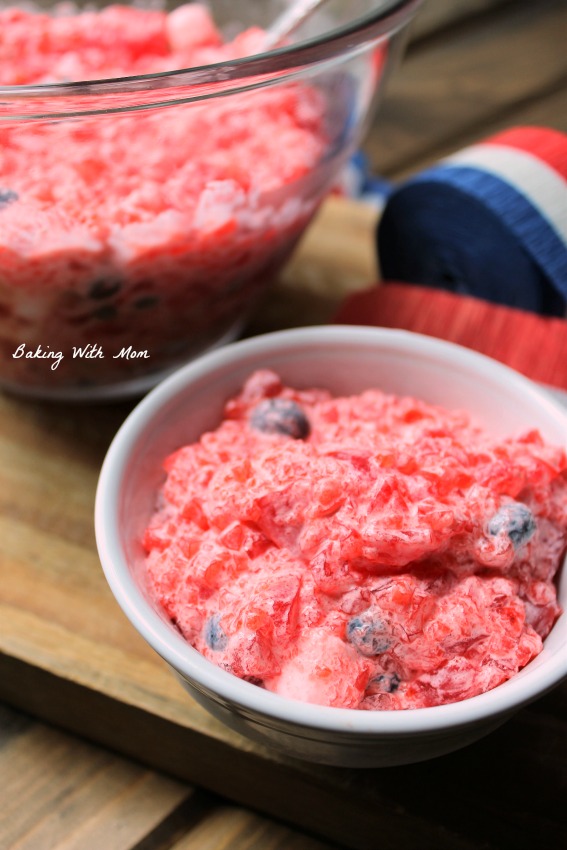 *This post contains affiliate links. If you click on a link and make a purchase, I will receive a small commission at no additional cost to you. You can read our disclosure here. 
Summertime! Sum-Sum-Summertime! As I am writing this, my two youngest are in the pool we just set up. We are having a massive heat wave here for Illinois standards in May. It is going to be 96* today and tomorrow. Time for the pool.
Also, it is time for picnics and BBQ's with the family. We are heading to my husband's sister's house for a Memorial Day picnic. Would this Red White And Blue Jello Salad fit the occasion? I think yes.
This jello salad has four ingredients and it is perfect for the last minute, whoops I forgot I needed to bring something, dish. So easy to make and so flavorful as well!
When we head over to the Memorial Day Picnic, we are going to bring lots and lots of water balloons. Why? Well because after we eat all the delicious food such as Best Baked Beans and the jello salad, my children wage war against their cousins. My children are considerably younger than this set of cousins so it is adults vs. them. Who will win? ;-)
A sneak peak to last years fun: Cora vs. College Cousin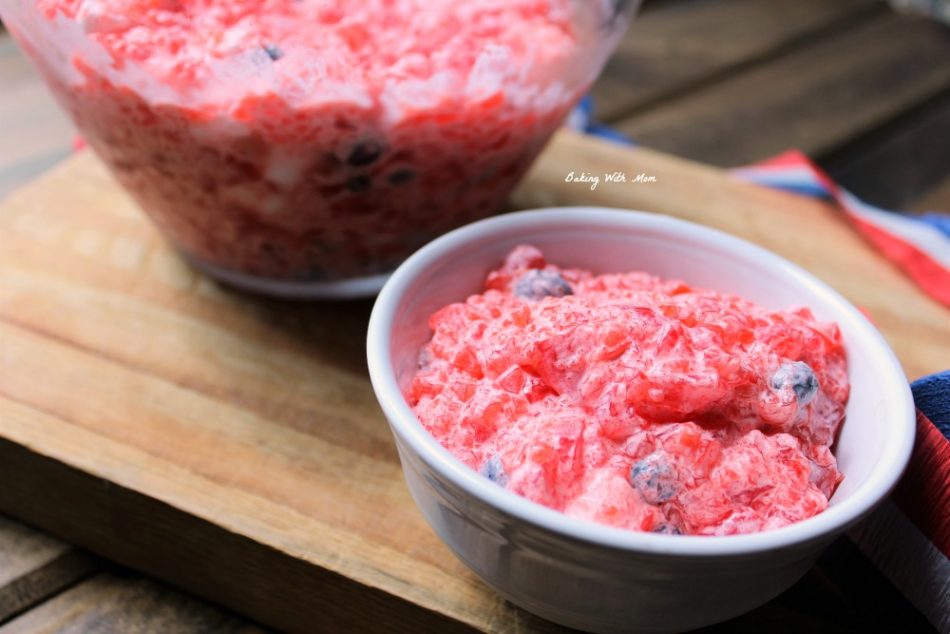 Red White And Blue Jello Salad
To make this salad all you need is some strawberry Jello, Cool Whip, blueberries and mini marshmallows. You will also need a hand mixer.
The key is let the jello set up completely before you mix in the other ingredients, so for that reason you will need to plan ahead a little. Not much, but overnight would be good.
Simply blend the Cool Whip with the jello. Stir in the marshmallows and blueberries. Easy Peasy. And yummy.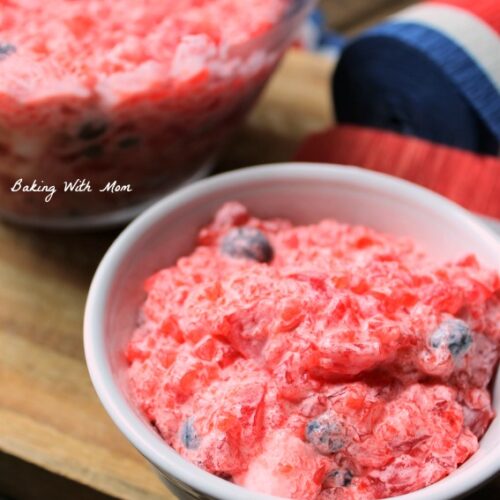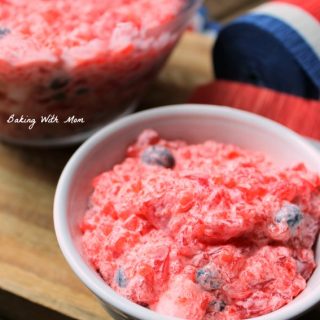 Red White And Blue Jello Salad
This jello salad is easy to make and great for the summer BBQ's. Enjoy family time with this delicious and easy to make salad.
Ingredients
1

6 oz box

Strawberry Jello

1

8 oz

Cool Whip

1 ½

cup

blueberries

1 ½

cup

mini marshmallows
Instructions
Make Jello according to package directions

Let set in a large bowl 6 hours or overnight

Mix Jello and Cool Whip together using a hand mixer on low speed

Fold in blueberries and marshmallows

Serve chilled and refrigerate the leftovers
Nutrition
Calories:
24
kcal
Carbohydrates:
6
g
Sodium:
4
mg
Potassium:
11
mg
Sugar:
4
g
Vitamin A:
10
IU
Vitamin C:
1.4
mg
Calcium:
1
mg