Want a healthy snack for your children to enjoy when they get home from school? Or are you looking for a quick bite for yourself? These No Bake Peanut Butter Oatmeal Bites is just what you need with only 5 ingredients!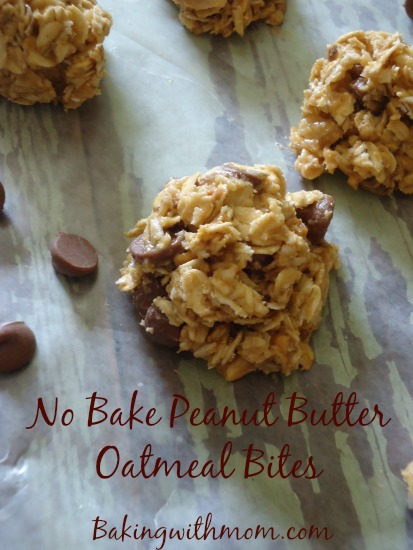 *This post contains affiliate links. If you click on a link and make a purchase, I will receive a small commission at no additional cost to you. 
No Bake Peanut Butter Bites are an easy, healthy snack option for the family.  My husband loved these when he was training for a marathon about four years ago. He would set them on the mailbox (we lived in the country) along with his water bottles and would pass by after so many miles and grab these for energy.
With almonds, peanut butter and oatmeal in them, they are healthy and packed full of energy boosters. The kids enjoy them because they are so flavorful.  I like them because they are healthy.
There are only a few ingredients in these no bake peanut butter oatmeal bites plus you don't have to heat up the kitchen. If you have kitchen helpers like I do (namely Cora), you can put them to work to make these for you.
No Bake Peanut Butter Oatmeal Bites
These bites would also be a nice dessert as well as a snack for the family. With the honey and chocolate chips, they are sweet but still have a nutritional value to them.  I would guess you would have all of the ingredients in your pantry already. These bites are made from common everyday kitchen staples.
I used crunchy peanut butter to add a more peanut flavor.  If you use creamy peanut butter, you can always add chopped peanuts to the mix.  I also used almonds, but I would imagine other nuts would be tasty as well such as chopped pecans or chopped walnuts.
Whip these oatmeal bites up sometime. They will be enjoyed!
Your Ingredient List: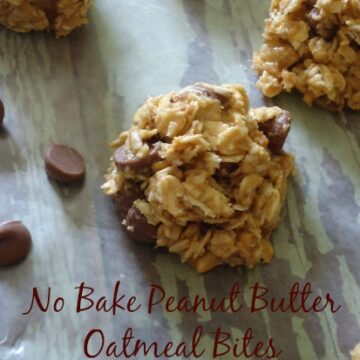 No Bake Peanut Butter Oatmeal Bites
No bake peanut butter oatmeal bites are a healthy snack for your family. Everyone will love the sweet of chocolate chips mixed with the crunch of the peanut butter.
Ingredients
2

cups

old fashioned oatmeal

¾

cup

crunchy peanut butter

¼

cup

honey

¼

cup

slivered almonds

½

cup

chocolate chips.
Instructions
Mix oatmeal, peanut butter and honey in a large bowl.

Stir in almonds and chocolate chips.

Roll in 1 ½ inch balls.

Place on waxed paper.

Refrigerate until firm.
Nutrition
Calories:
116
kcal
Carbohydrates:
11
g
Protein:
3
g
Fat:
6
g
Saturated Fat:
1
g
Sodium:
48
mg
Potassium:
90
mg
Fiber:
1
g
Sugar:
7
g
Vitamin A:
10
IU
Calcium:
15
mg
Iron:
0.5
mg