A great and easy dessert recipe perfect for single servings. An already made crust, simple homemade blueberry filling and you have delicious Mini Blueberry Pie.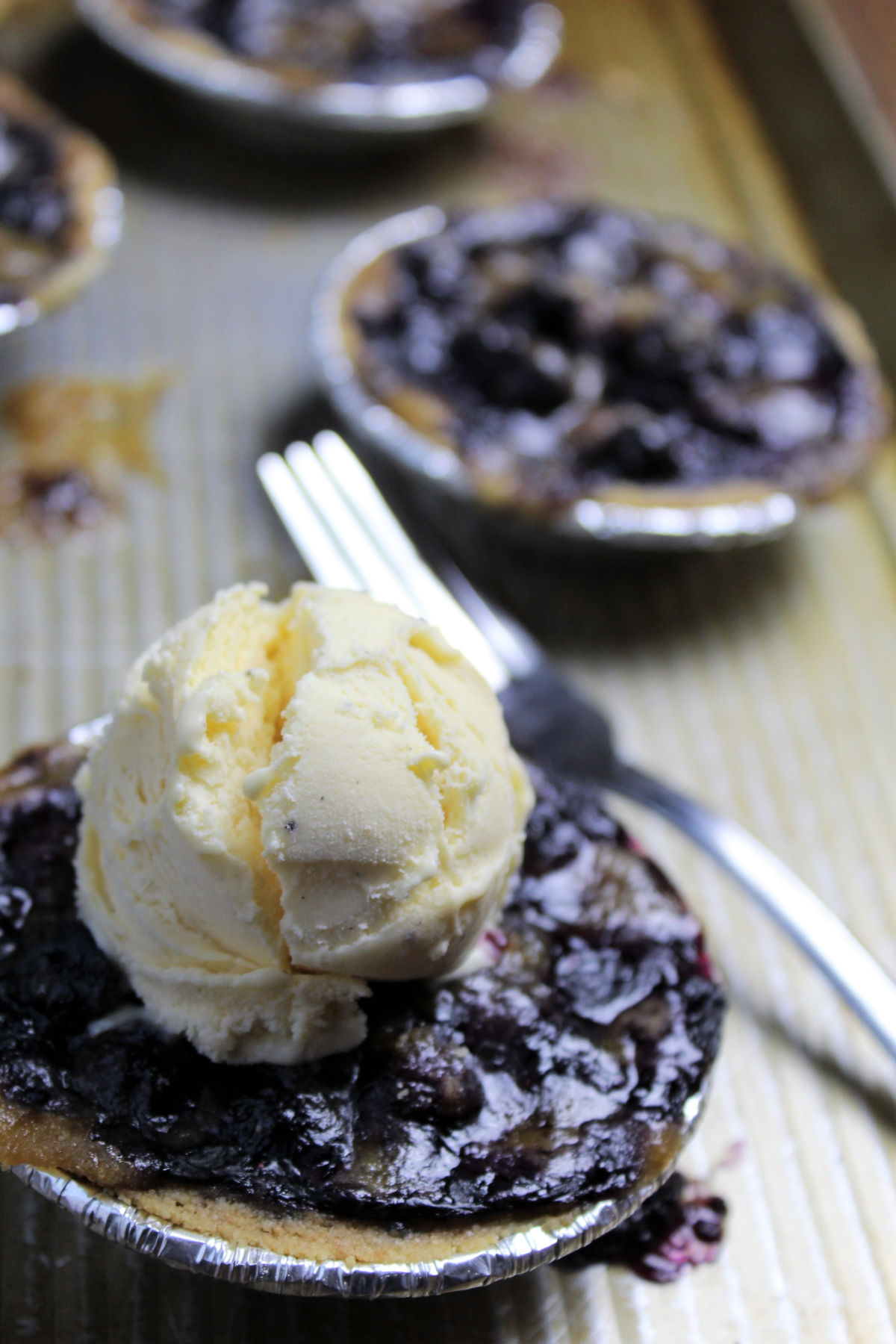 Everybody loves a delicious homemade pie recipe, right? Especially one that is simple to make, starts with an already made pie crust and is the perfect portion size. Mini Blueberry Pies are just that type of pie.
What is great about these pies is that you can make just a few or a batch of them. The single serve dessert is great for a small family. You can make up a few, enjoy one then put the rest in the fridge for later. They keep wonderfully.
Ingredients
Blueberries
Cornstarch
Brown Sugar
Flour
Margarine or Butter
White Sugar (optional)
Ice Cream (optional)
The ingredient list is so simple and besides buying the fresh blueberries (or you can use frozen) you may have these items already around the house. The mini graham cracker crusts can be bought at Aldi for probably the best price you will find. (It will be the generic brand.)
The process
To make these pies, you will need to cook blueberries on the stove to make the blueberry filling.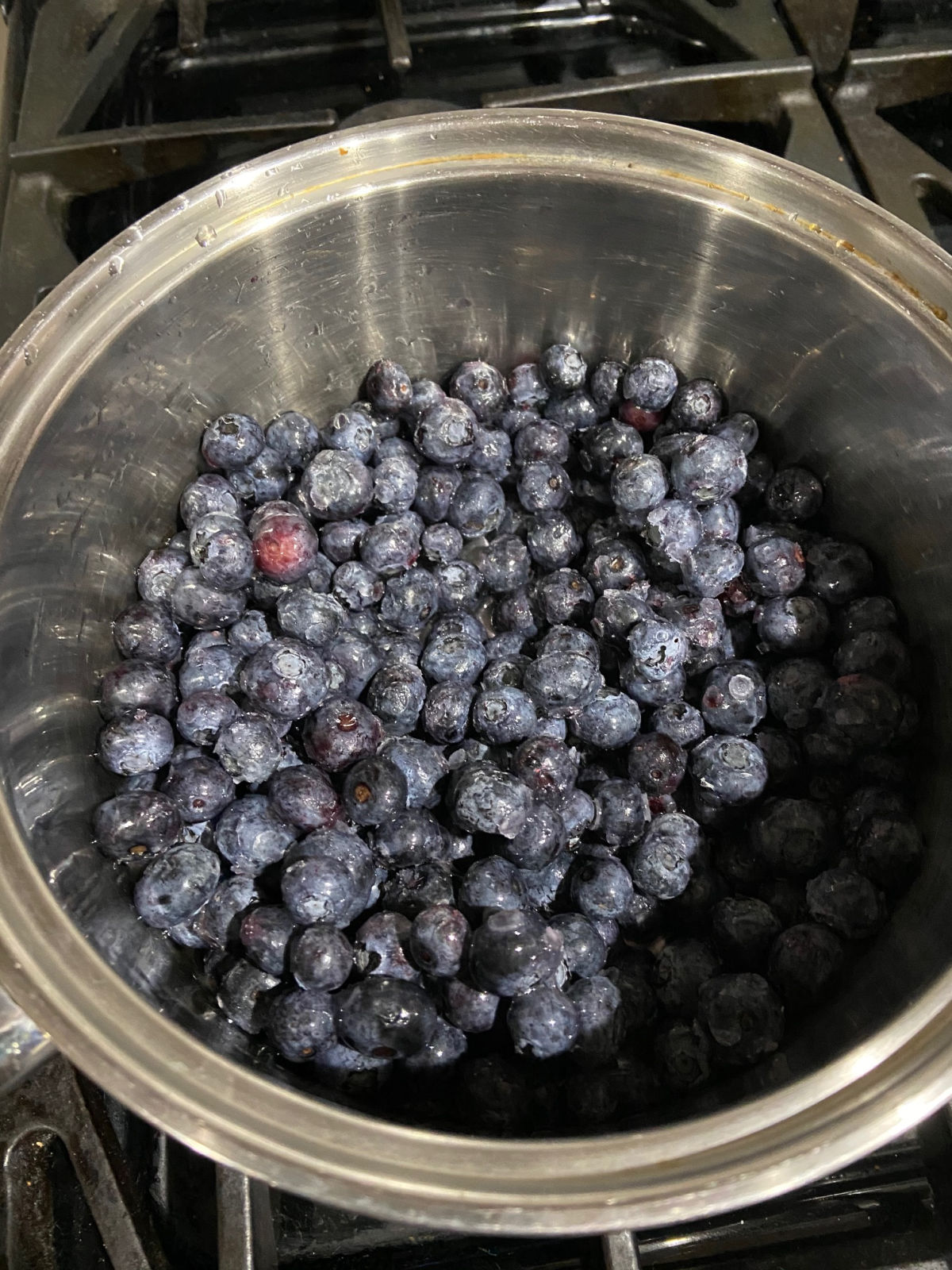 Put two cups of blueberries in a medium saucepan with ¼ cup water. The blueberries can be fresh or frozen. I almost always use frozen because every year we buy blueberries from a farmer and we freeze them to use all winter. (Like 40 pounds!) Cook the blueberries over medium heat.
You can put white sugar on the blueberries but it is not necessary. I put in about 1 tablespoon to just kick start the sweetness but you could not add any sugar or you could add up to ½.
How to get the blueberry filling thick?
That is a pretty important part of the process, isn't it? You need some cornstarch. When the water and cornstarch is cooking, you will want to stir it and even smash (for lack of a better word) the blueberries. Not all of them, but if you press on the blueberries while cooking, it will produce juice and break down some of the berries to help thicken up the sauce.
To make the cornstarch mixture, put two tablespoons of cornstarch in a mug or small bowl (I use a coffee mug) and ½ cup of water then mix well. Turn the heat up so the mixture is starting to boil, then add the cornstarch mixture to the blueberries slowly as you are stirring. Turn down the heat and the mixture will start to thicken, stirring often.
The topping
After the blueberries have thickened, remove them from the heat and set aside. Meanwhile, mix together brown sugar, flour and butter in a small bowl.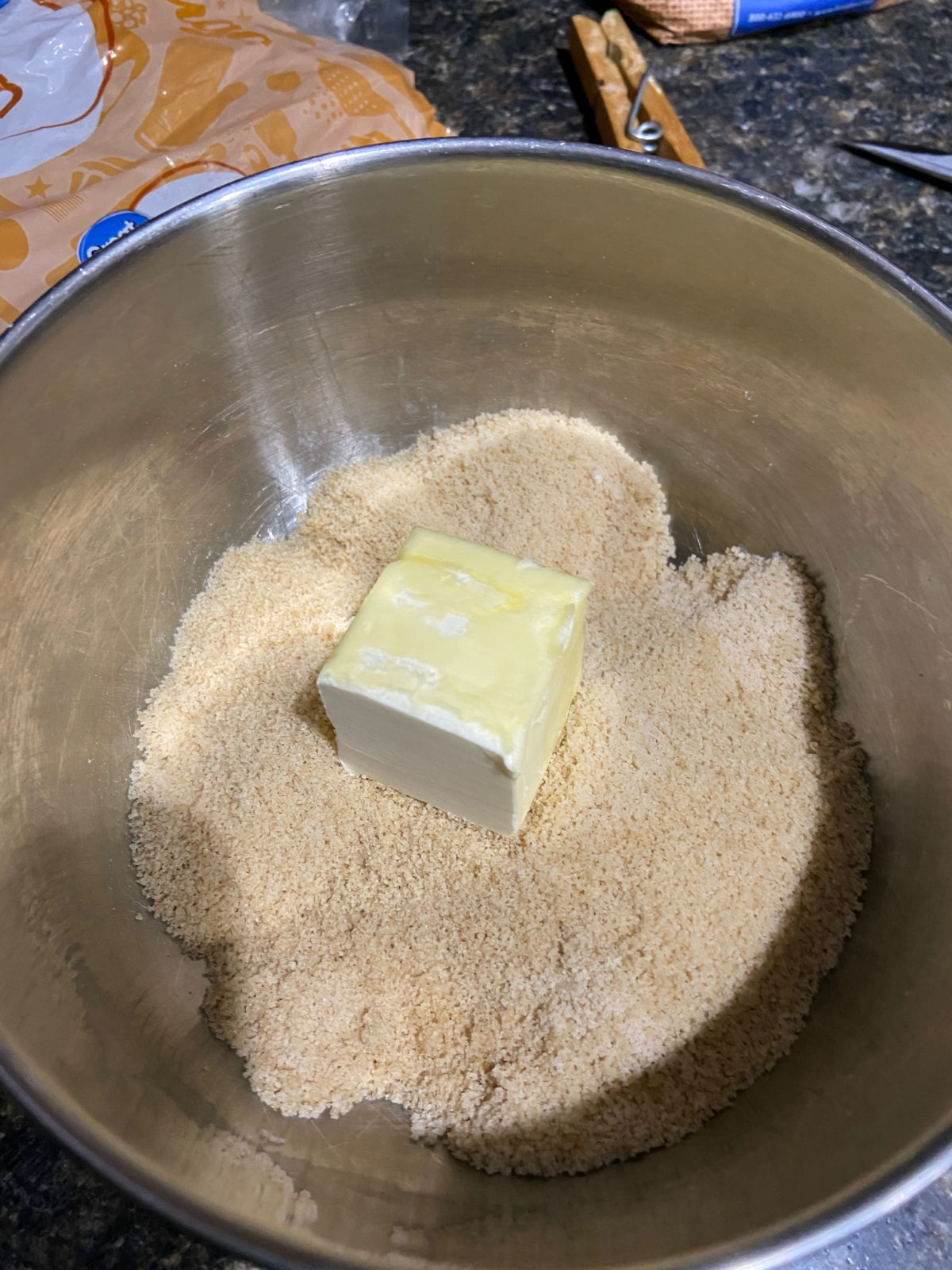 Mix together the sugar and flour until it looks like sand on a beach. Then add the butter and mixture together. I personally use my hand to mix it. Butter seems to incorporate better when you just use your hands. (My two cents.)
Pour the blueberry mixture into the pie crusts. Top with the topping.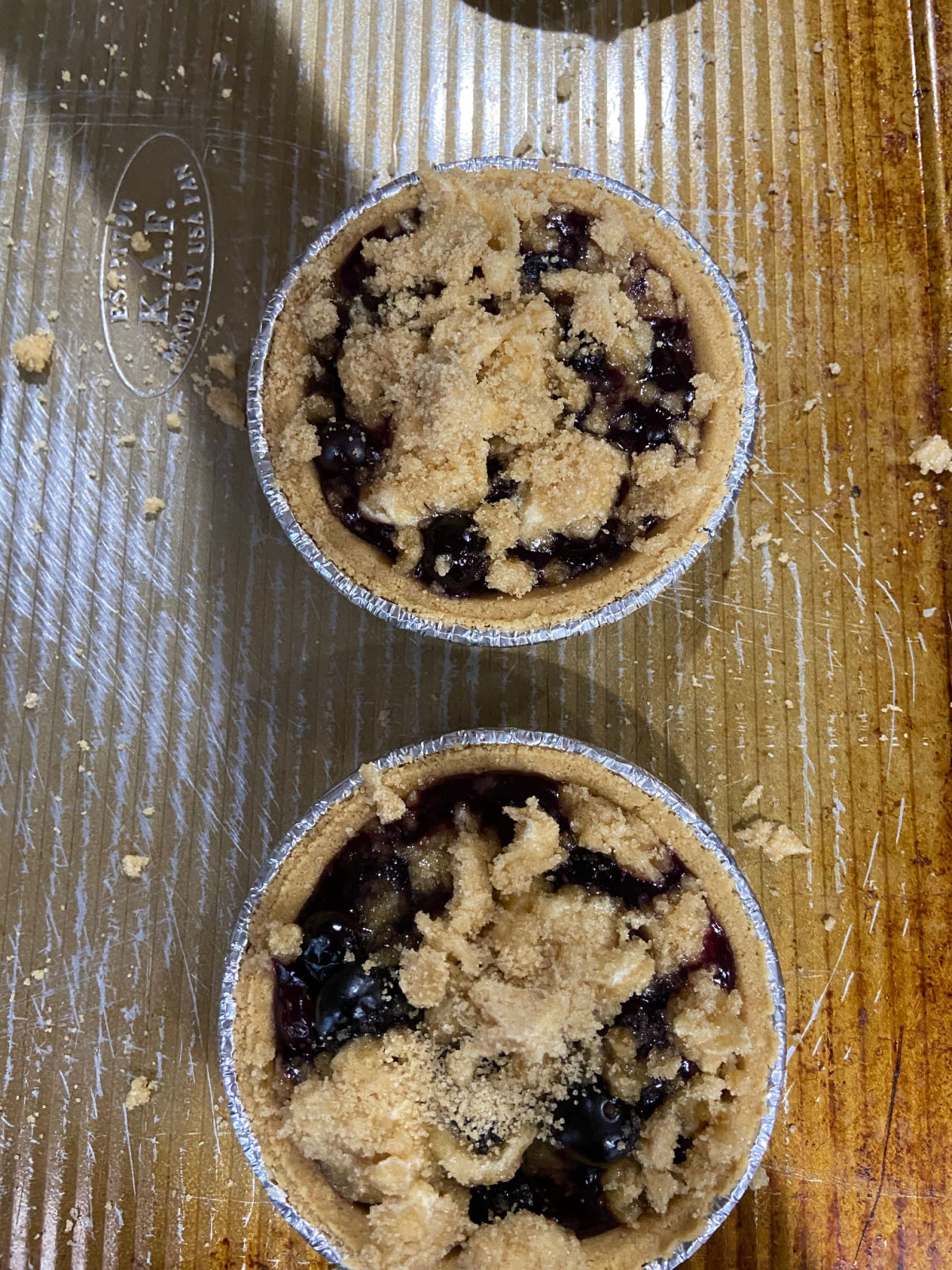 Baking Time
Bake in a preheated 350* for 15 minutes or until topping has browned. Be sure to put the pies on a baking sheet in case the filling spills over, which mine did.
Remove from oven and let cool for 15-20 minutes (or more) before serving.
Pin for later!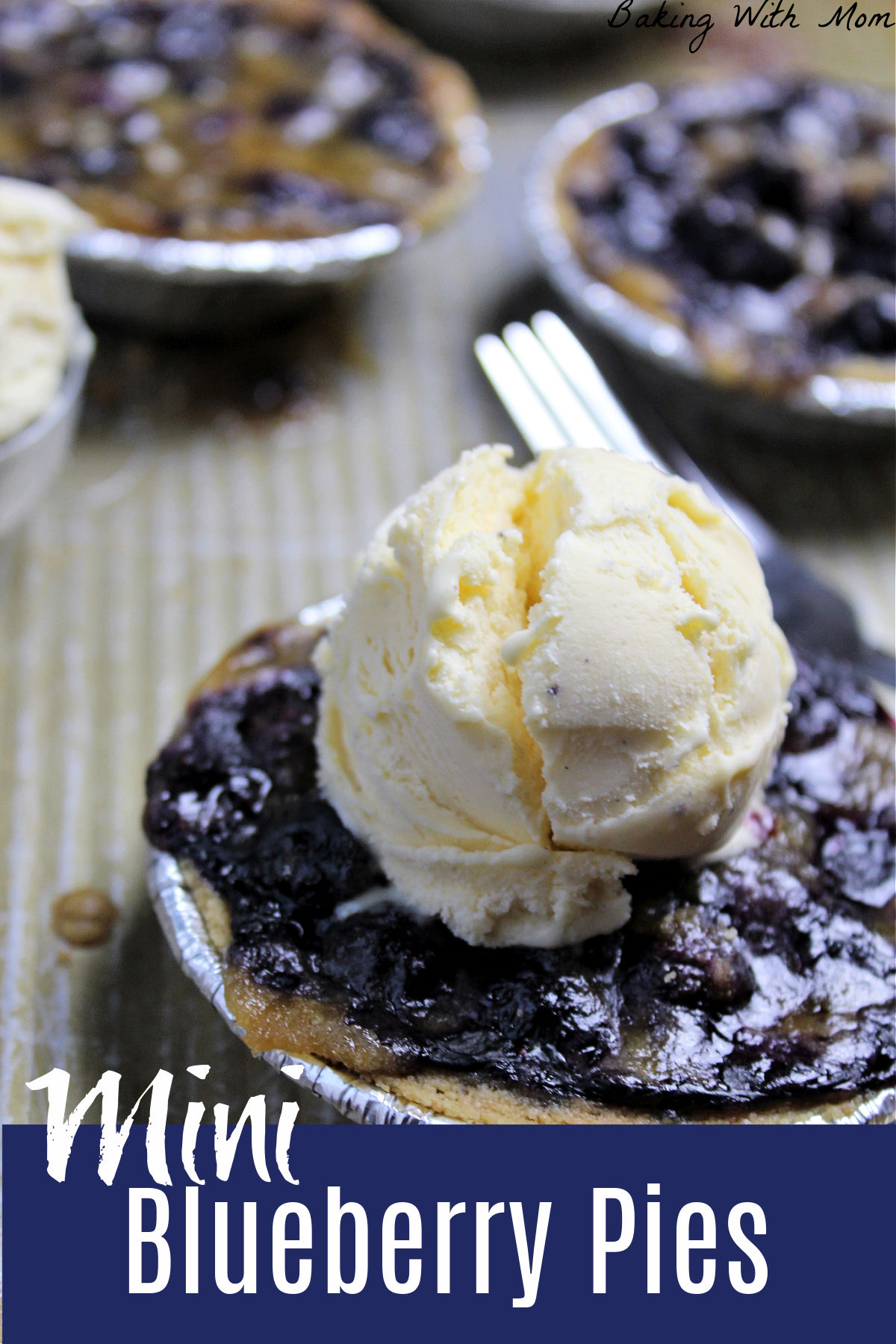 Top with a scoop of vanilla ice cream (if desired) and serve! Whipped topping would be delicious too. Refrigerate the leftovers in a covered container.
📖 Recipe
Mini Blueberry Pie
This pie recipe is simple and only takes a short while to make. Delicious sweet blueberries on a graham cracker crust.
Ingredients
2

cups

blueberries

fresh or frozen

1

tablespoon

white sugar

6

mini already made graham cracker crust

2

tablespoons

cornstarch

½

cup

water
Topping
½

cup

brown sugar

2

tablespoons

all purpose flour

2

tablespoons

butter

or margarine
Instructions
Blueberries and water on the stove over medium heat in a medium saucepan. Add sugar if desired

Stir the blueberries and water often, smashing up some blueberries to produce juice, but not all of them

Mix together cornstarch and water in a mug or small bowl

Turn up the heat on the blueberries and start to bring to a boil, while stirring, pour in the cornstarch and water mixture. The blueberries will start to thicken up. Reduce heat to low and stir for 1-2 minutes. Remove from heat

Place prepared crusts on a baking sheet

Pour blueberries into the prepared crusts

Mix brown sugar and flour together in a small bowl. Mix in butter until fully incorporated

Bake for 15 minutes or until topping starts to brown and get bubbly

Remove from oven and let cool for 15-20 minutes or longer

Serve with a scoop of ice cream or whipping cream

Refrigerate any leftovers
Note
The nutrition facts do not include the mini pie crusts
Nutrition
Calories:
158
kcal
|
Carbohydrates:
31
g
|
Protein:
1
g
|
Fat:
4
g
|
Saturated Fat:
2
g
|
Cholesterol:
10
mg
|
Sodium:
40
mg
|
Potassium:
62
mg
|
Fiber:
1
g
|
Sugar:
25
g
|
Vitamin A:
143
IU
|
Vitamin C:
5
mg
|
Calcium:
18
mg
|
Iron:
1
mg
Follow me on Pinterest and Facebook for more delicious recipes!