Layered OREO Bars will be the dessert that makes everyone stop and say "Yum". Everyone will wonder how you made it. It's up to you if you tell them how easy it is.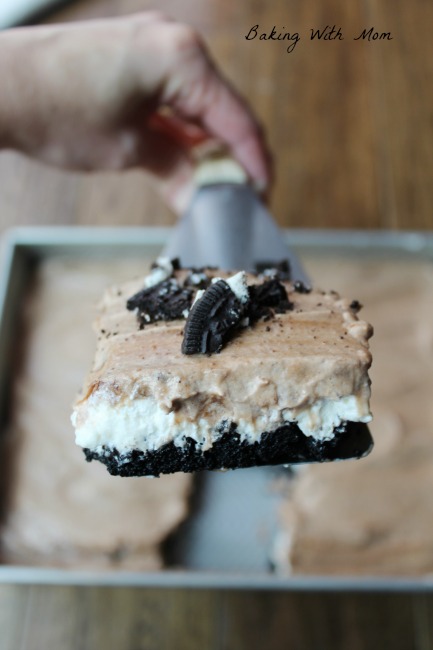 *This post contains affiliate links. If you click on a link and make a purchase, I will receive a small commission at no additional cost to you. 
Our youngest, Caleb, was sick on Sunday. Being sick is bad enough, but when sickness falls on church day, it is disappointing to us all. Especially the mom who gets to stay home with him while my hubby takes the other three.
We absolutely love our church and the people in it. That day was the last day of our missions conference which meant there was a potluck afterwards.
I had made BBQ pork sandwiches for my husband to take with him to the potluck. We were so busy the day before I didn't get anything else made. I had an idea for Layered OREO Bars I wanted to try, but since I didn't have time on Saturday I thought I would make them on Sunday.
Of course, since I made them on Sunday while the rest of the family was at church, they couldn't take them to the potluck. Unfortunately, that meant we had to eat the Layered OREO Bars all by ourselves.
The things I do for this blog. ;-)
Layered OREO Bars
The base is simply OREO cookies and melted butter. I crush the OREO cookies in my food processor. The rolling pin on a gallon sized baggie works great too, but truth be told, the food processor is quicker.  You can also toss the butter in there with the crumbs and it does a great job mixing them together.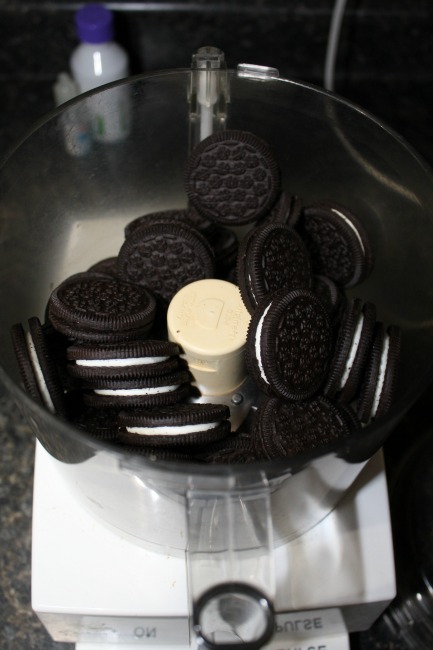 After making delicious OREO crumbs (feel free to eat a spoonful if no one is looking), spread them in a greased 9x13 baking pan. Then bake.
The Filling
The filling is 8 oz of softened cream cheese mixed with whipped cream. The next layer is chocolate pudding mixed with vanilla pudding. Oh yes it is. Want some added goodness? I added some whipped cream to the pudding. *Gasp*!
Talk about eating the leftovers by the spoonfuls. Okay, so there shouldn't have been any leftovers if I would have scraped the bowl thoroughly. I didn't, and that was a shame. A real shame. ;-)
Feel free to sprinkle some OREO crumbs on the top of the pudding and make sure you refrigerate the leftovers.
Dessert anyone?
Like Oreo Recipes? Try: Oreo Ice Cream Parfaits and Caramel Brownie Oreo Cake.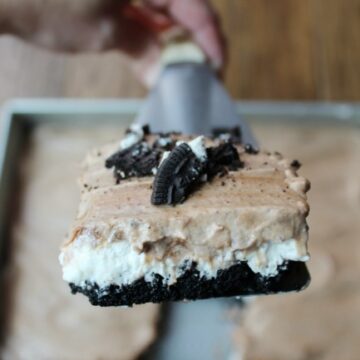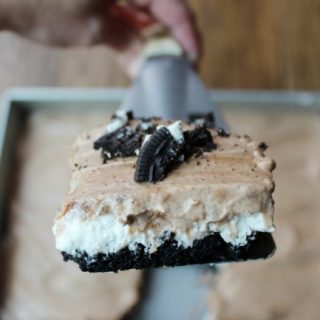 Layered OREO Bars
Layered OREO Bars will be a dessert you guests will rave about. Delicious and full of chocolate flavor, this recipe will leave you wanting more.
Ingredients
24

OREO Cookies

¼

cup

melted butter

8

oz

cream cheese

, softened

2

cups

whipped cream

(divided)

1

pkg

(3 oz) chocolate pudding

1

pkg

(3 oz) vanilla pudding

3

cups

milk

OREO Crumbs

(optional)
Instructions
Crush one package OREOS into crumbs and reserve ½ cup for topping

Mix crumbs with butter

Spread on the bottom of a 9x13 baking pan

Bake at 350* for 7 minutes

Remove from oven and let cool

Meanwhile, mix together cream cheese and 1 cup whipped cream

Spread on cooled OREO crumbs

Place in fridge while you make pudding layer

Mix together pudding and milk for two minutes

Let sit until "soft set"

Fold in 1 cup whipped cream

Spread carefully on top of cream cheese layer

Sprinkle remaining OREO crumbs on top

Refrigerate until ready to serve and refrigerate all leftovers
Nutrition
Calories:
237
kcal
Carbohydrates:
19
g
Protein:
4
g
Fat:
16
g
Saturated Fat:
8
g
Cholesterol:
39
mg
Sodium:
202
mg
Potassium:
140
mg
Sugar:
12
g
Vitamin A:
455
IU
Calcium:
85
mg
Iron:
1.7
mg