Freezer Friendly Breakfast Stuffed Biscuits are great for on the go breakfasts or even a lazy Saturday morning. Enjoy them with eggs, bacon and cheddar cheese. Delicious!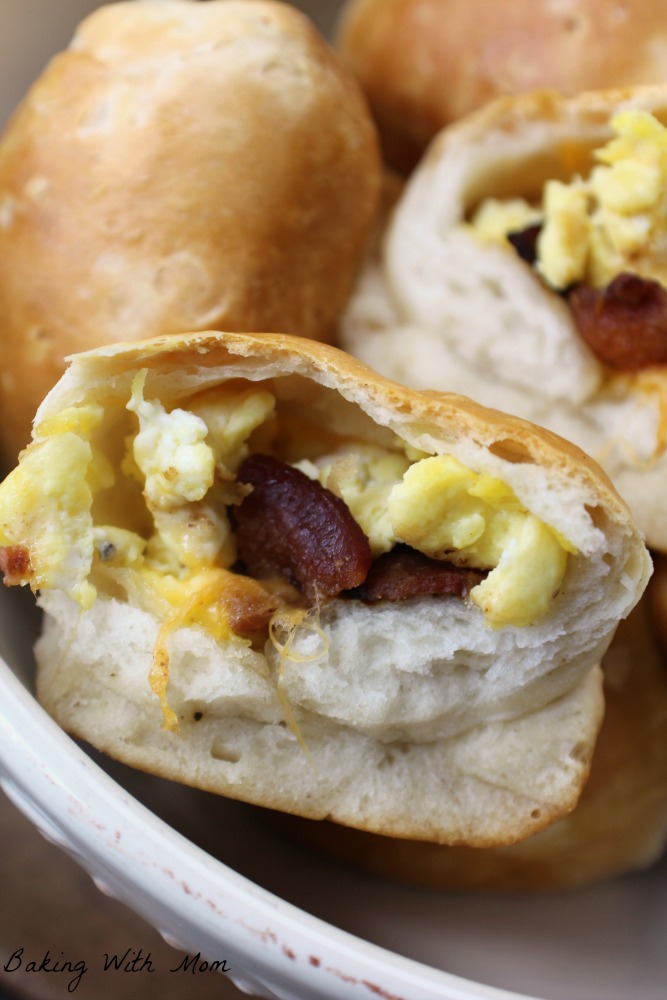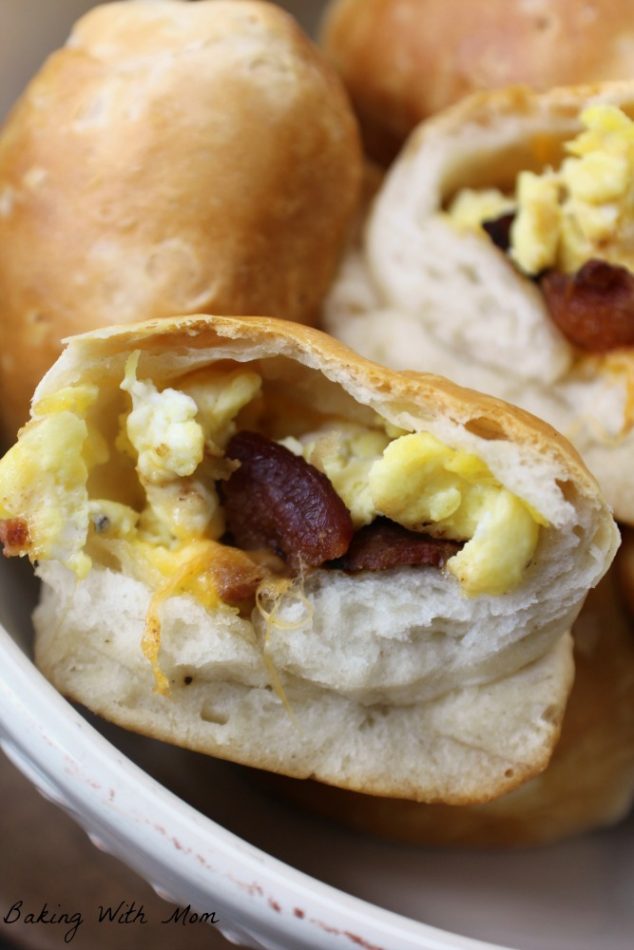 Breakfast Stuffed Biscuits are exactly like the title implies. However, the title doesn't mention, they are freezer friendly for those busy on the go mornings that we all have.
The idea started with a can of Pillsbury Grands Biscuit dough that I got on clearance a week ago. You know, great things can come from the clearance aisle. ;-)
Related: Be sure to check out all clearance items. You never know what you can find and what can be a blessing to your family! You can see some clearance finds of mine here.
Some early mornings are hard to get going, you know? The alarm rings and you groan because it is time to face the world. Er, at least the kiddos. ;-)
I love having breakfast foods ready to go in the freezer. The cinnamon twists are a great example. The kids love them and they freeze well! To have the children be able to go right to the freezer, grab what they want and pop them in the microwave for a great breakfast is so great.
How to make Breakfast Stuffed Biscuits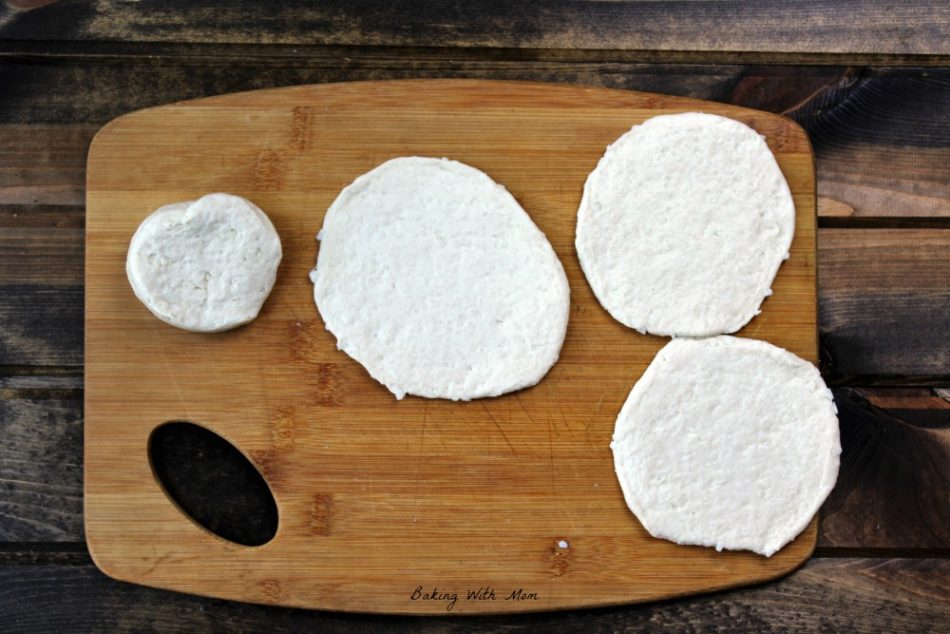 First, you need to flatten the biscuits with a rolling pin. I used Grand Biscuits so they are larger and have more dough on them.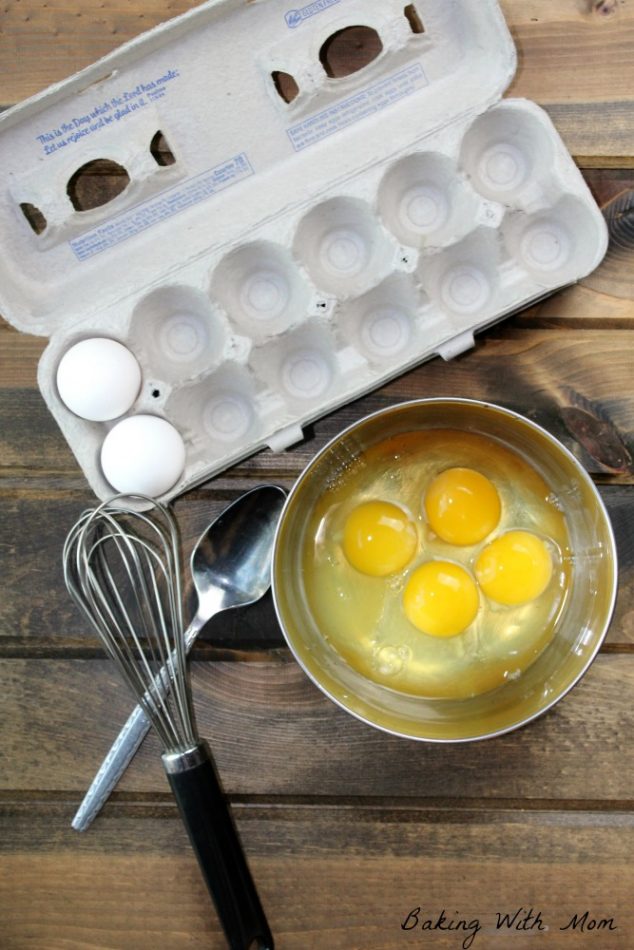 I like to cook bacon in the oven. It cooks so evenly and is much less of a mess! While the bacon cooks, you can scramble up the eggs. Use four eggs for this recipe.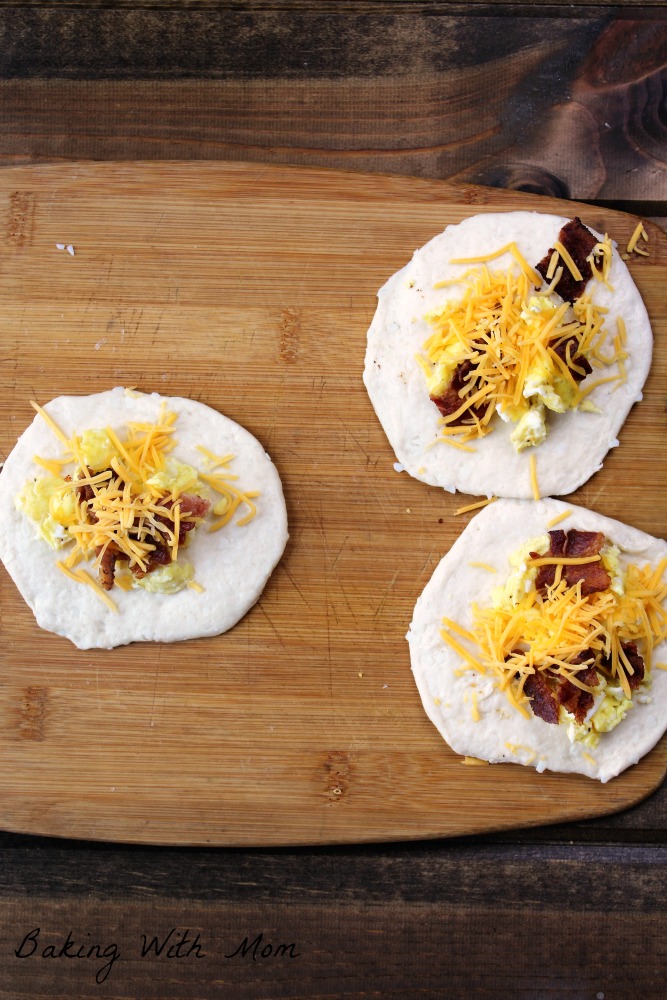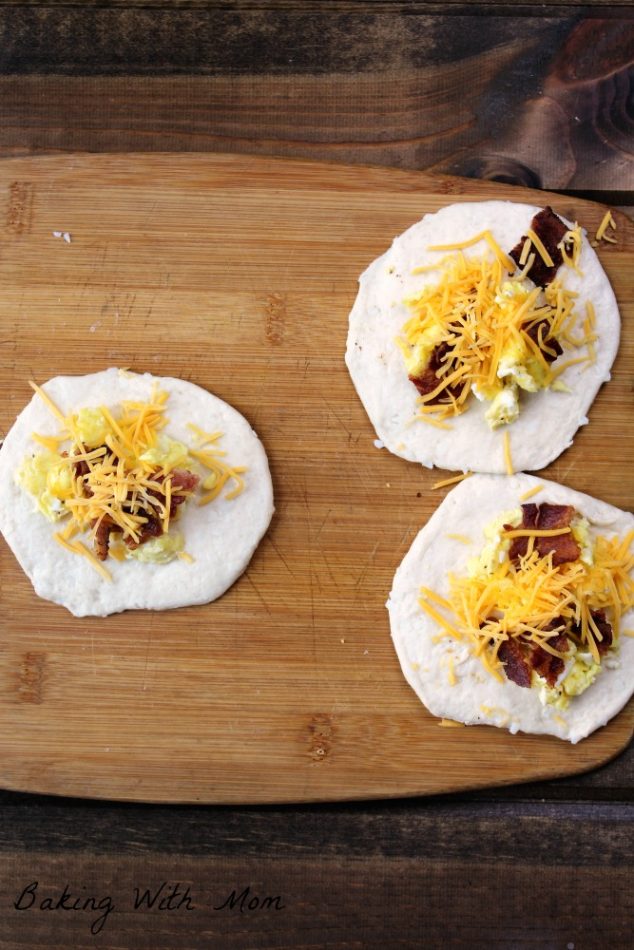 Then layer eggs, bacon and cheddar cheese (or use Colby Jack) in the center of the biscuit. Fold the sides until they touch on the bottom of the roll and the filling is completely covered. I rolled the biscuit around in my hands a couple of times to "seal the deal".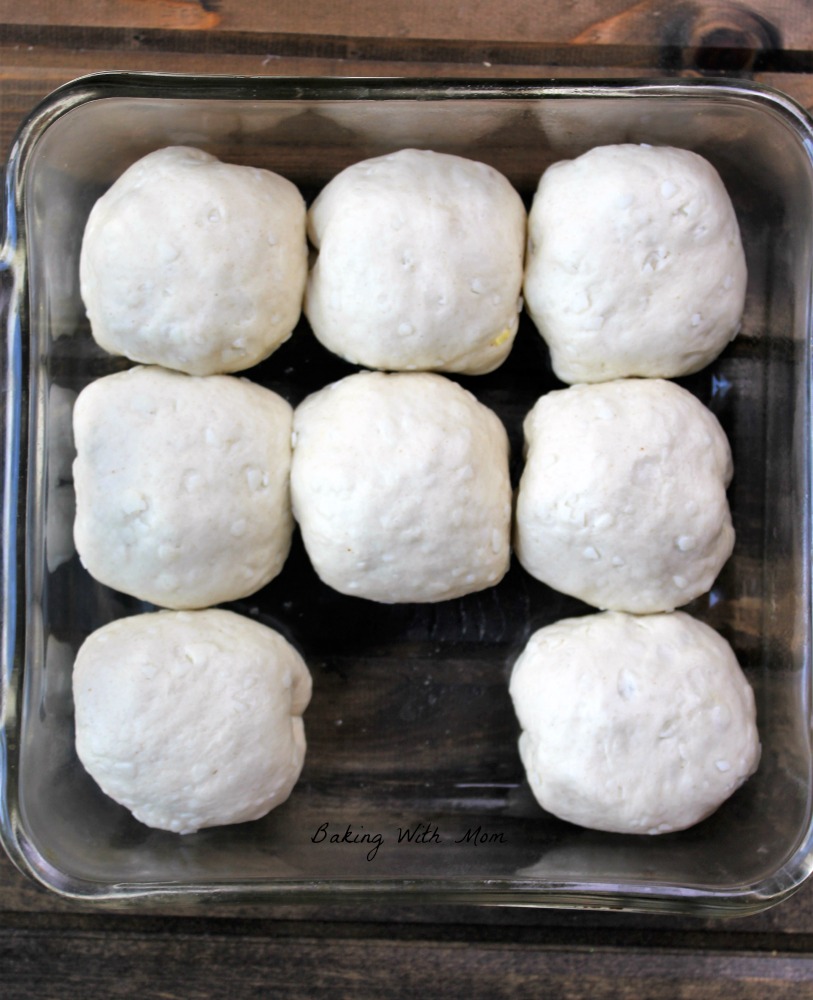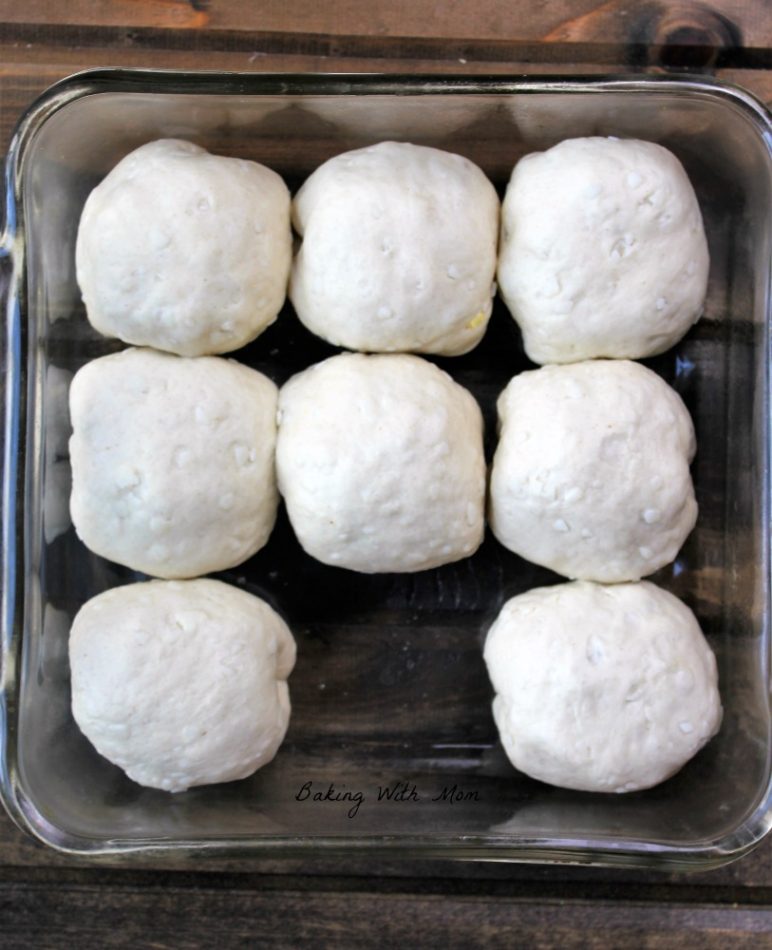 Place in a greased 9 inch baking pan. Bake at 350* for 20 minutes or until the biscuits are done and are a golden brown. The inside filling is already cooked prior to baking so you don't have to worry about that.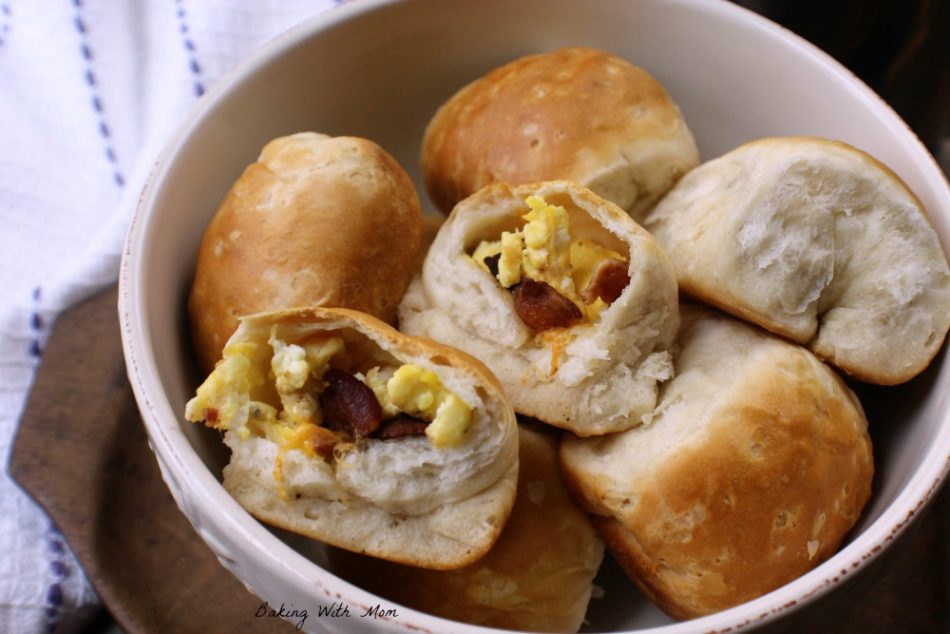 What you have inside is a delicious warm breakfast great for those busy mornings.
To Freeze The Breakfast Stuffed Biscuits
Simply place the cooked biscuits in a freezer bag and place in freezer. They will freeze individually so you don't have to worry about them sticking together. Just make sure the bag is placed in the freezer flat.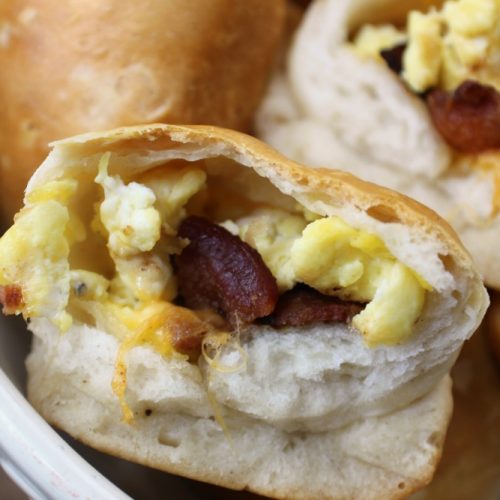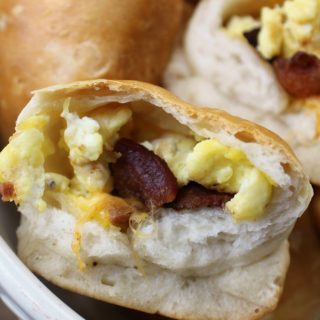 Breakfast Stuffed Biscuits
Breakfast Stuffed Biscuits filled with eggs, bacon and cheese. Wrapped in a biscuit, this breakfast is freezable for easy mornings.
Ingredients
4

eggs, scrambled

5

slices

bacon, cooked and crumbled

bake @ 400 on a greased baking sheet until crisp

1

cup

cheddar cheese

or colby jack

1

can

Pillsbury Grand Biscuits
Instructions
Bake bacon in oven at 400 for 15 minutes or until crisp

Cook eggs over medium low heat in lightly greased skillet until eggs are scrambled and cooked through

Take biscuits and roll them out with a rolling pin until flattened

Place 2 tablespoons of cooked eggs, crumbled bacon and cheese mixture on top of a flattened biscuit

Fold the sides of the biscuit over until the ends touch. Roll the biscuit in your hands to make a ball

Place in a greased 9 inch pan

Repeat until all biscuits are filled

Bake @ 350* for 20 minutes or until biscuits are a golden brown
Nutrition
Calories:
356
kcal
Carbohydrates:
28
g
Protein:
11
g
Fat:
21
g
Saturated Fat:
6
g
Cholesterol:
106
mg
Sodium:
753
mg
Potassium:
200
mg
Sugar:
2
g
Vitamin A:
260
IU
Calcium:
142
mg
Iron:
2.4
mg
Pin For Later