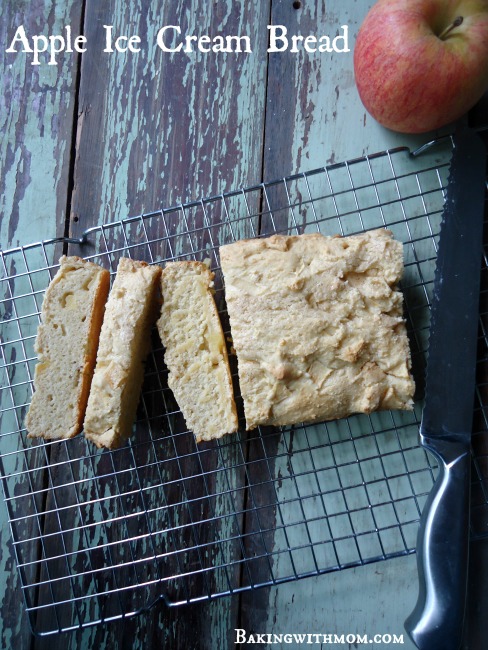 I had heard a strange thing a little while ago.  I had heard you can make bread out of ice cream.  Oh, come on. Really? Is it possible to make a bread with so few ingredients and one of them is ice cream?
Oh, yes, it is possible.
I made this apple ice cream bread on a whim one night when I found out we actually had a little bit of ice cream left in the freezer.
Such a shocker.
Ice cream is usually something that doesn't last long at our house.  I don't know about your family, but 1.5 quarts doesn't last us a long time.  Maybe 1 1/2 days is all.  To have a little bit of ice cream left (two cups to be exact) is something of a rarity.
This apple ice cream bread is very easy to make.  It only takes a few ingredients.  Actually, if you have self rising flour, it takes two less ingredients than what I had used.  I don't have self rising flour sitting around my house.  I would use it so little, I wouldn't want to have it go to waste.  To make up for that, I used baking powder and a little bit of salt. Worked well.
I also know this ice cream bread recipe would be great with blueberries or even cherries.  I can't wait to try different varieties.  Serve this bread with supper.  It has a sweet flavor and is a great, quick addition to your meal.
Apple Ice Cream Bread
This apple ice cream bread takes only a few ingredients to make and can be a quick addition to your meal.
Ingredients
2

cups

vanilla ice cream

1 1/2

cup

flour

1

tsp

baking powder

1/2

tsp

salt

1/2

apple

, chopped and peeled
Instructions
Mix ice cream, flour, baking powder and salt in a medium bowl.

Fold in apples.

Spray a loaf pan with cooking spray.

Pour batter in loaf pan and sprinkle with a cinnamon/sugar mixture.

Bake in a 350* oven for 20-25 minutes or until done.