With a distinct coffee flavor, this Mocha Muffin recipe would be great with your morning coffee or afternoon latte.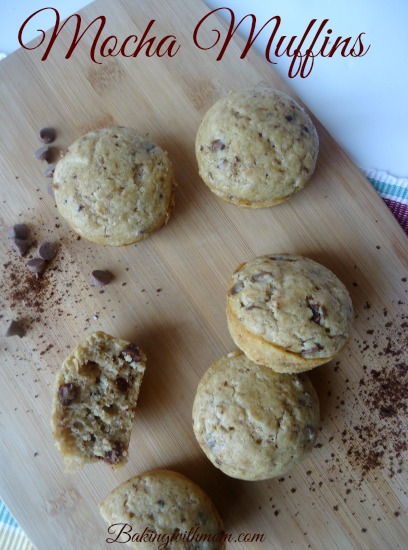 My husband was never a coffee drinker.  He never enjoyed the taste and avoided it.  Until one day, a few years ago.  He has never looked back and drinks it almost daily.  So when I made these Mocha Muffins for the family, not only did they last less than 24 hours, he ate most of them. Ahem. 😉
Remember the Mini Banana Muffins I made with the forgotten mix in the freezer?  These Mocha Muffins are from another bag I found in the freezer.  I think that is all the bags, though at this point I wish there was a never ending supply.  I guess I will have to make more.  Especially because these Mocha Muffins were such a cinch to make and everyone enjoyed them
I really encourage you to make the dry mix, put it in your freezer so you can pull it out a couple minutes before breakfast or supper and have a quick dessert or snack.
To make these muffins, the ingredients are the same as in the Mini Banana Muffins.  (Click here to read more.) The only difference is:
::Don't add the banana 😉
::Add 3 tsp instant coffee granules and 1 cup chocolate chips to the dry ingredients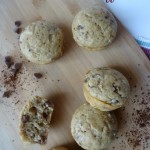 Mocha Muffins
Ingredients
2 3/4

cup

muffin mix

3

tsp

instant coffee granules

1

cup

chocolate chips
Wet Ingredients
1

egg

1/2

cup

milk

1/2

cup

water

1/2

cup

melted butter
Instructions
Mix the muffin mix with the coffee and chocolate chips in a large bowl

Mix all the wet ingredients in a separate bowl

Stir the wet ingredients into the dry ingredients

Grease a muffin cup tin and fill each cup 3/4 full

Bake at 375* for 16-18 minutes or until tests done

Cool
I'm sure these Mocha Muffins will be a hit in your house.  Be sure to eat these with a Latte.  Or a Mocha.  Coffee flavor everywhere. Great way to start your morning.