Easy Strawberry Popsicles is a healthy summertime treat. Make them for your family in only a few minutes. Delicious and fun!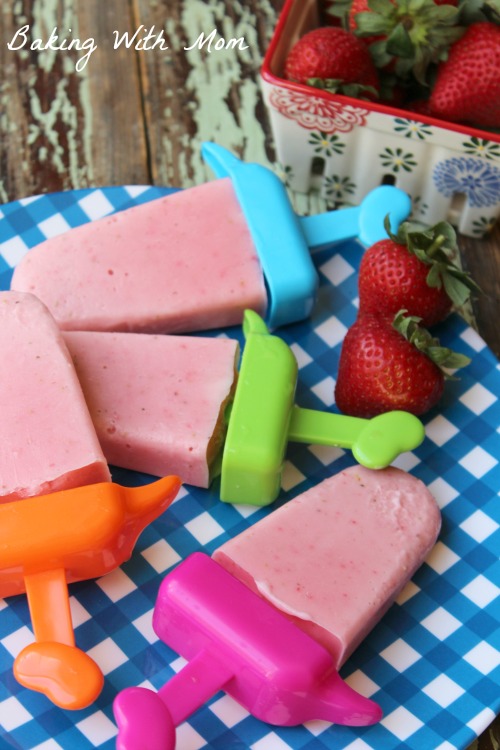 *This post contains affiliate links. If you click on a link and make a purchase, I may receive a small commission at no additional cost to you. You can read our disclosure here.
My children's favorite summertime treat is a popsicle. It doesn't really matter what kind, brand or flavor. They love them all. I remember my mom making popsicles for us when we were growing up out of Kool-Aid and Dixie Cups. The popsicle sticks would fall over to the side of the cup and we would hold them lopsided to eat them.
The memories... ;-)
I have been on the hunt perfect popsicle molds for a while now. I had bought some, but they were cheap and did not last long. The handles were flimsy and the molds actually broke. So frustrating.  The other day, I found these molds, which worked great for the easy strawberry popsicles.  They are from Jelly Belly, so they have to be good, right? They are sturdy and made well. Anyway, I was thrilled I found them and even more thrilled the kids could enjoy homemade popsicles.
Well, the hubby enjoyed the homemade popsicles as well. More on that later.
We moved our pool from its normal location the other day to a new and improved spot. It was rather warm so I thought I would head inside and make some easy strawberry popsicles for the moving crew, aka: hubby and children.
They children were not necessarily enjoying their task of moving and leveling sand, pulling weeds and smoothing rock but knew if they wanted to swim, they really had no choice. They needed to put a little sweat equity into it, ya know?
Fresh strawberries are abundant in our patch this year and putting fresh strawberries into the popsicles seemed like a perfect treat. Cora took my words to heart when protecting the strawberries from being eaten by her brothers. ;-)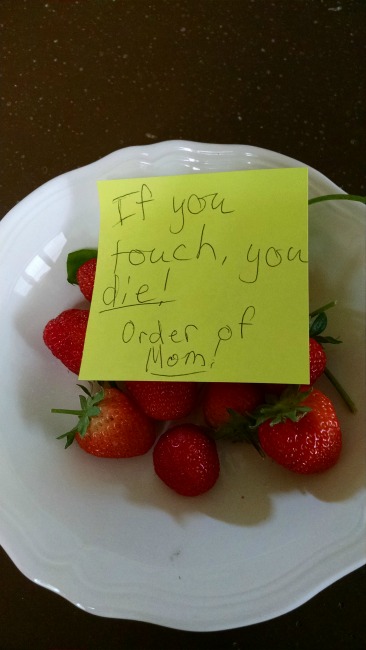 I simply took vanilla yogurt, added fresh strawberries and a little milk and blended it in our Magic Bullet. (Seriously great invention. Great for mixing and blending smoothies! You can see one here.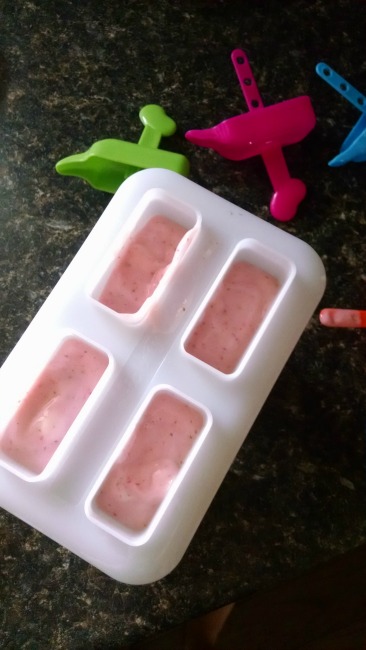 After I made them, you gotta freeze them even though just eating it with a spoon is a great option as well.  I had made them for the children. Well, our youngest, Caleb was still napping and my hubby was rather hot and tired. He grabbed the fourth one. Caleb didn't even know they existed.
Oh, well.
Everyone said the easy strawberry popsicles were a hit. Your family will love them too. You'll love them because they are healthy, easy and made in minutes with only 3 ingredients. Why make things complicated, ya know??
📖 Recipe
Easy Strawberry Popsicles
Easy Strawberry Popsicles are a dessert treat for the family in the summertime. Easy, three ingredient recipe your children will love!
Ingredients
2

cups

vanilla yogurt

10

small or 6 large strawberries

, washed and stems removed

2

T

milk or almond milk
Instructions
Add all ingredients to blender or Magic Bullet

Blend until ingredients are mixed well and strawberries are chopped

Pour into popsicle molds

Add tops on the molds

Freeze for 3 hours