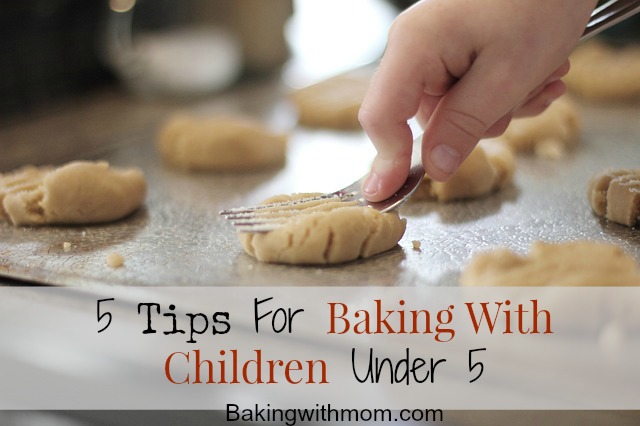 Currently, two of my children are under the age of 5.  I have two over the age of 5.  The experiences in the kitchen are different, of course, with each child.  Age plays a big factor.  I can't bake with my 4 year old and expect the same result as my 11 year old.  There is a great difference there.  Thinking about all of this, I put together some tips for baking in the kitchen with children under 5.  Next time, I will have tips for baking with your older children.
Remember messes will clean up
Remember in the post "Memories Are Worth the Mess", I talked about how teaching your children life skills are worth the crumbs, spills and flour eruptions. It is hard to let go sometimes and get out of your comfort zone.
Really?  Mess up the kitchen?  I just cleaned! 
It is okay to let flour to be spilled and sugar to end up on the floor.  Do I encourage messes?  No.  Do I teach proper ways to stir the mixture so flour doesn't go flying out?  Of course.  Those are great teaching moments.  I can also teach how to clean up the mess, once it is made.  It is all about learning.
Teach proper hand washing
What a great time to teach how to wash little hands!  They are excited to help to cook, therefore, excited to learn what steps to take to make it happen.  Always wash hands before cooking.  You can talk about germs, proper soap usage (not too much or too little), and how long to actually wash them.  I always taught the children to sing the ABC's.
Teach about a variety of food
What is the green tree like thing?  Why are carrots healthy and potato chips are not?  What a great time to talk about health and nutrition.  It has been my experience if you have the children help prepare the food, they are more likely to want to eat it.  Spinach included!  (Wait until garden season, oh, the posts I will write on gardening!)
Give specific jobs (stirring, adding ingredients) before starting
I have said this before: Children love to please.  They love to help.  They love to feel grown-up.  Talk to your children ahead of time and tell them what you expect of them.  Tell them their job is to stir the batter or mix in the milk.  Don't go into the kitchen unprepared.  Explain to them what their job will be and really make it sound exciting.  I think parents sometimes forget it isn't hard to please a child.  It is all how you present it.  If you make stirring the batter the biggest, best thing there is to do, they will feel that it is great job.  Don't just hand them a spoon, explain why the batter needs to be stirred in the first place.
Wait until babies are in bed
Unless you have an exceptionally good baby, don't attempt baking with your older child until your baby is in bed.  (I know this from experience!)  If you don't, you may get interrupted numerous times and your patience could grow very thin.  (Did I say I know this from experience?)  Nap time is great kitchen time.
I hope these tips are an encouragement to you.  Kitchen time can be very a very fun time with your children.  It is all how you approach it.
Stay tuned for tips on baking with children over 5.