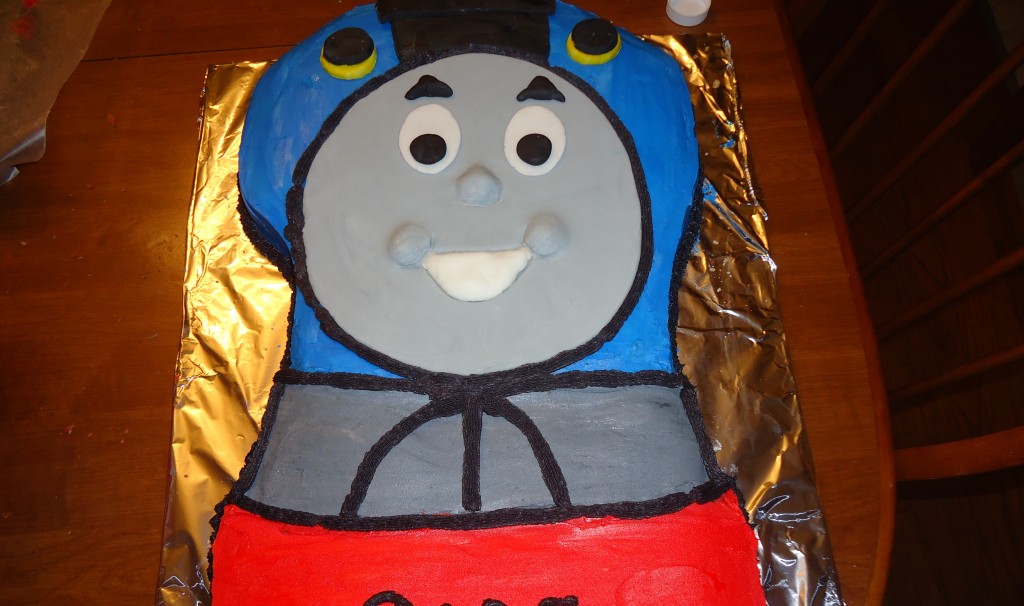 How Fun Was This?!? Not bad for my first shaped cake!
This Thomas the Train Birthday Cake was probably the hardest cake I have ever attempted.  It is not perfect at all.  As we have talked about, my child loved it anyway!  He thought it was the "best cake ever"!  (Of course, that was until the next birthday came around!)  Don't get me wrong, I am striving to create the perfect cake.  However, it is not happening at present.  Oh, well, maybe someday.  In the meantime, I will remember to enjoy baking for and with my children!
Thomas The Train Birthday Cake
I took three cake mixes, baked them, took a deep breath and shaped the head and body. I laid the 9x13 cakes side by side on my cake board.  I then just used some pictures of Thomas, took a knife and started cutting. (Which is probably why the sides are a little mismatched.  Didn't realize it until after I started frosting.  I decided mismatched sides would be fine so I wouldn't have to make more blue frosting!)
Wilton food coloring--this truly gives a much crisper and brighter color than regular food coloring.  I recommend it.
Fondant--I had never used it before and it was easy! I bought a package at the store, than I rolled it according to package directions.  I used a mix of black food coloring to get the gray color.  (The black with the white fondant makes gray.  Put a LITTLE color to start on the fondant.  Then knead it together.)   I used white fondant for the eyes, dyed black fondant for the pupils, eyebrows, and hat, and yellow fondant for the yellow train buttons.
To get Thomas's smile, roll some fondant into two small balls and put them under the face for the cheeks.
Remember, your child will love what you made, whether it is perfect or not!
I would like to see a birthday cake you have made!  Want to share?  Send it into bakingwithmom6 @ gmail (dot) com (remove spaces).