Caramel Brownie OREO Ice Cream Cake is creamy, chocolate-y and drizzled in caramel goodness. I'll leave it at that. 😉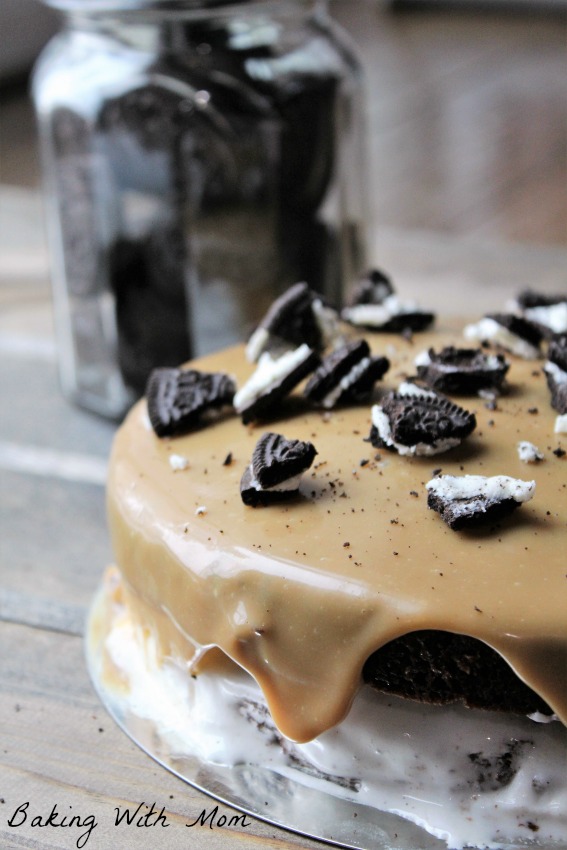 *This post contains affiliate links. If you click on a link and make a purchase I will receive a small commission, at no additional cost to you. I only promote items I have used. You can see our disclosure here.
I may have mentioned once or twice but the clearance aisle is one of my favorite places to frequent. Rows and rows of marked down items just waiting for someone to snatch them up and use them for good. Not rejected items, no, I prefer to say misunderstood items that may have had a bad start in life. A dented box here and ripped bag there. Yes, these items deserve a second shot. And I, Baking With Mom, am more than willing to help these items get their glory in a recipe.
Like the caramel brownie OREO ice cream cake. It never would have been made if I hadn't found the Sea Salt Caramels marked down in the clearance aisle. However, they were found, and I wanted to give them a chance. I am so glad I did. (If you want see what the sea salt caramels are, you can look here.)
…