Simple Suppers To Feed Your Family-a weekly series help you find kid friendly, simple recipes to make for your busy family
It's 4:00. The hubby is going to walk through the door and supper is running late, of course. It's running late because it hasn't even been started yet. Whoops.
As much as you wished it was because you were laying on the beach working on your tan, in reality it is because one child has a cold, another has homework, another had a track meet and yet another is waiting at piano for  you to pick them up. Sound familiar. Yeah, me too.
Life happens and we, as moms, have to roll with it at times. It may not be what we envisioned for ourselves but the fact is it is life. I know we all thought we would have well planned meals on the table in two shakes of a lamb's tale (Little House On The Prairie reference) ;-) It doesn't always work out that way. Not at all.
It is always handy to have freezer meals ready to go like these 3 ingredient freezer friendly burritos for those crazy days, but sometimes that doesn't happen either. So what is a mom to do? Keep an idea in mind at all times and use your slow cooker as much as possible. Most importantly remember:
Supper doesn't have to be fancy or a 5 course meal. It just needs to be healthy and filling. It also would be great if it wasn't costly as well.
Which is why I have Simple Suppers To Feed Your Family weekly series. I have been in that situation and I know it is always great to have a list of recipes on hand to pull out when in a pinch.
A lot of times my easiest recipes are my family's absolute favorite like the Hamburger Casserole.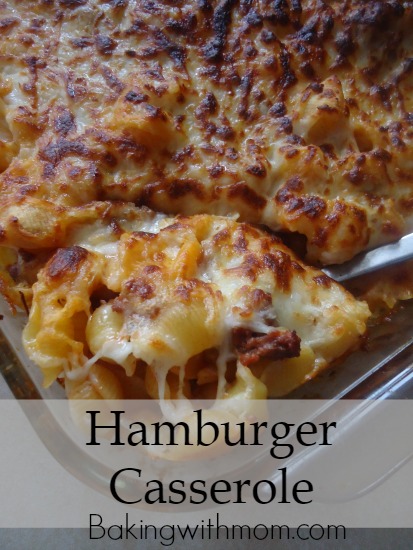 When you see a recipe you like on Simple Recipes To Feed Your Family (from Baking With Mom or any other of the great bloggers featured on here!) be sure to print out the recipe or bookmark it. When you know your day is going to be crazy, pull out one of the recipes at breakfast and start thinking about what you will need for it. I know planning weeks in advance is fabulous menu planning. Sometimes, though, sometimes, you just can't plan that far ahead.
I get it and I'm here to help!
I hope you enjoy these recipes to feed your family. Be sure to check out other recipes in this weekly series!
Chicken Alfredo-Making Our Life Matter
Simple and easy, the perfect weeknight meal!
Lasagna Casserole - My Heavenly Recipes
Rice with Apples and Craisins - Baking With Mom
Sounds like a strange combination, but I'm telling you, it is delicious and enjoyed by the family!
Asian Style Shrimp Zoodle - Dinner With The Rollos
White Chocolate Chip Skillet Cookie - Baking With Mom
Because everyone needs a simple dessert, don't you think?
So, I want to know, what is your favorite simple meal you serve your family?