Are you planning a bridal shower for a family member or friend soon? Well, I have a simple elegant bridal shower menu for you. One that even busy moms can tackle! 
*This post contains affiliate links. If you click on a link and make a purchase, I will receive a small commission at no additional cost to you. You can read our full disclosure here. 
My sweet, wonderful niece is getting married. Seems like yesterday my hubby and I spoiled her and her older brother with macaroni and cheese, lemonade, pop tarts and all things kid-yummy. Then we sent them home to their parents. ;-)
Yes, she is getting married. And Cora and I wanted to throw her a bridal shower. To throw a bridal shower, you need a simple elegant bridal shower menu. At least, this busy mom did.
I had the privilege of hosting the shower with my sister in law and niece in law. They are more brilliant than I when it comes to decorating and games so I turned those reigns over to them and I handled the menu. Which of course, is more my cup of tea. Or kabobs. But I will get to that in a moment.
Of course, when it rains it pours and this time of year is so SO busy. End of the school year activities is ramping up and with three kids in school, we stay so busy.
I wanted to host this shower for my niece and wanted to give her a beautiful food spread. Also, as a food blogger, it is the name of the game, ya know?
Simple Elegant Bridal Shower Menu
Okay, so you know you need food, cake (or a dessert of some kind) and a punch. You don't have tons of time and quite frankly, Pinterest ideas, while cute and wonderful, aren't realistic for this season of your life. What is a gal to do?
Think Simple
Who says it has to be complicated? I made these Sweet Ham Kabobs and they went well! They travel well and the ingredients are simple. Yet the kabobs look (and taste) delicious. You can find the recipe here.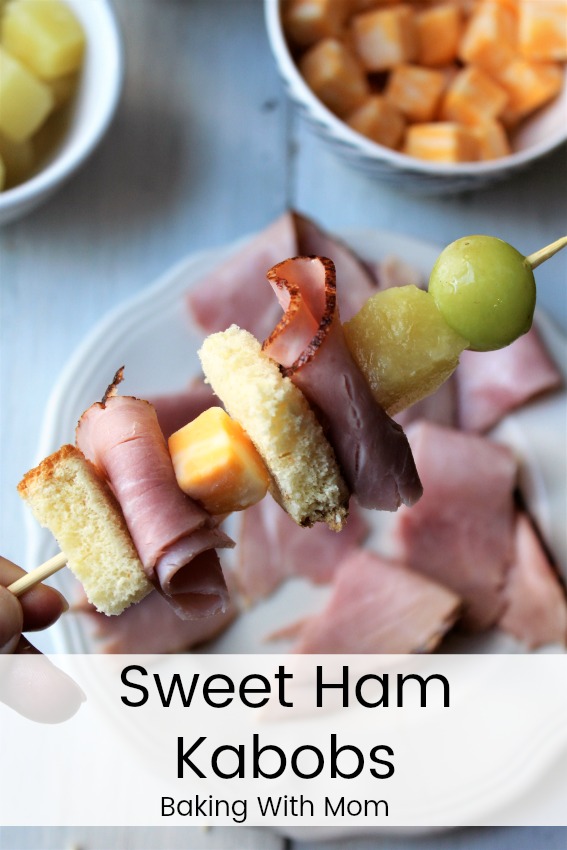 There was also plain chips, cut up veggies (cucumbers and carrots) and grapes and strawberries. I also made the strawberry orange creamsicle punch.  Three ingredients and can be made right before the guests show up. Put it in the punch bowl and enjoy! You can find the recipe here.  If you need a punch bowl, I say get one, they are great to have on hand. You can buy one at the store, or check garage sales. I got mine for $3.00 at a garage sale. Love it!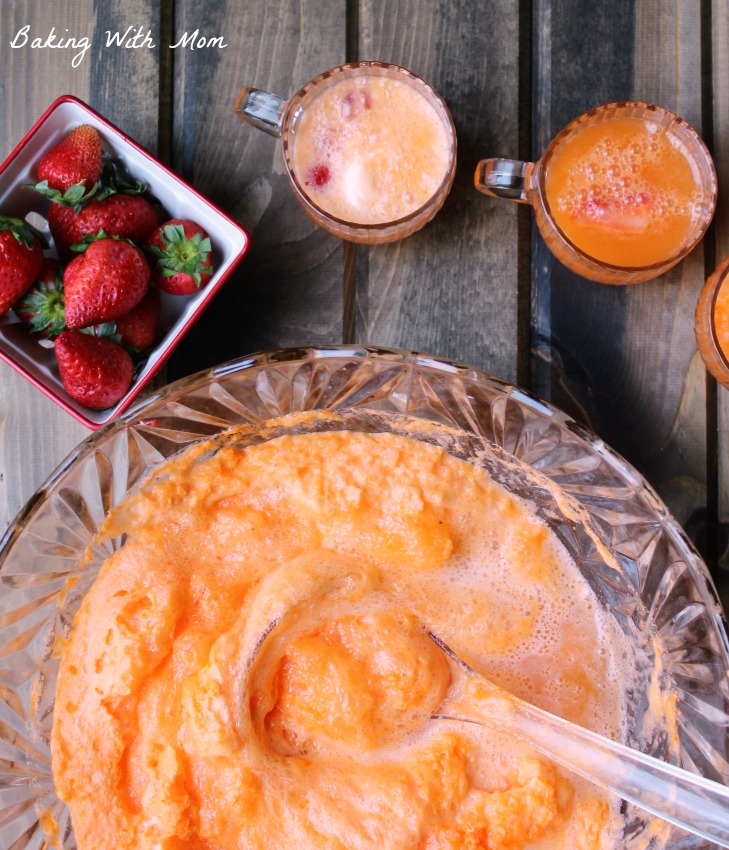 Related: My niece and her fiance registered all online at Amazon. It was quite simple to find her list and be able to buy her something. Create an Amazon Wedding Registry for the ease of your guests (and you!).
I ordered the cupcakes from a local baker and they.were.amazing!
They cupcakes tasted great and they presented beautifully. The cupcakes also were fairly priced. I don't want to reveal the baker's phone number online (as she doesn't have a Facebook page) so if you are in Illinois, send me an email at [email protected] and I will give you her information. By the way, I am NOT in Chicago. I'm in the other Illinois. ;-)
Yes, throwing a bridal or baby shower can be a little overwhelming. But if you take it one step at a time and stick with simple, yet elegant, you can have a relaxing fun day.
Be sure to Pin for later!