Vacationing with the family and you don't want to spend a lot of time in the kitchen? Yeah, me either. I have some quick easy vacation recipes to feed your family and save you some money. Have food on the table in minutes. 
*This post was sponsored by Tripbound, a vacation rental company. All opinions, and delicious recipes, are my own and based on my family's experience.
*This post contains affiliate links. You can read our disclosure here.  
When you have a large family, finding ways to save on vacation is a must. The cost of lodging, feeding your family and filling your tank with gas, really adds up! I am forever trying to come up with ways to save a buck (or two!) while on vacation.
When a mom goes on vacation, the last thing we want is to cook. (Even me and I own a food blog!) :-) I want to go to restaurants and have people serve and wait on ME! Well, it is also costly. The price of eating out with a family of six is enough to make any wallet run and hide.
On our recent vacation to Virginia, we stayed at a hotel near the Creation Museum in Florence, Kentucky. Since we were in a hotel room, I couldn't make anything for supper so we planned on eating out that night. Our family of six ate at CiCi's Pizza for under $30. It is a buffet so we could eat as much as we wanted (cinnamon rolls, ahem) and it was a good price.
All dining experiences are not that way. Not to mention, if we ate at CiCi's Pizza every night, we may end up regretting all that pizza. And cinnamon rolls. And the apple dessert pizza with icing drizzled on top. Yeah, you know what I mean.
No, some dining experiences has our family paying well over $30. In fact, on the way home, we ate at a popular dining establishment because we were hot, tired and quite honestly, didn't want to go on the search for something else and this was right down the road from the hotel. We paid, gulp, $70 for the six of us to eat. Some of us even left a little hungry. It still bothers me. I don't mind paying for a nice meal, the experience and full bellies, but trust me, it wasn't a dining experience. Yes, I'm frugal. ;-)
Really it is more than that though. I'm a stay at home mom and every penny counts in our house. We are blessed greatly but we don't have nickles and dimes to throw out the window. Or better yet, disappear in my 14 year old's stomach when he leaves the restaurant still hungry. Grrrr....
Anyway, I have found staying in a condo for our vacation is so much more cost effective. Even if the price of the condo is a little higher than staying at a hotel, you can save so much by having your own kitchen to make meals in so the condo price beats the hotel price, any day. The space you get in a condo is far better then a hotel room as well.
I know, I know! You don't want to cook on your vacation. I promise you though, you can have delicious meals on the table at your condo in less then 15 minutes. Really. When booking our vacation through Tripbound, it was so important to us to have a working, full kitchen to be able to enjoy homemade cost effective meals.
So, you want to know how to be gone at an amusement park all day and come home to a full meal. Let me tell you and show you how to cook easy meals while on vacation. It, of course, first involves a crock pot. This is what happened to my crock pot while traveling.
Oops, lesson learned. Place in back of van, not back of trailer. We bought a new one while we were there.
The recipes I made, I planned out ahead of time then made a store run when we got to Williamsburg. I had brought many of the items with us in a large tub or cooler so I could stock up and get them at already low prices, such as at Aldi's or Kroger's. What I didn't buy at home I bought there. I even bought the hamburger here on sale, cooked it up and brought it in Pyrex Storage dishes in the cooler. Make sure if you bring hamburger and other cold items with you that you keep them properly cool.
Getting the food (and a few other things) arranged before vacation. It is a task!
At the condo, we had a refrigerator, oven and microwave. The kitchen was fully stocked which makes cooking meals so easy! We also had dishes, glasses and cookware. I had brought my own paper plates which I got from Walmart for $.97. I figured $.97 was worth the investment so I wasn't washing dishes every night!
Here was my menu plan for quick easy recipes for vacation:
Saturday: Arrive and eat out for Ryan's 14th birthday. We went to Rocco's Smokehouse Grill. Yum, yum, yum. It was costly, but the food was delicious, the meal plentiful and the setting was an experience. Overall, it was a fair price.
Sunday: Homemade Pizza, fruit salad, green beans
Monday: (Beach day!) Taco soup, rolls, leftover fruit salad and green beans
Tuesday: (Gone all day at amusement park) Taco Potatoes, carrots, applesauce
Wednesday: BBQ sandwiches, chips, fruit, carrots (leftovers to use up food)
How I Made It Homemade Pizza:
I always make my own pizza crusts, however I knew that would be a task at the condo. The condo was stocked nicely, but I knew they wouldn't have a bread machine or Kitchen Aid Mixer. :-) So I bought the already made pizza crusts. It came two to a package and it cost $3.00. I added pepperoni to the pizza, sauce and of course cheese. Each pizza cost us about $3.00. Add in the fruit salad of bananas and mandarin oranges and can of green beans and the total meal cost about $7.50. Not bad for a family of 6.
How I Made It Taco Soup: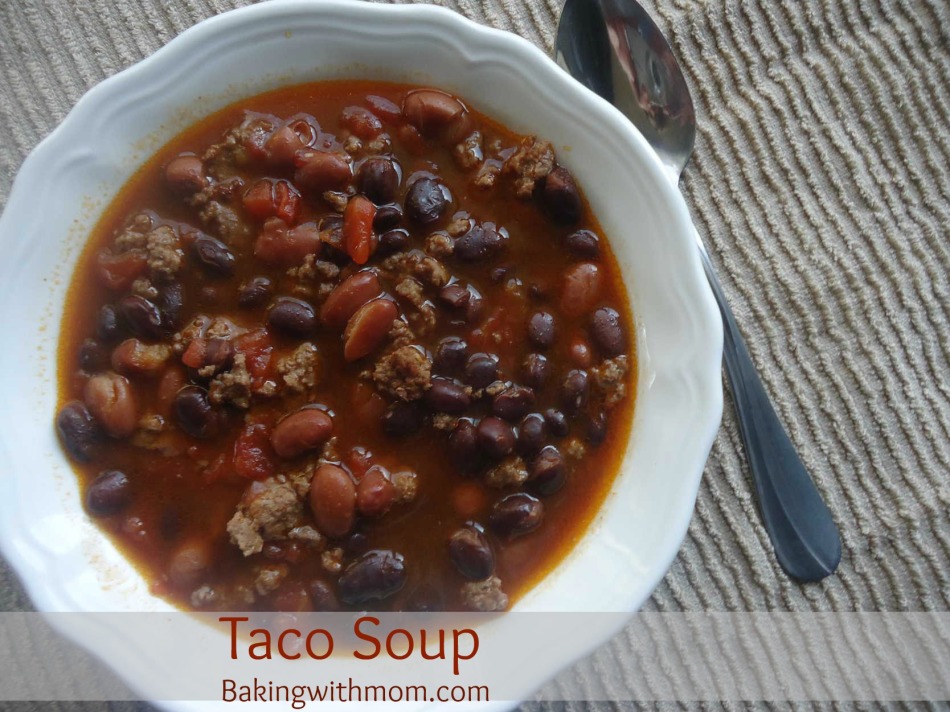 You may have seen my Taco Soup recipe before. It is an easy meal. It is my go to meal when life gets busy because it is a dump and go meal. I put all the ingredients into my *new* Crock Pot and walked away from it, letting it cook all day when we were at the Nauticus Navy Museum and Virginia Beach. (Be sure to check out my tip on how to get into museums for free!) The whole condo building smelled fabulous and we had a hot and ready meal for us when we got home. I paired the soup up with rolls and we used up the fruit salad and green beans. Total meal cost was about $6. Total of my time to make the soup at the condo was about 3 minutes. (I had already cooked the hamburger at home.) Quick easy vacation recipes!
How I Made It Taco Potatoes:
I don't have a picture of this one. We were tired and hungry when we got home. I was so glad this meal was ready to go! Did you know you can cook baking potatoes in the Crock Pot? Well you can! I simply pierced the potatoes with a knife, put them in the Crock Pot, added about ½ cup water to the bottom of the Crock Pot and turned it on low. They cooked all day for soft, delicious potatoes.
When we got back to the condo, I took hamburger I had brought with us from home, added taco seasoning to it and reheated it in the microwave. We added that on the potatoes along with cheese and some of the leftover taco soup. Delicious and filling! Meal cost? Maybe $6. Maybe.
How I Made BBQ:
My husband's sister in law makes the best, absolute best BBQ sandwiches. I have never been able to duplicate her recipe, even though she graciously gave me the recipe. It just does not taste the same. It's good, just not hers. :-)
I have stopped attempting to make mine exactly like hers because I simply can't. I just need her to invite us over for some BBQ someday soon. (Ahem, Tina?) However, I made a really good BBQ sandwich as well and making it for our vacation was a cinch. I had more hamburger I had already cooked at home, added ketchup, brown sugar and some Chili Man seasoning to it. Within 10 minutes we were eating the BBQ and supper was served. By that day of the week, we also had to use up the leftovers and odds and ends in the fridge so we could leave the next day. Made for an inexpensive meal!
You see, quick easy vacation recipes are not hard to come by. With a little planning ahead, you can come up with recipes your family will love with very little effort. Do you remember me talking about Tripbound in my last post? They had a great, fully stocked kitchen we loved. They also had a full dining room with plenty of table space perfect for our growing family. More importantly, the prices you will pay are friendly to a family's wallet.
Do you make meals on vacation? What is your favorite recipe when your family is away?