Tips on How To Teach Your Child To Cook is a task of every parent. Sometimes it can stretch our patience. Here are some ways to help.

*This post contains affiliate links. You can read our disclosure policy here.
To you have an aspiring chef in your house?  I do.  I have four children and except for the 2 year old (though I am sure he would love to help!) my children are always asking me if they can help in the kitchen. Unfortunately for my children, they usually ask me when I am rushing to get a meal on the table because we have to leave shortly after suppertime.
Not a good time to teach a child the ways of a kitchen.
I would usually start with good intentions.  I really want to share the experience of baking and enjoying being in the kitchen with our children.  However my good intentions usually left the kitchen a mess, dinner being late and my patience shot.  So what is the trick with teaching your child to cook?  To help your time in the kitchen easier, I put together a few tips on how to teach your child to cook.
:: When you are in a hurry, just cook on your own
Why add stress to the already hurried situation?  When you are stretched for time, unless your child can be a help (like flipping pancakes), don't use that moment to be a teaching moment.  Even if your child is saying, "but you promised!" (and we have all been there) choose another time.  If you don't, you might end up with a burnt casserole, a lopsided cake and a child with hurt feelings.
:: Choose age appropriate recipes
Your child's first baking experience should probably not be a five course meal.  Start with something small like these peanut butter treats or peanut butter cheerios bars.  Make it fun and exciting.  My personal favorite kid cookbook is Mom and Me Cookbook. We have made the cookies many, many times.  It has easy to read recipes with pictures for your child to understand.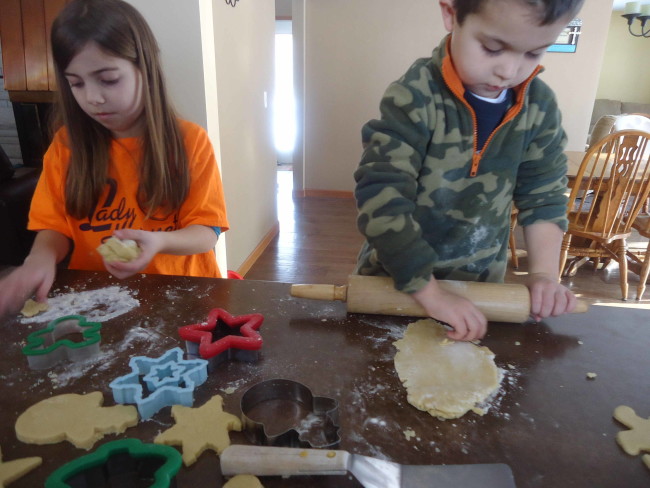 :: If you have a younger child at home, wait until nap time
Nap time is happy time at our house.  Board games come out, brownies get made and American Dolls get played with.  My older children know some things are just easier to do when Caleb is in bed.  Save the cooking lesson for nap time.  Everyone will be happier for it.
:: Make baking exciting
Do you like to cook in your kitchen?  If the answer is no, good for you for wanting to teach your child to love to cook.  Learn to love it together.  Get matching aprons, buy a fun cake pan together or each pick a recipe to try.  Learn together and laugh together.  Take pictures and be silly.  Enjoy the time with your child.  Make baking an apple pie the highlight your day and your child's day.
Cora's first pie! She was so very excited!
You will love watching your child's eyes light up as they stir the batter or learn how to make an egg.  It is also lessons they will take with them for life.
Are you up for it?  Are you going to get your child into the kitchen?  If you are and want to share the moment with us, take a selfie of you and your child baking in the kitchen (or just the dish you made) and share it on my Facebook page.  I would love to see it!