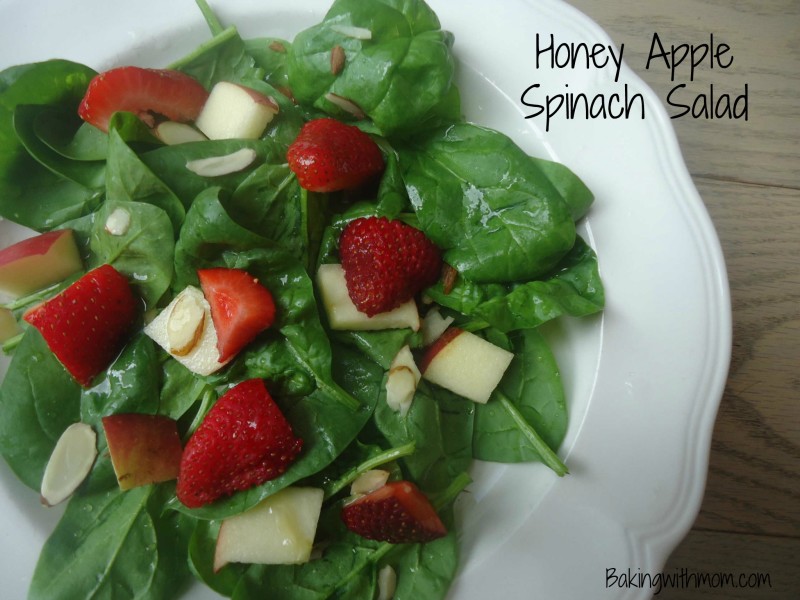 I had this for lunch today.
I walked out to my garden, opened the garden gate and picked the spinach.  How's that for fresh?  I wish I could say the strawberries were from our strawberry plants, but no.  They aren't ready yet.
I enjoy gardening and especially enjoy reaping the benefits from it. We are now growing raspberries and I think I will have to try raspberries on this salad. The colors will be gorgeous!
I made the mistake of taking a picture of this with my phone and sending it to my husband.  (I might have been rubbing it in a little.  Ahem.)  However, he was nearby and could stop in for lunch. He called after he got the text and asked if I could make him one too.  Sure, why not.  I mean, could I deny him this?  A meatatarian enjoying a salad. Nice to see some green on his plate. 🙂
I already knew the salad was delicious.  The combination of strawberries, apples and honey dressing compliments each other so well.  I wasn't sure how he would like the dressing, being a ranch on everything kind of guy.
He drizzled a little on the side of his salad, took a bite and said:
Oh my.  That is good.
The rest of the salad received the dressing.  🙂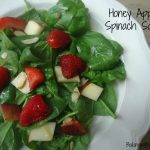 Honey Apple Spinach Salad
Honey Apple Spinach Salad will be a lunch or dinner favorite. Sweet dressing combines with crunchy apples.
Ingredients
Baby spinach

1/8

cup

almonds

1/4

apple chopped

2-3

strawberries

, stems removed and sliced

2

T

honey

3

tsp

sugar

2

T

apple cider vinegar
Instructions
On a plate, combine spinach, almonds, apple and strawberries.

In a jar or container with a lid, combine honey, sugar and apple cider vinegar.

Shake very well.

Drizzle desired amount over salad