Need a quick, simple meal to feed your hungry family? This Hamburger Casserole has four simple ingredients you are likely to have at home. Perfect for getting food on the table fast!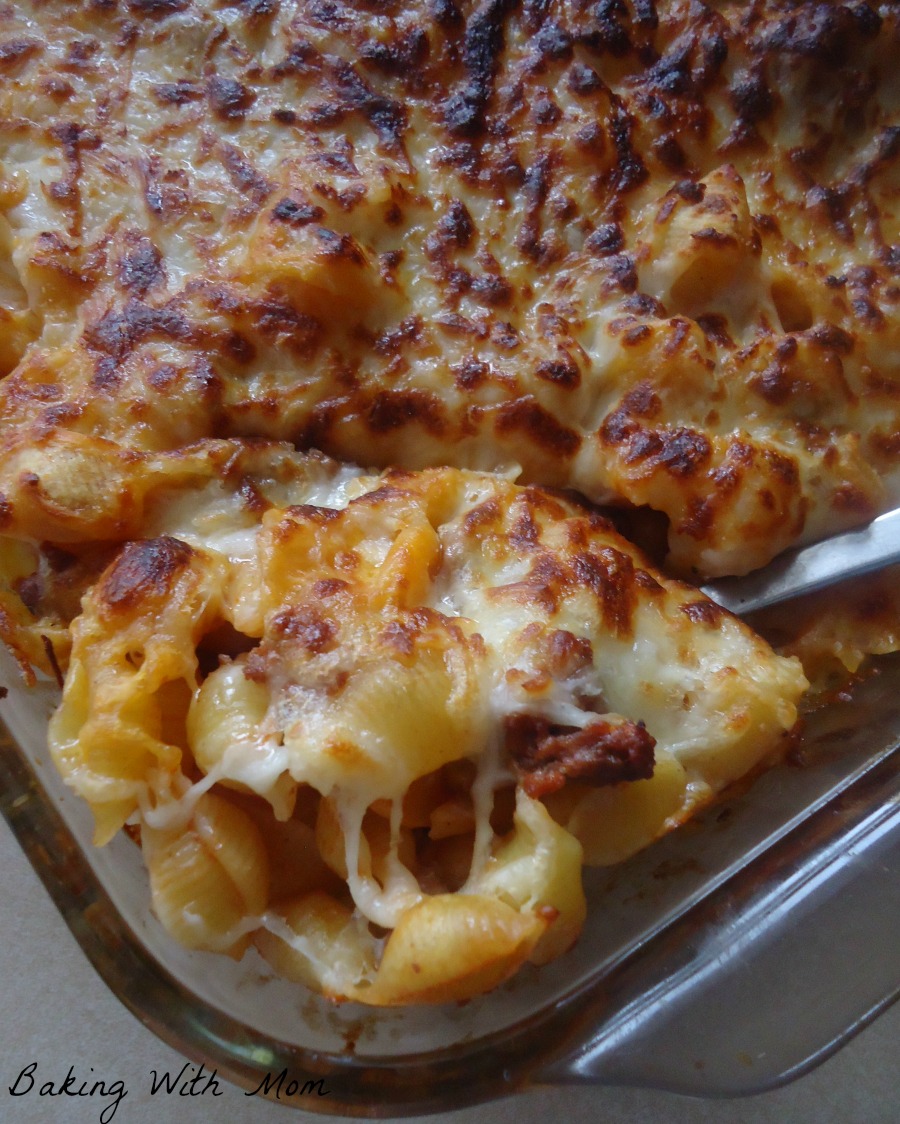 At the risk of sounding like a broken record, my hubby is rather picky about the food that is on his plate. Vegetables are forbidden, save potatoes and green beans (canned from a garden is preferred). Let's not even talk about carrots. Good thing he likes this Hamburger Casserole.
Finding a favorite meal is easy if I make a meat and potatoes dish (like this Easy Beef Stew). Unfortunately, hamburger is costing the same as a small diamond around our area. Therefore, we aren't wanting to use a lot of red meat in our cooking to save a few dollars.
I think you are starting to see my dilemma. Meatless meals are not encouraged and we need to take out a loan to eat a roast. (Disclaimer: that was an exaggeration. But you get the point.)
What is in this casserole?
This casserole recipe has only a handful of simple ingredients, most of which you probably already have in your kitchen. Noodles, cheese, hamburger and the secret ingredient, tomato soup. Yes, tomato soup. Let's be real here, either you like tomato soup or you don't. I, for one, do not. However, I do like it in this recipe. I think the way it is baked in, and has layers of cheese makes the flavors blend well together.
Are the noodles pre-cooked?
Yes, they are. While you are cooking the hamburger, you can cook the 1 pound of noodles as well (in another pot) so the process only takes 10 minutes or so. Then the meal comes together in a casserole pan and bakes for 20 minutes.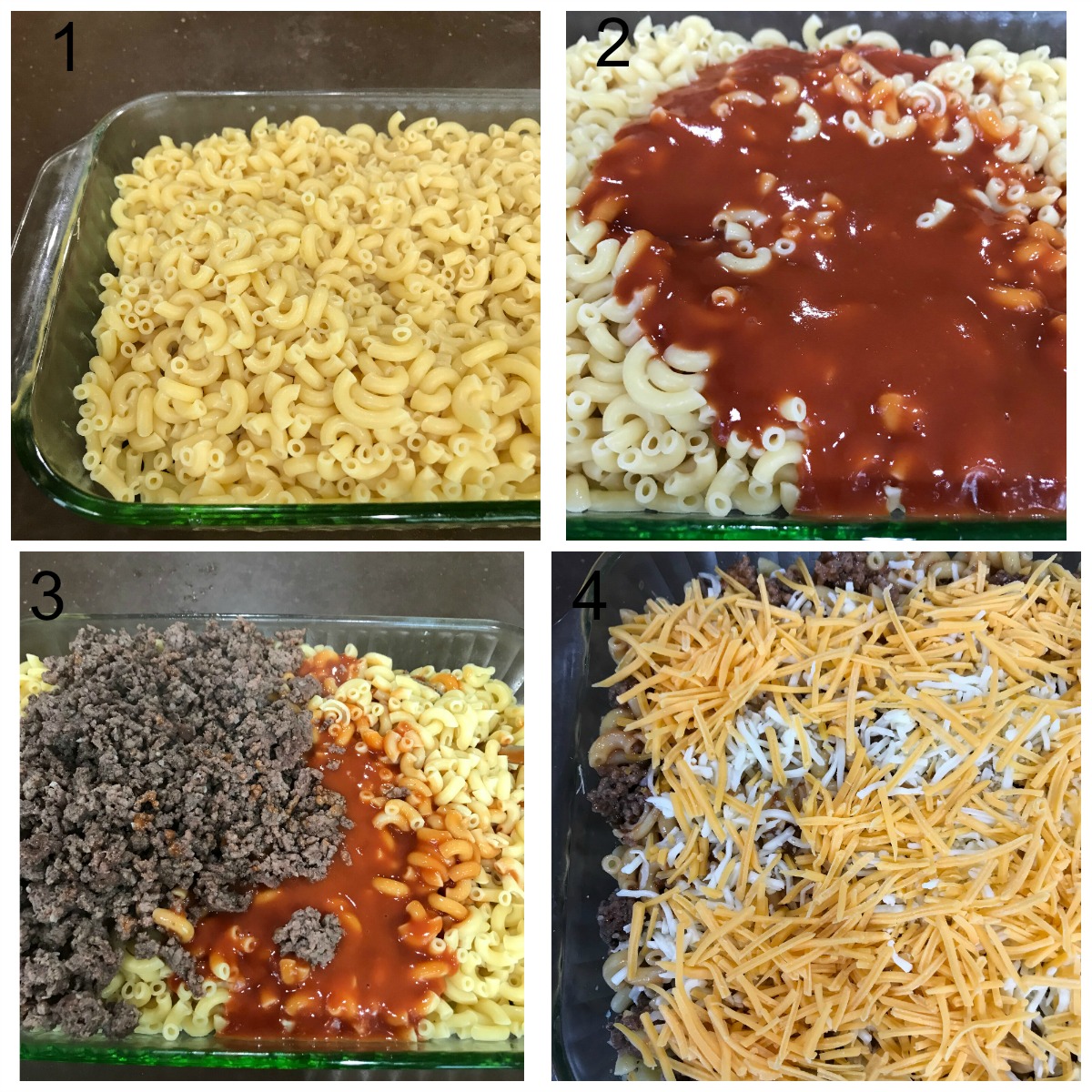 To make this easy and kid friendly recipe, cook up the hamburger, boil the noodles until Al Dente (a bit of a bite to them), stir in the tomato soup and sprinkle with cheese. This has four ingredients in it. I personally count the mozzarella cheese and cheddar cheese as one ingredient because you could simply use your favorite kind of cheese. If you would rather, it has 5 ingredients. You can decide.
Serve this up with great sides like Poppy Seed Fruit Salad or 3 Ingredient Grape Jello Salad. So simple to make and such a family favorite. My hubby told me I could make it once a week. Maybe your family will too!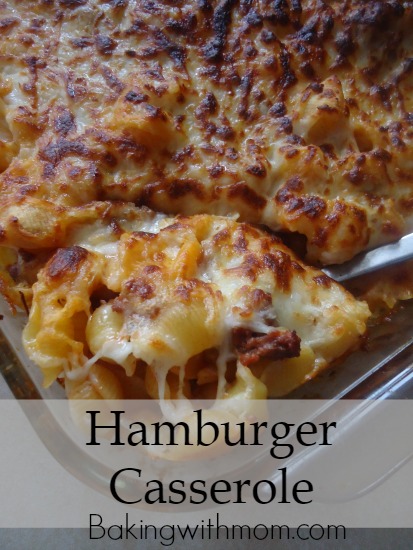 Hamburger Casserole
This hamburger casserole is a hit at my house. Uses only four ingredients so it is a simple recipe to put together.
Ingredients
1

lb

box medium shells

1

lb

ground hamburger

, cooked with garlic powder, dried onion, salt and pepper to taste. We use 1 tsp each.

2

10.75

cans tomato soup

1

cup

cheddar cheese

1

cup

mozzarella cheese
Instructions
Cook noodles according to package directions. Drain.

After browning hamburger, add 2 cans tomato soup to the frying pan (with the hamburger).

Add ½ can water.

Stir and cook over medium heat for 3 minutes.

Pour noodles in a greased 9x13 baking dish.

Pour hamburger mixture over noodles and stir.

Sprinkle cheese over casserole and cover with foil.

Bake in a 375* oven for 20 minutes.

Remove foil and bake for 10 minutes longer.

Can bake under broiler for 3-5 minutes to brown cheese, if desired.

Note: If you want to use 2 cups of one kind of cheese (example: mozzarella) instead of the combination, you can

Dried onion and garlic powder is completely optional and can be adjusted to your family's tastes
Nutrition
Calories:
302
kcal
Carbohydrates:
28
g
Protein:
15
g
Fat:
13
g
Saturated Fat:
6
g
Cholesterol:
44
mg
Sodium:
145
mg
Potassium:
202
mg
Fiber:
1
g
Sugar:
1
g
Vitamin A:
155
IU
Calcium:
130
mg
Iron:
1.3
mg
Need Casserole Recipes?