*This post contains affiliate links
Do you have a large family? We sure do. I am one of four children in my family and my husband is one of five. He is also the youngest in his family and his siblings have children that have grown up and gotten married. Our family has expanded!
We love having our family over, however, to be amazingly blunt: it takes a lot to feed them. On my husband's side of the family, Cora is the only granddaughter. So all of her boy cousins (plus her brothers), make up one hungry bunch!
Trying to have a great party, but not be the "frugal" one all the time is a delicate balance of creative cooking and smart shopping. I enjoy doing both, but I believe the key is to not let your guests know of your frugal ways. Ya know? You don't want to be the one hostess that is talked about for years to come because your party food consists of hot dogs cut into thirds and 1 can of Pringles.
You don't want to be that person. Trust me.
I have some great recipes and ideas that won't break the bank.  Frugal food to entertain a crowd is something everybody wants in their recipe box. Oh, yes. They are easy too.
Made up of pork and beans, hamburger and seasonings, the beans can be bought at Aldi for less than $.50 a can. You can put it in the Crock Pot and walk away. Frugal and easy.
I was going to make BBQ Chicken sandwiches for Ryan's 8th grade graduation. You can get chicken breasts for about $1.97 a lb. I was thrilled, thrilled I say, when I found pork loin on sale for $1.49 a lb. I couldn't have asked for a greater deal. I bought two huge pork loins, threw them in a crock pot and let them cook for hours upon hours. (About  12 to be exact.) I put them in the fridge. The next day, I put it back into the crock pot, shredded the meat using an electric knife, and added BBQ sauce. The result was a delicious main dish that fed plenty of people, plus a lot of leftovers for the next few days. Yum, yum!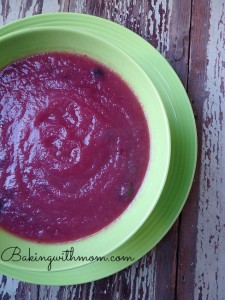 All you need for this side dish is a large container of applesauce (found at Walmart or Aldi) and some blueberries. If you want to serve it warm, put it in the crock pot.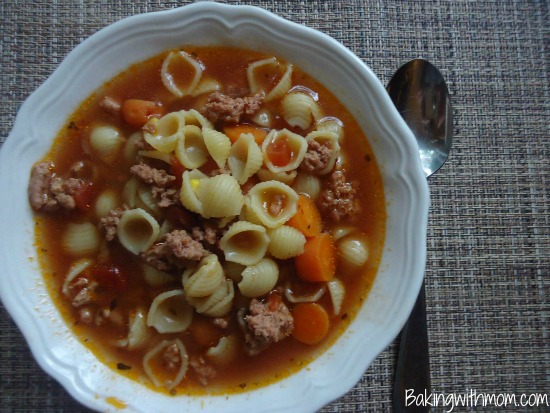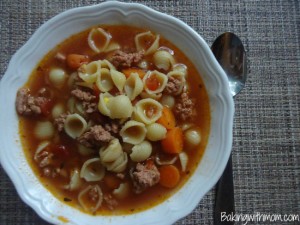 Make a HUGE batch of this soup! It is perfect for guests and it is amazingly frugal. It is also made with ingredients found around your house. Gotta love that!
Buy a box cake mix for less than a $1.00 and some sherbet for about $2.50 or less on sale. You can add some whipped cream on top for $.99 and you have a delicious and crowd favorite dessert. It also looks rather impressive, but really, it is three ingredients plus the ingredients for the cake. Simple, yummy and great for a summer day. By the way, if you need a cake cutter/leveler, here is one. I don't use mine every day, but I'm telling you, it is a great tool to have!
Did you find something you would like to make? What about you? What is your favorite frugal food with serving a crowd? Do you have any secret recipes? I would love to hear them!
Do you follow me on Instagram? I share a lot of behind the scenes info as well as great and yummy food pictures!