*In an effort to keep freezer cooking, I am going to have a weekly feature called Fill It Up Friday, where I talk and show pictures of that week's freezer fillers.  I want the accountability! :-)
This week was a pretty productive week as I was able to make a few items for the freezer.  The peach muffins with crumb topping were a hit in my house.
I also was able to whip up these mini pizzas.  The crusts aren't perfectly round, I know.  However, I was trying to make these as I fed the children lunch.  These pizza crusts freeze wonderfully and they are great to pull out for lunches.
And you can see what happens when I try to feed the children lunch and make these at the same time.  Thankfully only about three were slightly overcooked. Okay, more than slightly overcooked.  The key with these pizzas is to make the dough than bake them leaving them slightly underdone.  That way when you pull them out of the freezer and put toppings on them and you bake them again, they won't burn.  Whoops on those three.  I'll eat them.  Job of a Mom, ya know?
Cade's pizza he topped himself.  Yes, he only wants a little cheese on his pizza.  Why, I don't know.
I made more peach butter from the peaches I froze last summer.  My breakfast: bagel with peach butter.  Oh, yum.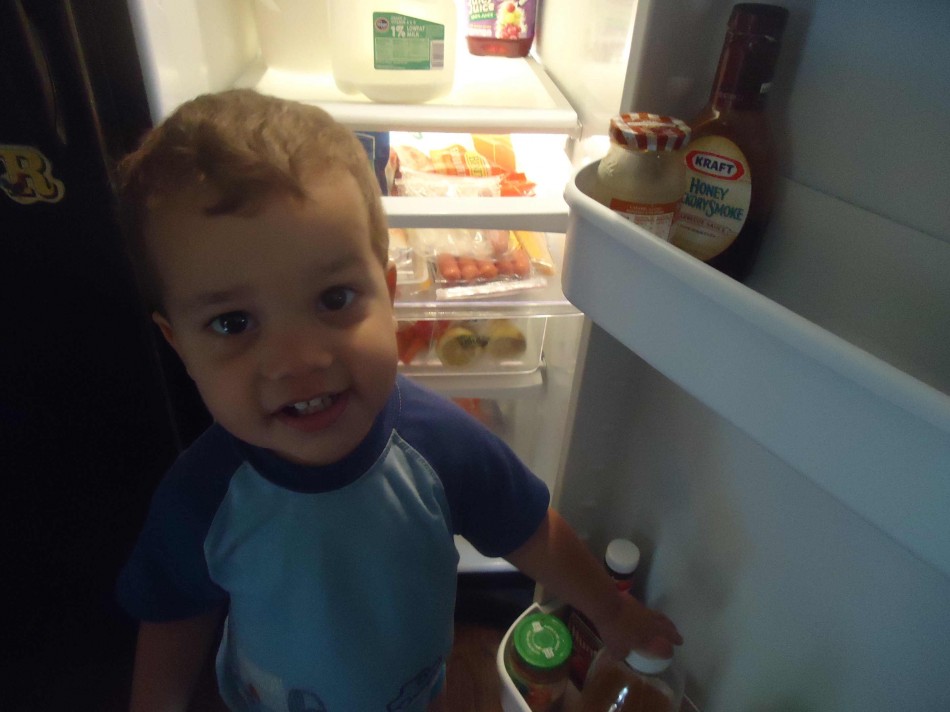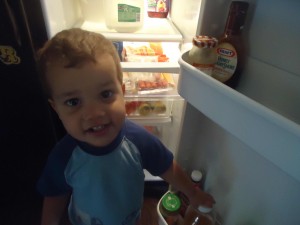 Lastly, my helper while I was cleaning out the refrigerator.  A job I do not like AT ALL.  However, it needed it and a helper always makes the job more fun, right?  Mostly, in this case.  He found the grapes, dropped them all over the floor and then proceeded to eat them off the floor.  Maybe I should have cleaned the floors first. ;-)
How did your week go?  Did you do any freezer cooking or make something special in your kitchen this week?