Over the weekend, I had to do some baking and I thought I would share the food I made in our kitchen.  It takes a lot to keep this house (and our obligations) going, food wise.  Sometimes I find myself in the kitchen all the time to make food for others or for ourselves.  I enjoy to bake and create in the kitchen, though I'll admit, sometimes I am not in the mood for baking.
Thankfully, I didn't mind creating in the kitchen this weekend, as I had plenty to make.  I wanted to make a snack for the kids to take in their lunches.  I also had some food I needed to take to different events for church.  It is a blessing to be able to help others with something I enjoy doing (most of the time!). ;-)
Just buy the value size. You will use it eventually.
I made Rice Krispies for a church event.  What was different about these was I added 3 Tablespoons of Strawberry Cake mix to the marshmallow and butter mixture.
This picture doesn't really show it, but the krispies turned a pink color and the flavor was AMAZING.  I recommend you trying it.  I wonder how lemon would taste.  Anybody try it before?
This Cream of Chicken Soup is a favorite and I made it for the potluck at church.  Yes, the potluck with four kids.  Divide and conquer.
Have you ever made Vanilla Popcorn before?  It is easy, it is good and it is great to take for snack at school.  It is inexpensive to make.  I was fortunate to buy almond bark for $.99 after Christmas at Krogers (my favorite store to shop at!).  Making this popcorn only takes a few minutes.  Just pop the popcorn and melt the almond bark according to package directions.  Pour the melted almond bark on the popcorn and stir gently.  Let cool on waxed paper.  Yum, yum.
This is a favorite! Does not last long at our house.
I also made the Mocha Muffins and French Puffs for a church breakfast.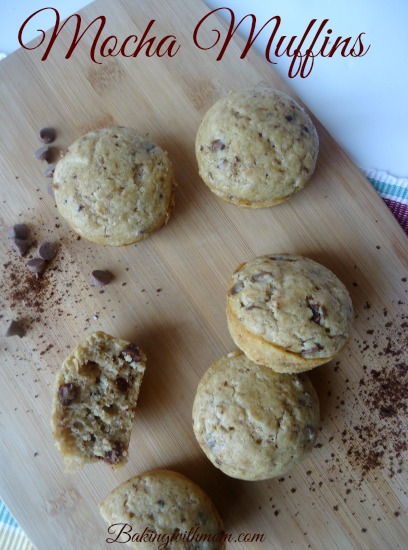 You have no idea how hard it was to keep my children and hubby out of these muffins.  I was glad to take them to the church and get them out of my house.  Can you imagine all 5 of them hovering and eyeing these muffins.  I needed a stick to keep them back. ;-)
So what about you?  What did you feed the fam this weekend?  Tell me about it in the comments.