We were sooo bored.  My children and I have played every game, chased each other in circles (hopping, skipping, running, you name it), and playdoughed.  We NEED it to be spring!
I was coming up with a dessert for that evening when I remembered a cake I had in the freezer from a birthday party.  It just needed to be frosted.  Hmmm.  I called my 5 year old in the kitchen and asked him if he wanted to help frost the cake.  Like I needed to ask.  The excitement on his face was worth the asking, but the dedication, determination and delight he got from helping me, was enjoyable to watch.
You would think he was painting a fine work of art.
Why is this important for a child?  What can they learn from helping in the kitchen?  It's just frosting a cake, right?
Wrong!
He was growing his confidence
He was learning how to frost a cake (techniques, do's and don't's)
He was learning math concepts (how much or little frosting to use)
He was concentrating (a skill every child needs for school!)
He was having fun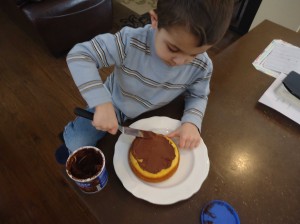 That night when he presented the cake to his dad, Cade was so pleased he was bursting.  When his dad complimented his frosting technique, he couldn't have been more excited.
It's just frosting a cake, right?  No.  It's fun for a little boy.  It was worth the stained shirt, the chocolate face and the sticky hands.  It all cleans.
I would love to hear of a baking experience you have had with your children.  Write it in the comments or go to Baking With Mom's Facebook page and leave a comment.

Would you like to receive tips, facts and recipes weekly in your mailbox?  Subscribe to Baking With Mom's Newsletter.  It's free! 🙂  Just enter your email address in the sidebar.  Love to send you a copy!