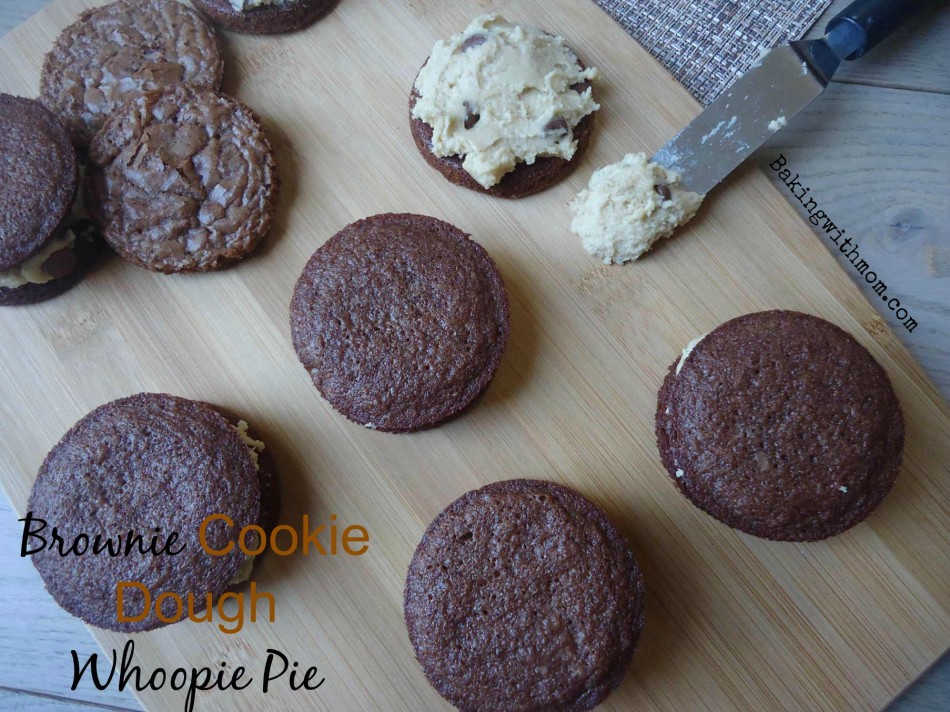 I got a birthday present last week from my husband's mother.  She got me a Whoopie Pie pan.  I didn't even know a pan like that existed.  The last batch of Whoopie Pies I attempted to make, didn't turn out that pretty.  They tasted okay, just didn't look that great.  Apparently my husband's mother remembered that and very thoughtfully presented the pan as a gift.  Because of her thoughtfulness, I was able to make these Brownie Cookie Dough Whoopie Pies.
My children are really appreciating their grandmother right now.  
These Brownie Cookie Dough Whoopie Pies were so easy to make.  They came together quickly.  I made them for an AWANA event first and according to my children, were gone very quickly.  I then made them when we got together with friends.  Except with that batch, I put M&M's in the cookie dough instead of chocolate chips.
Yes, I did.
Oh, it was delightful.  The cookie dough is eggless, as it was when I made the Cookie Dough Ice Cream Cake.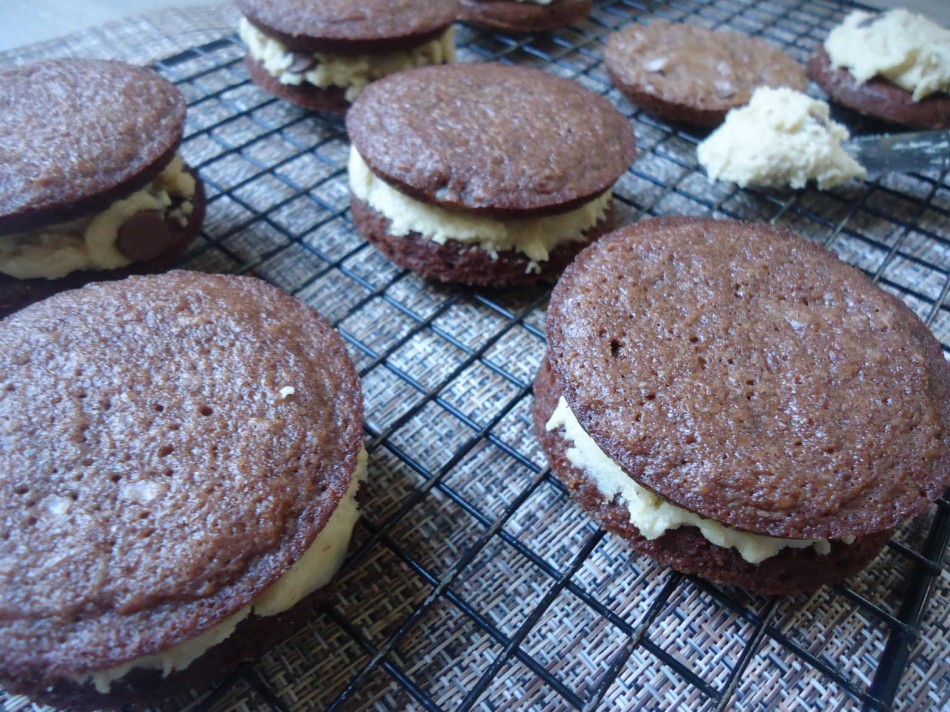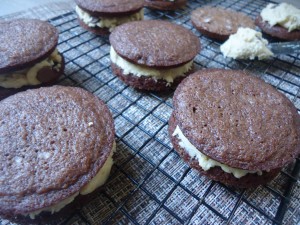 The key with the Whoopie Pie Pan is to put only a tablespoon of batter in each cup, then use the back of the spoon to even out the batter.  (I used this Steel Scoop here.  Worked perfectly.)
Take these pies to your next gathering.  They are easy to make and taste wonderful.  The only problem you may have is the eggless cookie dough not making it to the whoopie pies.  Your kitchen helpers may have a hand in that. ;-)
📖 Recipe
Brownie Cookie Dough Whoopie Pie
These easy to make cookies are simple and delicious.
Ingredients
1

box brownie mix

(ingredients according to back of package)

¾

cup

butter

¾

cup

brown sugar

1 ½

teaspoon

vanilla

3

T

milk

1 ½

cup

flour

1

Chocolate Chips
Instructions
Make brownie batter according to package instructions.

Spray whoopie pie pan with cooking spray.

Spread one tablespoon batter in each cup.

Bake at 350* for 4-6 minutes or until brownies are cooked through.

Let cool and set aside.
For Cookie Dough
Mix butter and sugars

Add vanilla and milk.

Beat in flour and chocolate chips.

Spread over brownies and put another brownie on top.

Serve
*The links in this post are my affiliate links. You can read our disclosure policy here.