*This post contains affiliate links.
Birthday Ice Cream Dessert is a great birthday party treat! Made with cake batter ice cream and chocolate chip cookie crust, this dessert is a recipe everyone will enjoy!
It was our sweet girl's 10th birthday party. Cora's birthday is coming up this week so we had her family party this past weekend. She wanted an ice cream dessert and the White Velvet Cookies I made about a month ago. No complaints from us, both sounded great. I found cake batter ice cream and came up with Birthday Ice Cream Dessert with a cookie crust.
Of course, the combination was a winner.
Cora had also asked for cream of chicken soup
and Hamburger Soup.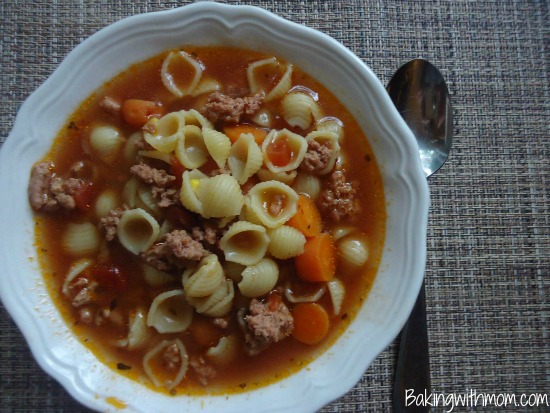 We added some rolls and a veggie tray and our birthday meal was complete. It was easy to make.
So I don't know how many of you have 10 year old girl's at your house, but my 10 year old girl is a girly-girl. She loves all things fashion and sparkly.  She also has an odd fondness for tape. Every tape of every shape and size. She also likes American Girl Dolls. Yes, she got one from Grandma. 🙂
Those candles would not light for anything. Took me forever!
Cake batter ice cream has a ribbon of frosting throughout the ice cream. The flavors are excellent. I decided to use a cookie crust for the base because, quite frankly, everything is better with a cookie crust.
To make the crust, simply take chocolate chip cookies and crumble them in a food processor or by hand. Then you spread them on the bottom of a lightly greased 9×13 pan. Bake the cookie crust in the oven for 5-7 minutes at 350*.
Then I mixed the ice cream with whipped cream. I spread the ice cream mixture on the cooled crust and put it in the freezer for 3-4 hours. Easy peasy.
Birthday Ice Cream Dessert
This Birthday Ice Cream Dessert is only a few ingredients and will make your birthday party extra special.
Ingredients
3

T

butter

(melted)

1

pkg chocolate chip cookies

1.5

qt

birthday cake ice cream

1 8

oz

container whipped cream
Instructions
Crush cookies into crumbs and mix with melted butter

Spread on the bottom of a greased 9x13 pan and press down lightly

Bake at 350* for 5-7 minutes

Let cool

Mix ice cream and whipped cream in a bowl and spread on top of cooled crust

Freeze for 4 hours

Top with sprinkles if desired
Do you have a food processor? It is one of my favorite kitchen tools. I don't use it every day, but when I do, I am glad I have it. It is great to make the Birthday Ice Cream Dessert.