We all have them, don't we?  Those dreaded household jobs we would rather not have to do.  Those jobs where you wonder just how much it would cost to pay someone to clean the offending appliance for you.  Oh, those jobs.
In a recent Facebook post, I asked readers if they would rather clean the refrigerator or stove.  Overwhelmingly, the response was to clean the refrigerator.
I detest cleaning the fridge.  I really do.
It isn't that I have mold growing in there or that I'm scared to open a lid.  It is just something I really would rather not do.  I think part of the reason is because it is cold in there.  I also think because it takes so long to clean. Everything has to come out of the fridge to clean it and sometimes, just sometimes, there are little surprises hiding in the back.  Keepin' it real.
However, as a keeper of the home, we have no choice.  There are jobs we have to do whether we like them or not.  It really parallels to life.  There are things in life we don't want to do, we just have to roll up our sleeves and do it.  Usually, we are glad we did.
I want to help make your job easier so I am compiling a list of 7 tips for those tough kitchen jobs.  On day one, we will address the refrigerator.
Out with the old before you put in the new.  As I said before, cleaning the fridge is not fun because EVERYTHING needs to be pulled out to clean it properly. Make the job easier and clean it before grocery shopping day.  If your fridge is anything like mine, it can get rather bare, mainly because the 4 gallons of milk needed for my family of 6 is almost gone.  At the end of the shopping cycle, you won't have to take out as many items and you will be able to see what needs to go easier.  Check expiration dates and past its prime produce.  Toss it out, however....
Take note of the items you toss out!  Are you consistently throwing out heads of lettuce?  What about bottles of half used salad dressing?  If you notice a pattern, watch what you buy next time.  Maybe get the smaller bottles of salad dressing or change the type of lettuce you are getting.  If you are tossing it out, you aren't saving money.
Use natural cleaners, when possible.  I am a fan of Mr. Clean.  I think that cleaner makes my house sparkle and smell fresh.  However, in the fridge, I have food.  I want to eat the food (and feed my family food) without added chemicals or chemical smell to the taste.  Try soap and water first to get the spills and crumbs off of the surface.  If you need something more, here is a great tip about cleaning with baking soda.  Here are some other natural tips.
Don't ignore the seals and top!  It's easy to forget the top of the fridge however that ignored place can attract dust like no other.  The seals around the fridge is a great place for mold to grow.  Make sure you clean them both.
Clean the freezer too.  You're already there, you might as well clean the freezer as well.  Got freezer burn on anything?  Check and note what didn't make the eating cut.  Need organizing tips? Check out this great storage solution.
Replace everything with care.  Don't just throw everything back in, put it in with care and purpose.  Organize with thought.  Great refrigerator organizational tips here and here.
Have a great helper.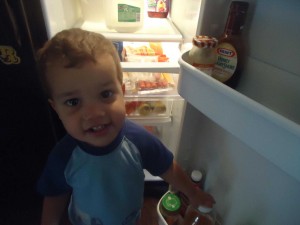 Everything is easier with a helper.  Especially one that eats the grapes in the bag.  I didn't have to find room for the grapes after he was done. ;-)
I hope these 7 tips will help you in the unpleasant fridge cleaning task.  Next up: tackling the stove.
Do YOU have any tips for cleaning your fridge?  Which would you rather clean, the stove or the refrigerator?