With summer here and fruit in abundance, I thought it would be a great idea to make a Recipe Round Up of strawberry recipes.  I mean, a whole round-up dedicated to a sweet, tasty and healthy fruit.  This round-up contains desserts, healthy treats and of course, the strawberry pie.  (If you are interested in growing strawberries at home, see my Strawberry Q&A.)  Thanks to these great bloggers for their wonderful strawberry recipes!
Strawberry-Peanut Butter Quesadillas–By Two Healthy Kitchens
Feta & Strawberry Salad-By How To Be Awesome On $20 A Day
Strawberry Vanilla Quick Bread-By Delightful E Made
Gluten Free Strawberry Shortcake-by 3 Monkeys' Mommy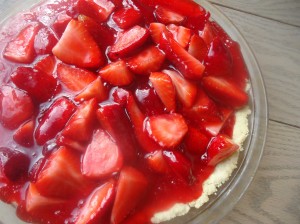 Strawberry Pie-By Baking With Mom
Strawberry Cream Parfait-by For The Love Of Food
Simple Mixed Berry Smoothie-by Taste As You Go
Strawberry Shortcake-by O Taste And See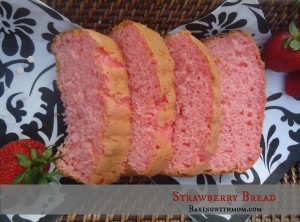 Strawberry Bread-By Baking With Mom
Strawberry Lemonade by Baking With Mom
Do you have a favorite strawberry recipe you would like to share with my readers?  I would love to see it! You can send it in to guest post.